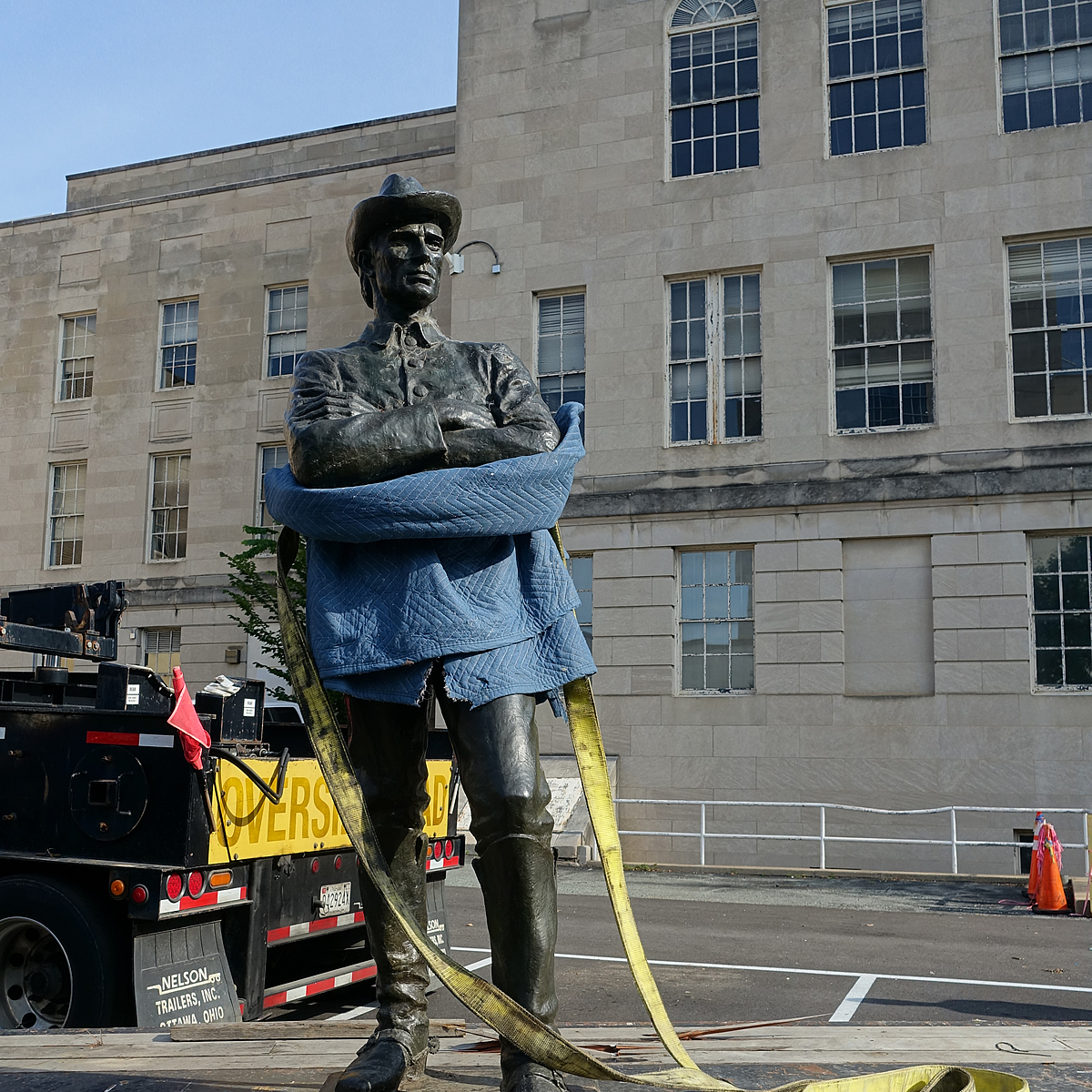 Confederate Statue Removed from Red Brick Courthouse Grounds (VIDEO)
Work crews used a crane Saturday morning to lift a statue of a Confederate soldier from a bed of pachysandra over the Red Brick Courthouse in Rockville and onto the back of a waiting flatbed truck.
David Dise, director of the Department of General Services, provides some details about the project:
The statue has been the center of controversy for some years. Some people have thought a monument to the Confederacy was inappropriate for county property. Others defended it as part of the county's heritage.
The statue will be delivered to private property at White's Ferry, along the Potomac River.
The county did not reveal the timing of the move in advance. David Dise, director of the Department of General Services, explains why:
In a statement released Saturday, County Executive Ike Leggett said he had a "simple and straightforward" motivation in wanting to move the statue.
"[T]his statue is inaccurate because it pays tribute only to the Montgomery County young men who fought for the Confederacy, not also to those County residents who fought to preserve the Union and free those held in bondage," Leggett wrote.
"Because it has significance locally, I want it to remain in Montgomery County — but not on county-owned land," he wrote.
Some opponents to moving the statue have claimed removing it from the Red Brick Courthouse grounds would erase a part of the county's history. Leggett responded to that notion:
"Like most Americans, I do not believe in 'erasing' past history to conform to what might be presently prevailing politics," Leggett wrote. He then quotes former President George W. Bush, speaking at the opening of the National Museum of African American History and Culture, who said a great nation does not hide its history.
"I believe this relocation is consistent with those sentiments," Leggett said.
Here are still images from Saturday:
Here are videos of the work to move the statue:
Here is Leggett's full statement: