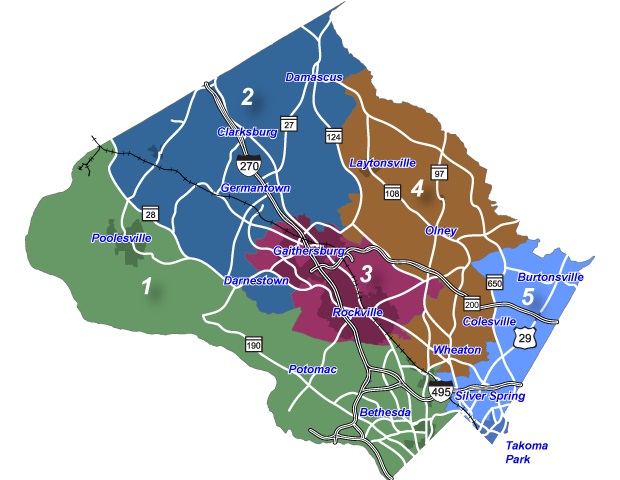 Charter Review Commission Seeks Public Input
The county's Charter Review Commission seeks public input and invites residents to participate in any of the five listening sessions scheduled through March 23. The purpose of the sessions is to discuss the structure of the Montgomery County Council.
The sessions will address whether the size of the Council and its make-up should be changed or remain the same. Currently the Council has nine members made up of five district Councilmembers and four at-large Councilmembers.
The County Charter is the constitution of the Montgomery County government. The County Council with the County Executive's input appoints an eleven-member, bi-partisan, Charter Review Commission to study the County Charter. The Commission must report to the Council in May with recommendations for possible revisions to the charter.
The listening sessions will be held at the following times and locations:
Bethesda: Sunday, Jan. 26 from 2:30 to 4 p.m.
Bethesda-Chevy Chase Regional Services Center
Conference Room West-A
4805 Edgemoor Lane, Bethesda
Burtonsville: Saturday, Feb. 8 from 3:30 to 5 p.m.
Marilyn J. Praisner Library
Meeting Room #2
14910 Old Columbia Pike, Burtonsville
Olney: Saturday, Feb. 22 from 2:30 to 4 p.m.
Olney Community Library
Meeting Room #2
3500 Olney-Laytonsville Road, Olney
Rockville: Wednesday, March 4 from 6:30 to 8 p.m.
Council Office Building
3rd Floor Hearing Room
100 Maryland Ave., Rockville
Germantown: Monday, March 23 from 7 to 8:30 p.m.
Upcounty Regional Services Center
Conference Room A
12900 Middlebrook Road, Germantown
Anyone interested in attending a session and providing comments may sign up here.  Attendees who have a prepared statement, which is not necessary for testimony at these sessions, are asked to please bring a courtesy copy to share with the Commission.
Members of the public also are encouraged to submit any comments to the Charter Review Commission in writing at charterreview.commission@montgomerycountymd.gov.