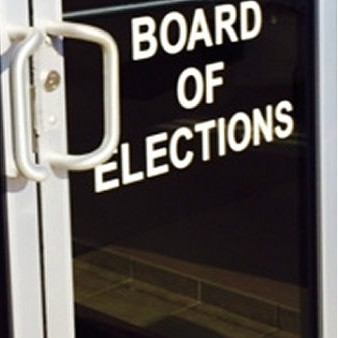 Candidates Who Want to Represent Montgomery County
Here is the latest list of the candidates who want to represent Montgomery County in Congress, the State House, County Council, Board of Education, the courthouse and the central committees taken from the Maryland State Board of Elections website.
Candidates have until Feb. 27, 2018, to file a candidacy. The primary election is June 26, 2018. The general election is Nov. 6, 2018.
Representative in Congress
 Congressional District 3
 Evans, J.D., Republican
 Congressional District 6
 Mossburg, Matt, Republican
 Duck, Andrew, Democratic
 Gluck, George, Green
 Athey, Ted, Unaffiliated
Congressional District 8
No filings
Maryland Senate
Legislative District 14:
Drozd, Robert, Republican
Zucker, Craig J., Democratic (incumbent)
Legislative District 15:
Wilson, David, Republican
Legislative District 16:
Lee, Susan C., Democratic (incumbent)
Legislative District 17:
No Filings
Legislative District 18:
Waldstreicher, Jeff, Democratic
Legislative District 19:
Kramer, Ben, Democratic (incumbent)
Legislative District 20:
No Filings
Legislative District 39:
King, Nancy J., Democratic (incumbent)
House of Delegates
Legislative District 14:
Kaiser, Anne R., Democratic (incumbent)
Luedtke, Eric, Democratic (incumbent)
Queen, Pamela, Democratic (incumbent)
Legislative District 15:
No Filings
Legislative District 16:
Korman, Marc, Democratic (incumbent)
Legislative District 17:
Palakovich Carr, Julie, Democratic
Legislative District 18:
Johns, Mila, Democratic
Legislative District 19:
Crider, Brian, Democratic
Cullison, Bonnie, Democratic (incumbent)
Dayhoff, Justin, Democratic
Morales, Maricé Ivette, Democratic (incumbent)
Stewart, Vaughn, Democratic
Wiles, Jade Jr., Democratic
Legislative District 20:
Barrie, Fatmata, Democratic
Charkoudian, Lorig, Democratic
Legislative District 39:
Acevero, Gabriel, Democratic
Bartlett, Bobby, Democratic
Lopez, Lesley J., Democratic
Reznik, Kirill, Democratic (incumbent)
Robinson, Shane, Democratic (incumbent)
County Executive:
Ficker, Robin, Republican
Berliner, Roger, Democratic
Elrich, Marc, Democratic
Leventhal, George L., Democratic
County Council At Large
Albornoz, Gabe, Democratic
Brooks, Brandy H. M., Democratic
Colbert, Ron, Democratic
Conway, Bill, Democratic
Dang, Hoan, Democratic
Garcia, Loretta Jean, Democratic
Gottfried, Richard, Democratic
Jain, Ashwani, Democratic
Jawando, Will, Democratic
Meitiv, Danielle, Democratic
Riemer, Hans, Democratic (incumbent)
Romero, Darwin, Democratic
Siddique, Mohammad, Democratic
Willard, Tim, Green
County Council
Councilmanic District 1
Banach, Richard, Republican
Cook, Bill, Democratic
Oldak, Regina "Reggie," Democratic
Wellington, Meredith, Democratic
Councilmanic District 2
Amatetti, Ed, Republican
Ferleman, Tom, Republican
Puca, Tony, Democratic
Councilmanic District 3
Katz, Sidney A., Democratic (incumbent)
Shnider, Benjamin Glickman, Democratic
Councilmanic District 4
Navarro, Nancy, Democratic (incumbent)
Councilmanic District 5
Hucker, Tom, Democratic (incumbent)
State's Attorney
McCarthy, John, Democratic (incumbent)
Clerk of the Circuit Court
Meiklejohn, Barbara H., Democratic (incumbent)
Register of Wills
Griffin, Joseph M., Democratic (incumbent)
Sheriff
Popkin, Darren Mark, Democratic (incumbent)
Democratic Central Committee At Large
No Filings
Democratic Central Committee
Legislative District 14:
No Filings
Legislative District 15:
No Filings
Legislative District 16:
No Filings
Legislative District 17:
No Filings
Legislative District 18:
Kaufman, Aaron M., Democratic
Legislative District 19:
No Filings
Legislative District 20:
No Filings
Legislative District 39:
No Filings
Republican Central Committee At Large
No Filings
Republican Central Committee
Legislative District 14:
No Filings
Legislative District 15:
No Filings
Legislative District 16:
No Filings
Legislative District 17:
No Filings
Legislative District 18:
No Filings
Legislative District 19:
No Filings
Legislative District 20:
No Filings
Legislative District 39:
No Filings
Board of Education At Large
No Filings
Board of Education
Board of Education District 1:
No Filings
Board of Education District 3:
No Filings
Board of Education District 5:
No Filings