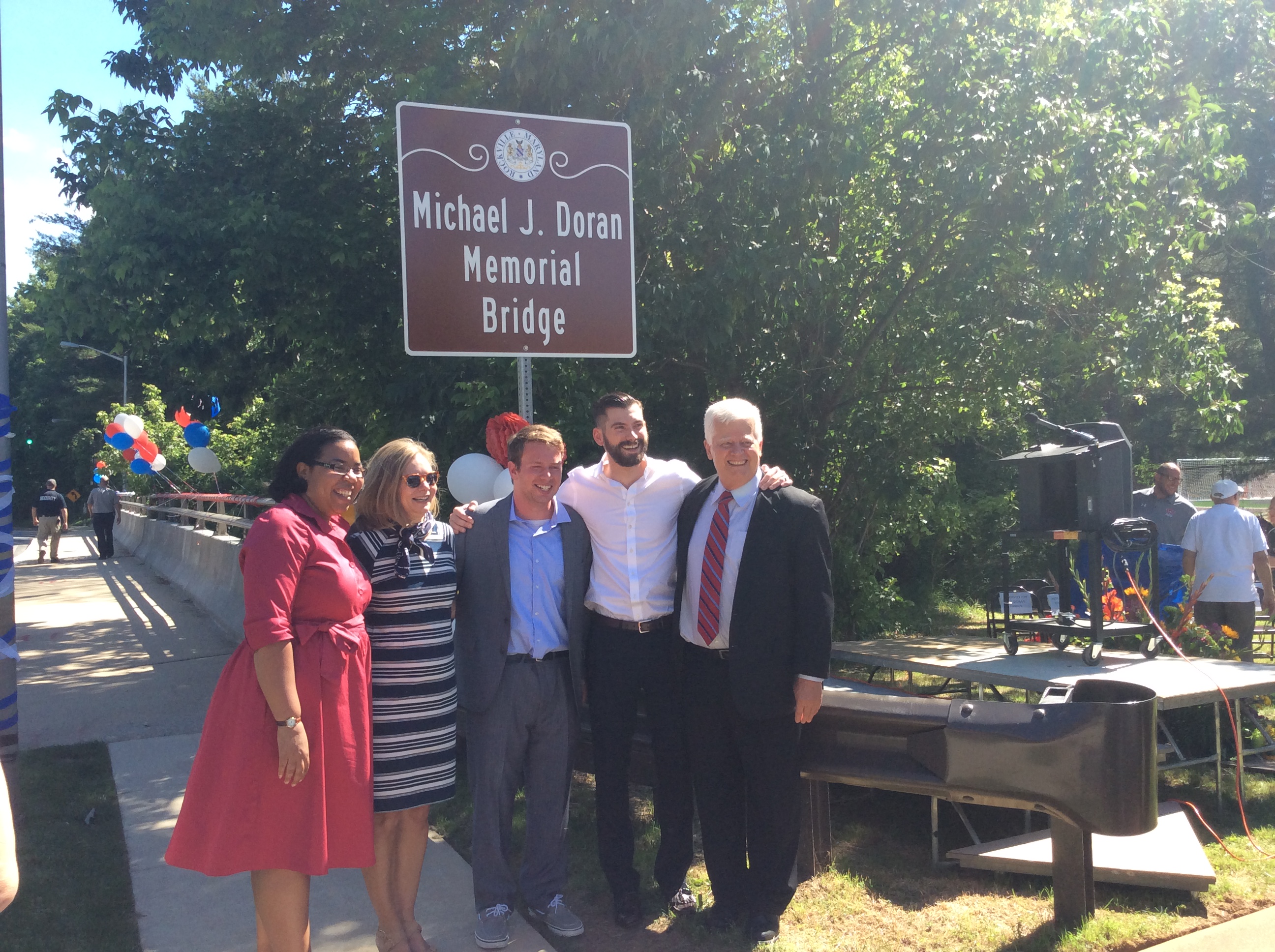 Bridge Dedicated to Principal Who Died Unexpectedly (VIDEO)
Family and friends of Dr. Michael J. Doran, who was the principal at Wootton High School for 12 years, gathered Thursday to dedicate a bridge in his name.
Doran died unexpectedly in 2015.
Those who knew Doran described him as an inspiration.
"It's hard to find a principal that both the staff and students love, and he was certainly that principal for us," said former student James Kuldell.
And some people who didn't know him, wish they had.
"I didn't know Michael J. Doran," Rockville City Councilmember Virginia Onley said. "But as I read about him, I became disappointed that our paths have never crossed. "
On Thursday, dozens of Wootton students, staff, community members and Montgomery County officials gathered on the Greenplace Terrace in Rockville to dedicate the bridge located on Wootton Parkway as the "Michael J. Doran Memorial Bridge."
In this MyMCMedia Extra video, Montgomery County Councilmember Sidney Katz discusses why the dedication ceremony in Doran's honor is important to this community:
Here at Wootton HS where the community will dedicate the Dr. Michael J. Doran Memorial Bridge in memory of the former principal. @mymcmedia pic.twitter.com/7NjfJP4c3P

— Mitti Hicks (@MittiMegan) June 1, 2017
Balloons, decorations and flowers are everywhere in honor of Dr. Michael J. Doran @mymcmedia pic.twitter.com/k3upnSnpgC

— Mitti Hicks (@MittiMegan) June 1, 2017
Some Wootton HS Drumline members are here to show support as well. @mymcmedia pic.twitter.com/7iqJmAFQT1

— Mitti Hicks (@MittiMegan) June 1, 2017
Students are writing messages about Dr. Doran on balloons.@mymcmedia pic.twitter.com/qC63QYmhwy

— Mitti Hicks (@MittiMegan) June 1, 2017
Unveiling the Dr. Michael J. Doran Memorial Bridge @mymcmedia pic.twitter.com/URfpFbr9Lm

— Mitti Hicks (@MittiMegan) June 1, 2017