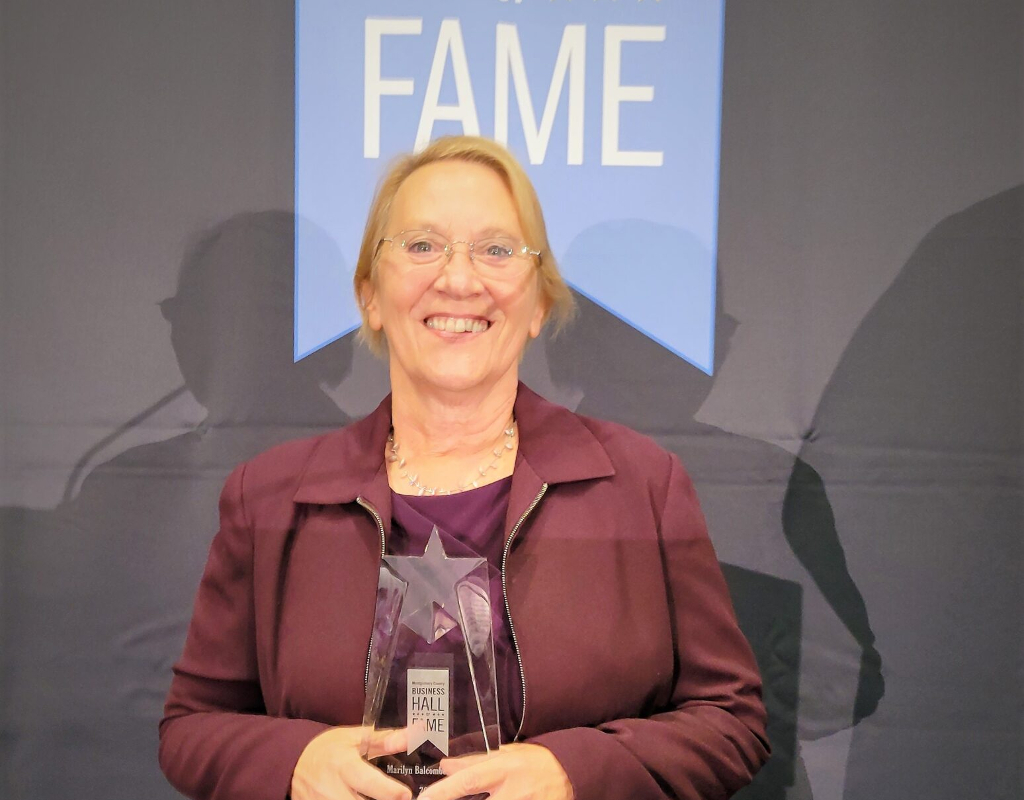 Blog: Balcombe Inducted into the Montgomery County Business Hall of Fame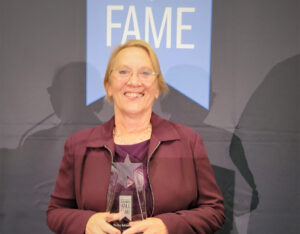 At the ninth annual Montgomery County Business Hall of Fame (MCBHOF), Gaithersburg-Germantown Chamber of Commerce (GGCC) President and CEO Marilyn Balcombe was inducted.
I was honored to be inducted into the Business Hall of Fame," said Balcombe. "It was great to see a room full of people celebrated the important role business has in our community. Most importantly, it was great to see the support for scholarships at Universities at Shady Grove."
The MCBHOF is a celebration of people who have made a positive impact on the Montgomery County business community. Balcombe does just that. She is actively involved in land use planning, transportation, and economic development. Her primary focus is bringing jobs to the Upcounty area of Montgomery County, and enhancing the business environment, quality of life, and well-being of our unique communities.
Balcombe is on the board of Future Link and a past chair of Committee for Montgomery. She is a member of the Maryland Chamber of Commerce, a past chair of the Maryland Associate of Chamber of Commerce Executives and was once named Chamber Executive of the Year. Balcombe also is the co-chair of the Great Science Corridor Implementation Committee.
Anyone who knows Marilyn isn't surprised that she's being honored by the Business Hall of Fame," said Anita Anderson, Executive Director for Leadership Maryland and GGCC Board Chair. "As a long-time advocate of upper Montgomery County, she understands the value that businesses bring to the community and works tirelessly to serve them. In her role as the President and CEO of the Gaithersburg-Germantown Chamber of Commerce, she is skilled at connecting organizations of all sizes and types to the resources that will help them thrive."
All the net proceeds from the MCBHOF benefit the scholarship programs at the Universities at Shady Grove (USG). Since its inception, MCBHOF has raised over $1.3 million for the USG scholarship program through donations and the induction event.
The GGCC is active in providing business-to-business networking opportunities throughout the year: a collective voice in local, regional, and state legislative affairs, professional development opportunities and other services that enhance the business environment.
The GGCC is located at 910 Clopper Road, Suite 205N, Gaithersburg, MD. To learn more about the GGCC visit us at www.ggchamber.org. Find us! Facebook: https://bit.ly/2NmNSpC | Twitter: @GGCCNEWS | Instagram: gburggermantownchamber