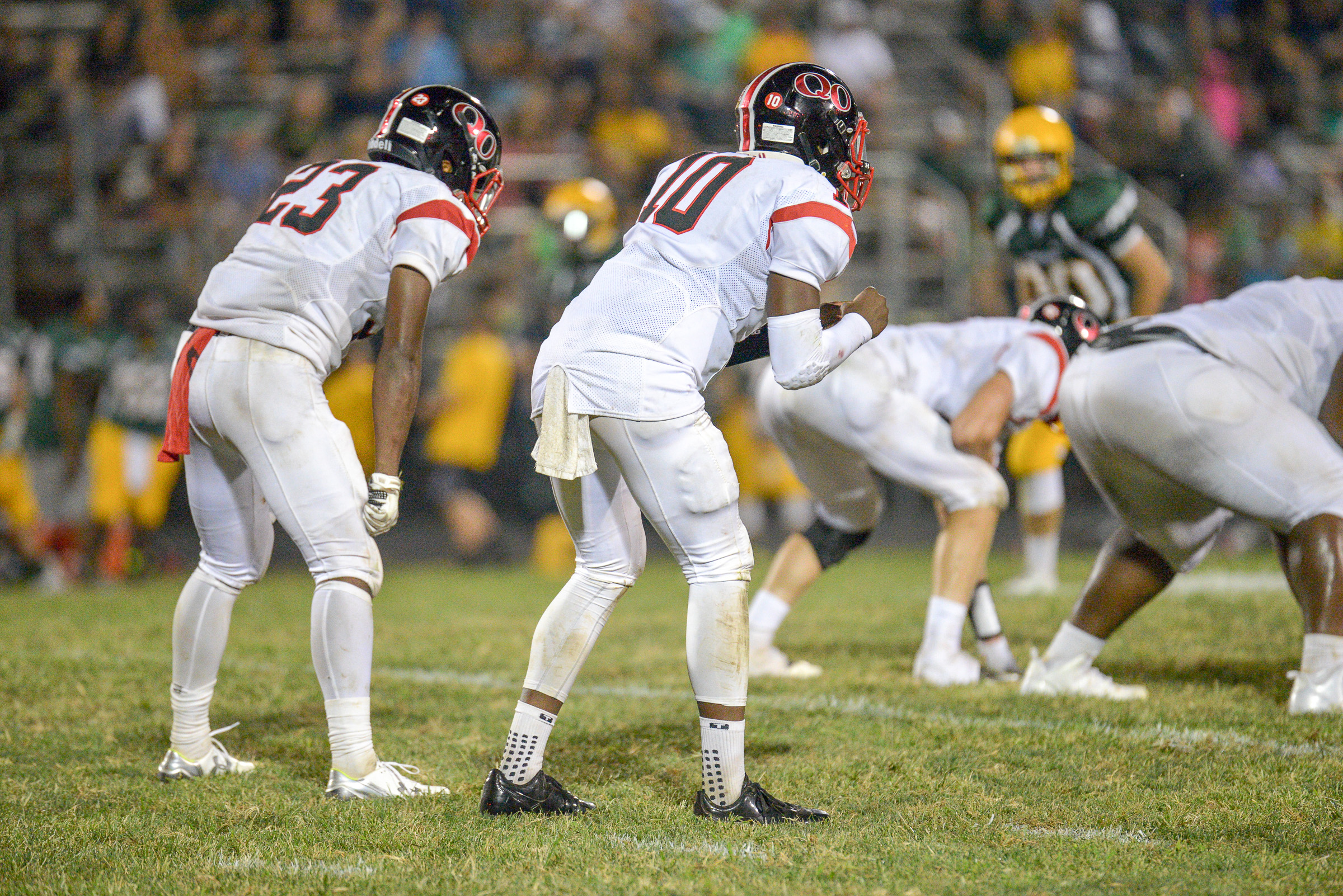 Big Game Match Up on Tap for Friday Night
Friday Night Lights (FNL) returns for the 2016 high school sports season with a big game match up between defending MD 3A State Champion Damascus Hornets visiting 4A Quince Orchard Cougars in Gaithersburg.
Pride is the only measure here between these two MoCo teams – the winner claims a measure of superiority in football prowess. For this game the Hornets look to extend their undefeated winning streak from last year while the Cougars want to expunge the sting of its 2015 season ending loss at home to 4A rival Northwest in the 4A West state playoffs. Of the two teams the Cougars have a lot to prove.
Early season rankings across the state and locally in the DMV have both teams ranked among the top 10. The Washington Post sports writers have Damascus pre-season ranked as #4 and QO as #8 – the makings of a big game in the DMV.
Quince Orchard needs to win a big game, win at home and win to build confidence to catapult them rightly into the state playoffs. Problem is this game comes so early in the season that should they win there is little challenge left during the 4A regular season, except for the October 14th game at Northwest, that will measure up to this big game.
Damascus on the other hand is in the very competitive 3A division and has a huge target on their back – as reigning undefeated state champions. Rockville, next week and then a late season rivalry matchup in Damascus against Seneca Valley are challenging. Also they can't overlook Blake or Wheaton along the way.
College Division 1 schools have already beaten a path to the Cougar Dome searching for talent amongst the squad at QO. Marvin Beander, running back, Fofie Bazzie, linebacker, Noah Pagley, receiver and Kendell "Doc" Bonner at quarterback are a few of the standouts. Damascus has garnered interest with talented players like running backs Markus Vinson and Urbana transfer Elijah Atkins. Damascus always has big lineman one of whom is Jordan Funk, Jake Funk's (last year's All Met Player of the Year) younger brother.
So you ask what do I expect?
The pressure is on the Cougars. It is rumored that a few QO starters are facing team disciplinary actions and may have to sit out a few quarters. So they have built themselves a hole to dig out of already. In early season scrimmage action against the private school, Good Counsel the Cougars had trouble running the ball – against Damascus I would expect the same. That means the air game for QO is a must and it needs to be effective – pressure on Bonner and his receivers to make plays to open up the running game for Beander.
Damascus, well it's the same old game. It is three yards and cloud of dust. Grind it out football using the leverage of their offensive line and talented running backs to make QO defensive front men stop them or wear them out. Yes, they might be missing the legendary Jake Funk at running back but the Damascus secret sauce has always been fundamental football blocking at the line of scrimmage – make a hole and make the other team stop them.
FNL advantage goes to Damascus.
I expect a packed house at the Cougar Dome and on the field in Gaithersburg tonight.
Phil Fabrizio
Twitter: @Photoloaf