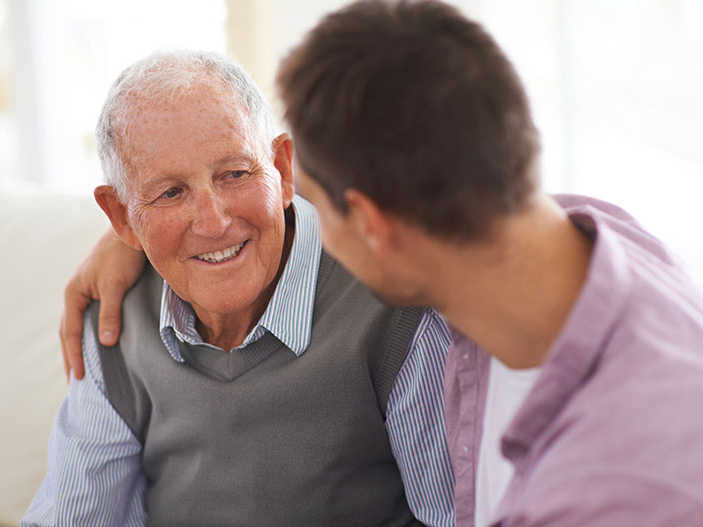 Adapting Interactions if Your Loved One has Alzheimer's or Dementia
If a loved one or friend has been diagnosed with a cognitive illness and you have no previous experience, you may want to begin by educating yourself. As the disease progresses, understanding how to respond to what is happening in the brain might help you feel more confident as you interact together.
The best advice is to always be patient, compassionate and flexible. And be prepared to pivot and adapt as behavior and capabilities can quickly change. The following are some suggestions for how you might prepare to engage with someone with Alzheimer's or dementia, especially in communication and responding to behaviors.
Cognitive disease and communication
A person with Alzheimer's or dementia often struggles to find the right words, repeats them or has trouble organizing them. They may also describe objects instead of using the names, easily lose their train of thought, use gestures more and eventually will often speak less.
For those who are living with a cognitive illness, it is a progressive disease and so the symptoms and their abilities to perform functions will change as they move through the different stages. The following is a short summary provided by the Alzheimer's Association.
Early stages
In the beginning, they may still be able to have meaningful conversations, although they may also start repeating stories or struggle to find the right words. Pay attention and make any adjustments on your end.
Middle stages
As abilities further decline, it's helpful to eliminate background noises and distractions before having a conversation. Speak slowly and maintain eye contact. Single topics or yes and no questions may be easier for them to follow. Don't correct them or argue but look for the meaning in what they're trying to convey. Use visual cues if they're helpful.
Late stages
As the disease progresses, the person may rely on nonverbal communication, either through expressions or sounds. Encourage them to point or gesture to help you understand. Look for clues and search for the meaning behind their words or gestures. Do they need anything? Are they afraid or uncomfortable?
Tips for communicating
Regardless of their ability to converse, communication doesn't rely solely on words. Take the time to discover what methods may work best. The following suggestions can help.
Especially in the early stages, ask them how they best like to communicate so you can stay in touch. Options could include talking in person, through emails or by telephone.
Don't ignore the person or make them feel as if they aren't in the room when you speak to others. Don't talk about the person with others while they are in the room.
Be patient and allow them time to think through how they want to respond and to find the words they want to use.
Convey the message through your words, actions or presence that your relationship with them is important to you.
Adapting to behaviors
Beyond conversations, you may also find yourself needing to adjust your response to some of the behaviors they may exhibit. Remember, their intention is not to hurt your feelings or make you uncomfortable. Their behavior is caused by the deterioration of brain cells, greatly affecting the ability to comprehend the world around them.
Behaviors may be their only way to communicate what they are experiencing at that moment. Although it can be a challenge, it's important not to take negative actions personally.
Responding to behaviors
Look for a pattern in their behavior. Try to focus more on the emotion and how the person may be feeling. Be patient and reassuring. They are not able to control their behavior so the only thing that can be changed is your response.
If possible, distract and engage them in another activity. Or try to turn their behavior into an activity such as providing a dusting cloth if they are continuing to rub their hand across the table.
As memory loss increases, it's important to stay calm and understanding. If they no longer recognize you, acknowledge to yourself that it is painful but try not to show it or get angry with them. It may be frustrating but they can do nothing to stop this. Search for other cues to help with their memory, such as photographs or other objects.
If your loved one exhibits delusions and paranoia, remember that even though it isn't real, it is very real to them. Don't be offended, argue or try to convince them otherwise. Try to understand their fears or concerns and address them in a supportive and encouraging way.
Don't make assumptions
One of the many challenges of caring for someone with Alzheimer's or dementia is trying to prepare for the situations that may arise while not making assumptions about their abilities. Even with the general symptoms and similarities of the disease, everyone can react differently so you will always need to be ready to adapt your responses accordingly.
Ingleside's Memory Support Assisted Living
The challenges of a cognitive illness can be many and it is painful to see someone you love struggle to make sense of a simple situation. But there are many excellent resources available and if your loved one is living in a memory care community, make sure you talk to the staff, as they have the experience and training and can provide you with suggestions on how best to interact.
At Ingleside's Memory Support Assisted Living, we are here to support your loved one and your family and friends. We encourage continued interaction because we know how important it is to everyone's quality of life.