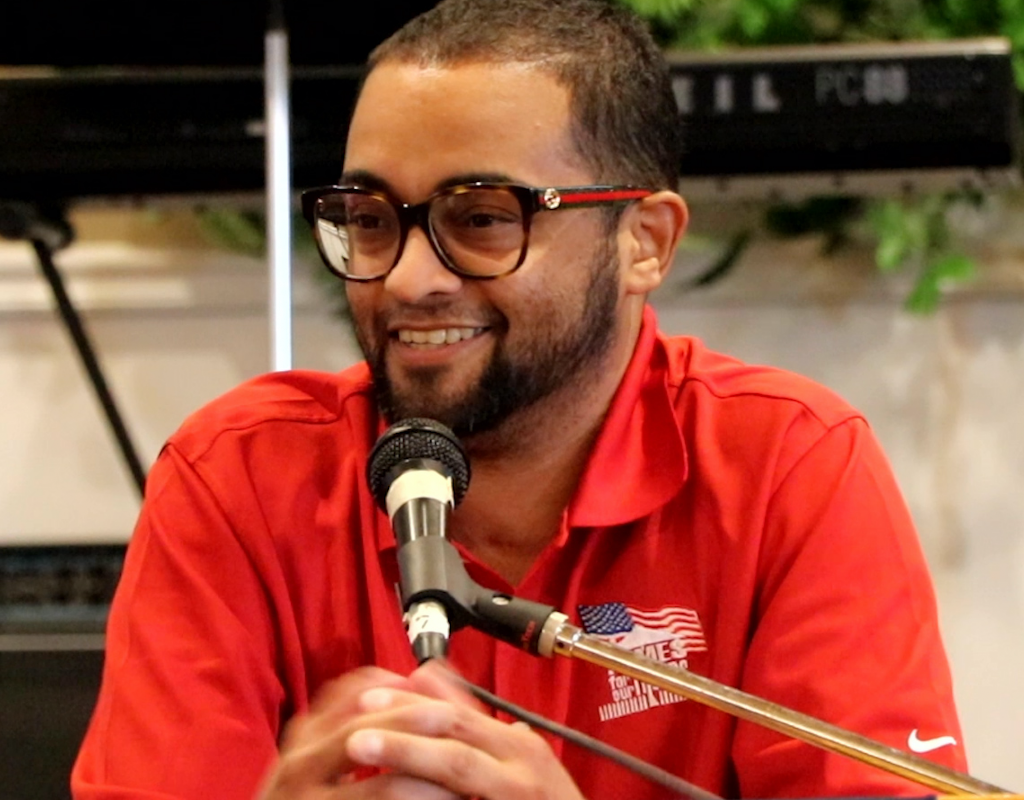 Wounded Army Vet to Move to Specialized Home in Poolesville
Sgt. Emmanuel "Manny" Melendez-Diaz, an Army veteran who served in Iraq, will have a new specialized home in Poolesville thanks to Homes for Our Troops.
In December 2004, Melendez-Diaz had been serving in the 2nd Battalion, 2nd Infantry Regiment, 1st Infantry Division on a road clearance patrol when his vehicle hit an improvised explosive device. The tragedy left him with intestinal damage, a collapsed lung, and, eventually, in March 2006, his right leg was amputated. He received a medical discharge from the Army in 2007
Homes For Our Troops held a welcoming ceremony for Melendez-Diaz and his wife Natibel at the Poolesville Baptist Church on July 17. First responders and Patriot Guard Riders escorted Manny and Natibel Melendez-Diaz to the ceremony where the couple was introduced to his soon-to-be neighbors.
Melendez-Diaz is from Puerto Rico, which is where he met his wife Natibel. Natibel Melendez-Diaz said that her husband—who is wheelchair bound with a prosthetic leg—may not admit it, but he struggles with everyday tasks in their household, from using the bathroom to going outside to play with his dog.
"To me, and I'm pretty sure for him too, this represents freedom," Natibel Melendez-Diaz said.
View this post on Instagram
The couple connected with Homes For Our Troops in 2018, a year after they were married. The organization was started in 2004 with the aim of connected wounded veterans with households that accommodate their special needs. Since it was founded, the organization has built more than 315 houses for veterans around the country.
Tom Landwermeyer, president and CEO of Homes for Our Troops, said the organization works with veterans to build a house at the location of the veteran's choosing land once veterans move in to the new specialized house, Homes For Our Troops remains in touch with the vets to help them successfully rebuild their lives.
"Manny fought down range for all of us, he shouldn't have to fight through challenges inside his home, your home ought to be a place of respite," Landwermeyer said.
Landwermeyer said the organization provides necessary household accommodations for wounded veterans, which reduces a number of burdens on families.
"Over 95% of our veterans report to us after moving into their home that the stress on their entire family has gone. The employment rate of our veterans almost doubles after moving into their home. The employment rate for the spouses and caregivers almost triples," Landwermeyer said. "I know there has been some discussion of kids … Since 2010, 228 babies have been born to our [Homes For Our Troops] families."
View this post on Instagram
Sgt. Manny and Natibel Melendez-Diaz, indeed, hope to start a family at their new home. They expect to move into the new house by the end of the year.
Sgt. Melendez Diaz is overwhelmed that he was able to connect with Homes For Our Troops and he is excited to live in a household that can accommodate his needs. He said, "It's a blessing. Being able to move around freely is truly something."