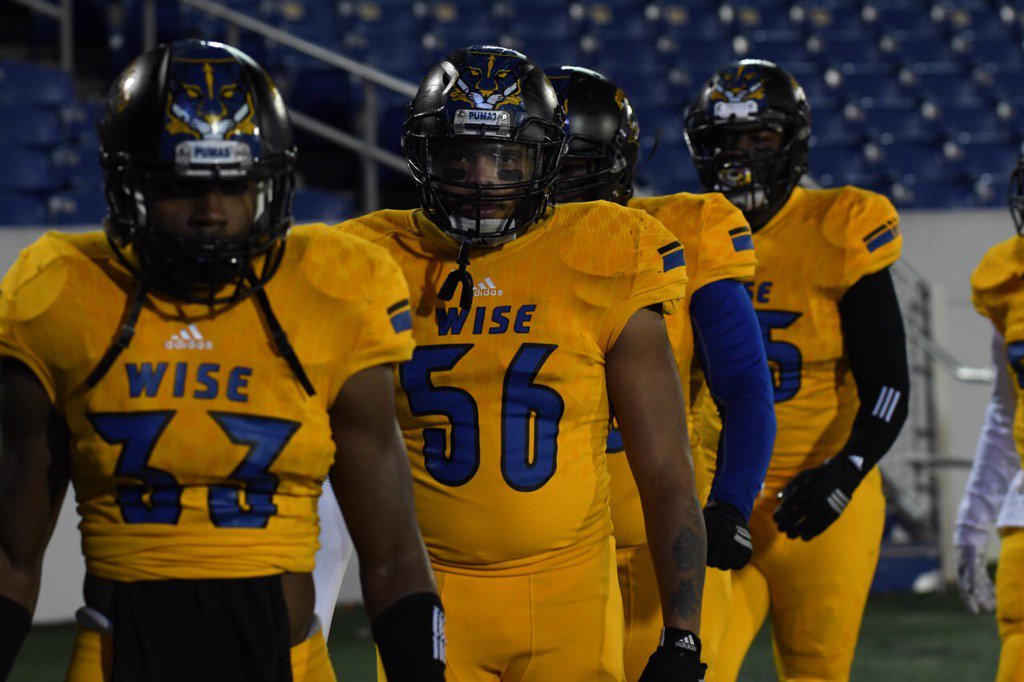 Wise Wins 4A State Championship, 42 – 7, Over QO (PHOTOS & VIDEO)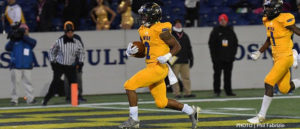 UPDATED The Wise Pumas took home the state 4A championship trophy with a 42-7 win over the Quince Orchard Cougars on Friday night.
The football game was played on a cold night at Navy-Marine Corps Memorial Stadium and, from the beginning, it was all Wise.
At halftime, Wise was up 14-0.
In the third quarter with the Pumas up 29-0, the Cougars finally scored a touchdown. But Wise responded and it was quickly 36-7.
In the third quarter, Quince Orchard's quarterback, Kendall "Doc" Bonner, was injured during a play and was taken off the field on a stretcher. There was a lengthy delay of game for his injury.
When the game resumed, the Pumas scored again in the fourth, making it 42-7 when time expired.
MCPS Superintendent Jack Smith was at the game and took part in the trophy presentation. Also in the crowd, Gaithersburg Mayor Jud Ashman who is a devoted fan of the Cougars.
Superintendent Jack Smith participates in trophy presentation. @mymcmedia pic.twitter.com/lBapyXiQWu

— Maureen Chowdhury (@MediaMaureen) December 10, 2016
PHOTOS | Phil Fabrizio
A final Friday Night under the lights for Senior Noah Pagley @mymcmedia pic.twitter.com/28DVkhapEg

— Phil Fabrizio (@Photoloaf) December 10, 2016
A long night in Annapolis for the State Runner-Ups QO Cougars. Final was 42-7 @mymcmedia pic.twitter.com/TcTxh5dWkf

— Phil Fabrizio (@Photoloaf) December 10, 2016
Pumas take home 4A state title. @mymcmedia pic.twitter.com/lsVGs8q2ZH

— Maureen Chowdhury (@MediaMaureen) December 10, 2016
This is the closest QO came to scoring next play they fumbled for the 4th time. 6:09 left. @mymcmedia pic.twitter.com/AnJy3BwmOM

— Phil Fabrizio (@Photoloaf) December 10, 2016
4th QTR begins. Wise 36 QO 7. @mymcmedia pic.twitter.com/vxJd7QZyVc

— Phil Fabrizio (@Photoloaf) December 10, 2016
Play resumes after lengthy delay from Doc Bonner injury. @mymcmedia pic.twitter.com/BFJfjXE1zJ

— Maureen Chowdhury (@MediaMaureen) December 10, 2016
Bonner down. Helmet collision. Stretcher now on the field. 2:29 in the 3rd. @mymcmedia

— Phil Fabrizio (@Photoloaf) December 10, 2016
Player down. @mymcmedia pic.twitter.com/AeBtOxff10

— Maureen Chowdhury (@MediaMaureen) December 10, 2016
ICYMI: Cougars scored a touchdown. Score now 36-7 Pumas. @mymcmedia pic.twitter.com/d5FRtyDIz3

— Maureen Chowdhury (@MediaMaureen) December 10, 2016
Laws to Lytton for 60 plus yards Lytton flagged for taunting. Wise 36 QO 7 @mymcmedia pic.twitter.com/1J8jFT6nrd

— Phil Fabrizio (@Photoloaf) December 10, 2016
Pumas respond with a touchdown. Score 36-7 Pumas @mymcmedia pic.twitter.com/Uho0uoTtQp

— Maureen Chowdhury (@MediaMaureen) December 10, 2016
Jones on the receiving end puts QO on the board. 29-7. @mymcmedia @QOAthletics pic.twitter.com/ZaVa3sG0dU

— Phil Fabrizio (@Photoloaf) December 10, 2016
Pumas score again with 2pt conversion. Score 29-0 Pumas. @mymcmedia pic.twitter.com/SD84rSSeWt

— Maureen Chowdhury (@MediaMaureen) December 10, 2016
Morsell in the 5 yard pass scores and catches the 2 point conversion. 29-0 Wise with 4:54 in the 3rd. @mymcmedia pic.twitter.com/eb4W4kpLOb

— Phil Fabrizio (@Photoloaf) December 10, 2016
Kyree Jacksons catch. @mymcmedia pic.twitter.com/XKBHlcfyyp

— Phil Fabrizio (@Photoloaf) December 10, 2016
Kyree Jackson on the catch for a Wise score 21-0 over QO n the 3rd @mymcmedia Photo to follow

— Phil Fabrizio (@Photoloaf) December 10, 2016
Pumas score third touchdown. Score 21-0 Pumas. @mymcmedia pic.twitter.com/m2iTVLWMu8

— Maureen Chowdhury (@MediaMaureen) December 10, 2016
QO band bringing the pep. @mymcmedia pic.twitter.com/jybAHjFvO0

— Maureen Chowdhury (@MediaMaureen) December 10, 2016
All Wise in the first half 14-0 @mymcmedia pic.twitter.com/180PrFZym4

— Phil Fabrizio (@Photoloaf) December 10, 2016
Moo Moo Oliver for 30 yards as Wise moves up 14-0 over QO @mymcmedia pic.twitter.com/z00Ri3sPAu

— Phil Fabrizio (@Photoloaf) December 10, 2016
3 Fumbles has stalled QO on this cold night 5:05 left in the half. @mymcmedia pic.twitter.com/GliAfL6i1r

— Phil Fabrizio (@Photoloaf) December 10, 2016
Our awesome photographer @Photoloaf in action. @mymcmedia pic.twitter.com/OsLqjtHQ0j

— Maureen Chowdhury (@MediaMaureen) December 10, 2016
Moo Moo Oliver for the score Wise converts for 2 Wise 8-0 @mymcmedia pic.twitter.com/YN4xdKWnlE

— Phil Fabrizio (@Photoloaf) December 10, 2016
Touchdown Pumas. With a 2 pt conversion. Score 8-0 Pumas. @mymcmedia pic.twitter.com/qPNSvhv8Ta

— Maureen Chowdhury (@MediaMaureen) December 10, 2016
Fumble on the play. Pumas have the ball. @mymcmedia pic.twitter.com/1KRyTi6oT3

— Maureen Chowdhury (@MediaMaureen) December 10, 2016
Crowd getting pumped in the first quarter. @mymcmedia pic.twitter.com/sEgO4QrLhA

— Maureen Chowdhury (@MediaMaureen) December 10, 2016
Cougars enter the stadium. @mymcmedia pic.twitter.com/lRSg6otzkc

— Maureen Chowdhury (@MediaMaureen) December 10, 2016
Big turn out for tonight's football 4A State Championship game. Including @judashman @mymcmedia pic.twitter.com/fHEJ7rXq3F

— Maureen Chowdhury (@MediaMaureen) December 10, 2016