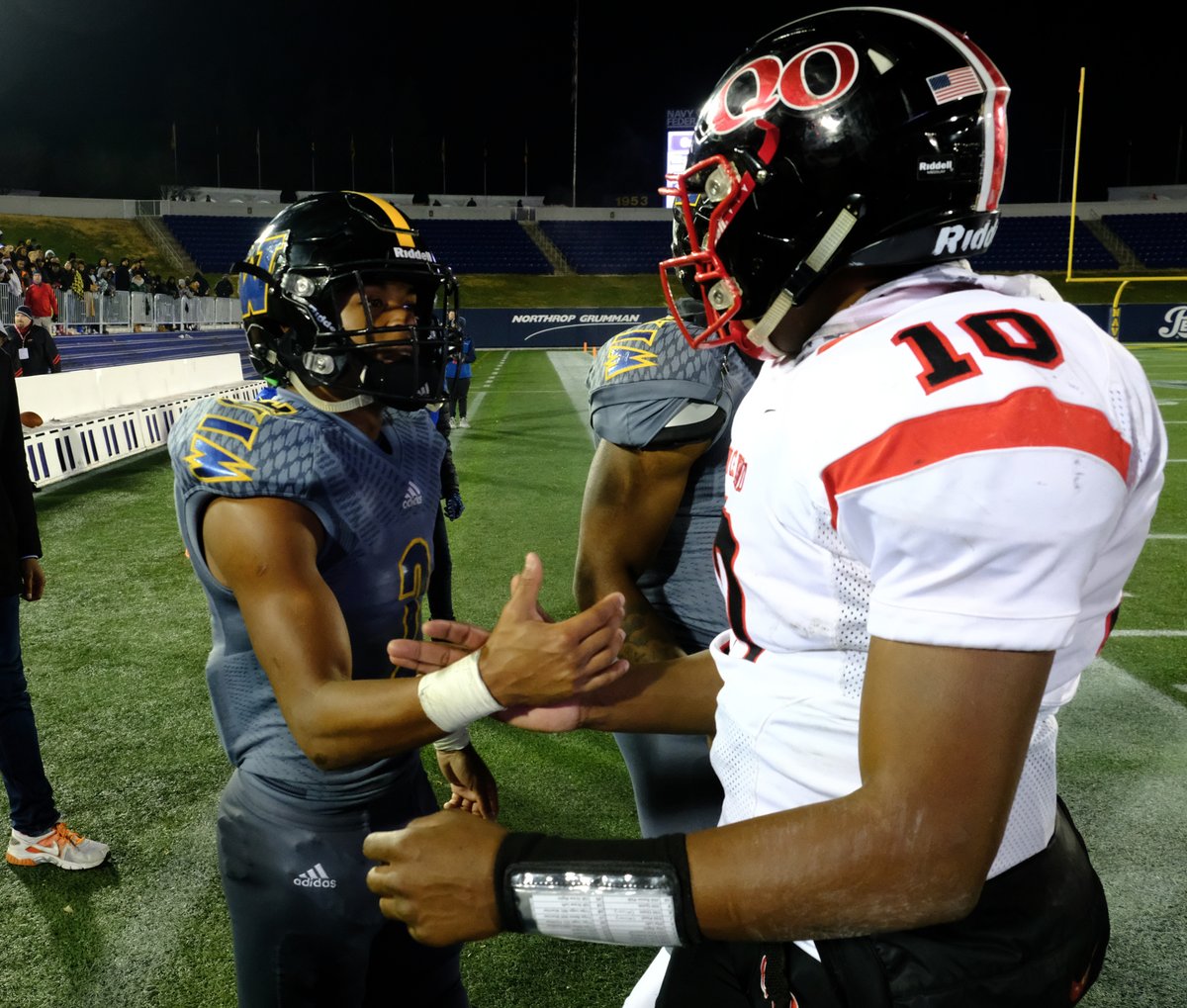 Wise Wins 4A State Championship, 38 – 20, Over Quince Orchard (PHOTOS)
The Wise Pumas took home the state 4A championship trophy with a 38-20 win over the Quince Orchard Cougars on Friday night.
The football game was played on the first night of December at Navy-Marine Corps Memorial Stadium in Annapolis. From the start, it was a hard fought game.
With just seconds left in the first quarter, Quince Orchard's Marquez Cooper scored with a 6-yard touch down run into the end zone. Evan Judge kicked for the extra point.
At the end of the first quarter, Quince Orchard was up, 7-0.
Wise scored next with a 1-yard touch down run and extra point, tying the score at 7-7.
Still in the second quarter, Wise scored again with a 11-yard touch down run. The 2 point conversion attempt was unsuccessful, making the score 13-7, Wise.
With less than a minute left in the second quarter, Quince Orchard's Ronnell Dennis intercepted the ball on the Cougars' 20 yard line.
At halftime, Wise was up 13-7.
Cougars' scored next, about halfway through the third quarter, with a Doc Bonner 25-yard touchdown pass to Brendan McGonagle. With Evan Judge's extra point kick, Quince Orchard took the lead, 14-13.
In the fourth quarter, Wise put 24 points on the board, Quince Orchard 6, making the score 38-20 when time expired.
PHOTOS | Phil Fabrizio
Congrats to @WisePumaSports MD State 4A Champs and to Runner Up @QO_FOOTBALL – for well played seasons that both will remember. Two top competitors Cougar @8Docbonner and Puma John Oliver after a night of great sportsmanship. pic.twitter.com/rkJHt22oFU

— Phil Fabrizio (@Photoloaf) December 2, 2017
Final. Wise 38 QO 20. @mymcmedia pic.twitter.com/c9qTVp8OMn

— Phil Fabrizio (@Photoloaf) December 2, 2017
Bonner to Payne 15 yd TD XP failed 38-20 Wise with 2:22 left. @mymcmedia pic.twitter.com/EXpXl8avkJ

— Phil Fabrizio (@Photoloaf) December 2, 2017
Lytton Jr scores 32-14 Wise QO fumbles KO at the 6 Wise ball @mymcmedia pic.twitter.com/d16vJhbPDf

— Phil Fabrizio (@Photoloaf) December 2, 2017
Oliver scores for Wise making it 26-14 with4:46 left in the game @mymcmedia pic.twitter.com/5LlBpd09MF

— Phil Fabrizio (@Photoloaf) December 2, 2017
Photo of Wise score making it 19-14 in the 4th @mymcmedia pic.twitter.com/kcvTz7YkDv

— Phil Fabrizio (@Photoloaf) December 2, 2017
Interception by Green 7 stops Wise Drive as 3rd Quarter ends 14-13 QO leading @munch media pic.twitter.com/ULcS3L8ktT

— Phil Fabrizio (@Photoloaf) December 2, 2017
Bonner to McGonagle 20 yd td pass QO up14-13 in the 3rd @mymcmedia pic.twitter.com/xcn0lGBy8i

— Phil Fabrizio (@Photoloaf) December 2, 2017
Morsell. Scores from 11 yd out 13-7 Wise @mymcmedia pic.twitter.com/1E1n3lyT4B

— Phil Fabrizio (@Photoloaf) December 2, 2017
Harrell Jr scores for Wise. 7-7at the 7:21 mark in the 2 nd Qtr. @mymcmedia pic.twitter.com/qnvKiqN4EU

— Phil Fabrizio (@Photoloaf) December 2, 2017
Bonner s 46 yd run sets up QO score on next play. 1st Qtr ends 7-0 QO @mymcmedia pic.twitter.com/Fc5WAwGKam

— Phil Fabrizio (@Photoloaf) December 2, 2017
Cooper scores from the 4 puts QO up 7-0 in the 1st. @mymcmedia pic.twitter.com/eYBjfsC1re

— Phil Fabrizio (@Photoloaf) December 2, 2017
Big defensive stand by QO stop Wise on 4 downs inside the 2 @mymcmedia pic.twitter.com/1xcyMI63Gi

— Phil Fabrizio (@Photoloaf) December 2, 2017
Game time in Annapolis @mymcmedia pic.twitter.com/OmbuI6B4L7

— Phil Fabrizio (@Photoloaf) December 2, 2017