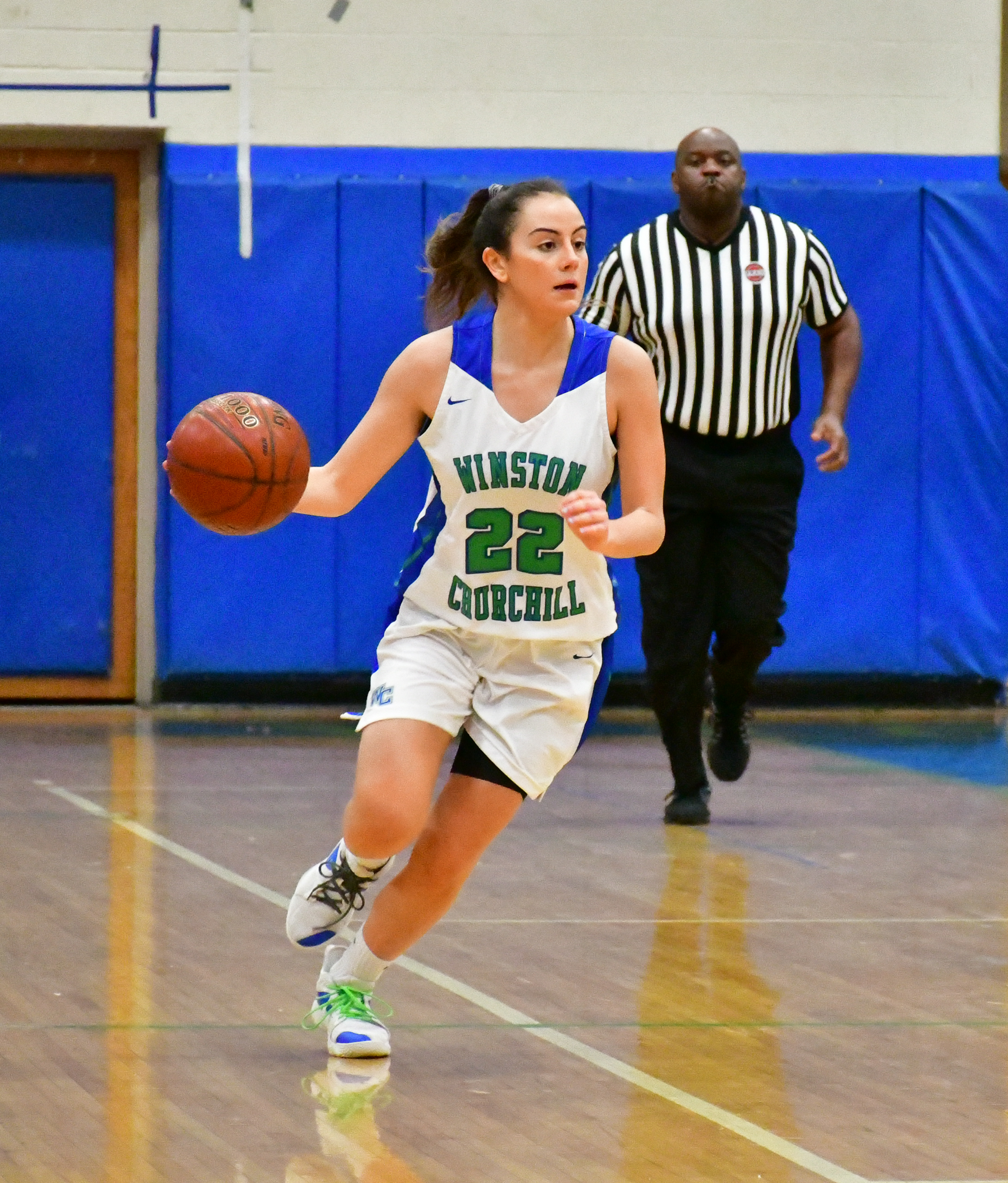 Whitman Girls Stun Undefeated Churchill With Last Shot to Win 40-39
Potomac, Maryland Winston Churchill High School, January 11, 2019
The game between the undefeated Bulldogs of Churchill and the Whitman Vikings girls team ended with a Whitman three-point shot with three seconds remaining to give the Vikings a 40-39 victory.  The time out called by Churchill gave them a three-second chance to go the length of the floor and score to remain undefeated, but it was not to be.  The Churchill and Whitman girls now have one loss each.  The rematch later this season will certainly be something to see when the two teams meet at Whitman.
The two halves for Churchill were certainly completely different.  The lady Bulldogs were in complete control during the first half.  Their 3-2 zone defense stifled the Vikings offense, every Whitman pass was contested or tip and more often than not resulted in a Whitman turnover.  The halftime score was Churchill 30 Whitman 16, the Bulldogs were dominant.
The second half started and Whitman's tenacious man to man defense began to create problems for Churchill.  Suddenly Churchill shots that fell in the first half weren't dropping and Whitman's were.  Once the Churchill lead dropped below ten points the momentum was clearly in favor of the Vikings.  At the end of the third quarter, Churchill was up 35-28.  Churchill's fortunes actually got worse when they only scored four fourth-quarter points.  This lack of Bulldog scoring was attributed to Whitman's aggressive defense.  The final minute saw Churchill go up 39 to 37 but Whitman high scorer #24 Elyse Lowet (14 pts) got the ball at the top of the key outside the three-point line and launched a shot that banked off the backboard and in for the final points.  Three seconds remained and Churchill executed a good play to have a chance to score but the shot never happened.  The joyous Whitman girls rushed the court in celebration and the Churchill girls stood in stunned silence.
Scoring for Churchill (with five points or more)
#25 Kaila Wilson  5
#22 Cat Correa  6
#33 Parker Hill  6
#5 Kamryn Testa 8
#4 Brittini Martin 9
Scoring for Whitman
#21 Molly Knox  2
#22 Carter McGloom  6
#32 Emma Salafsky  7
#23 Leia Till 11
#24 Elyse Lowet  14
Pictures to follow by Daryl Schultz