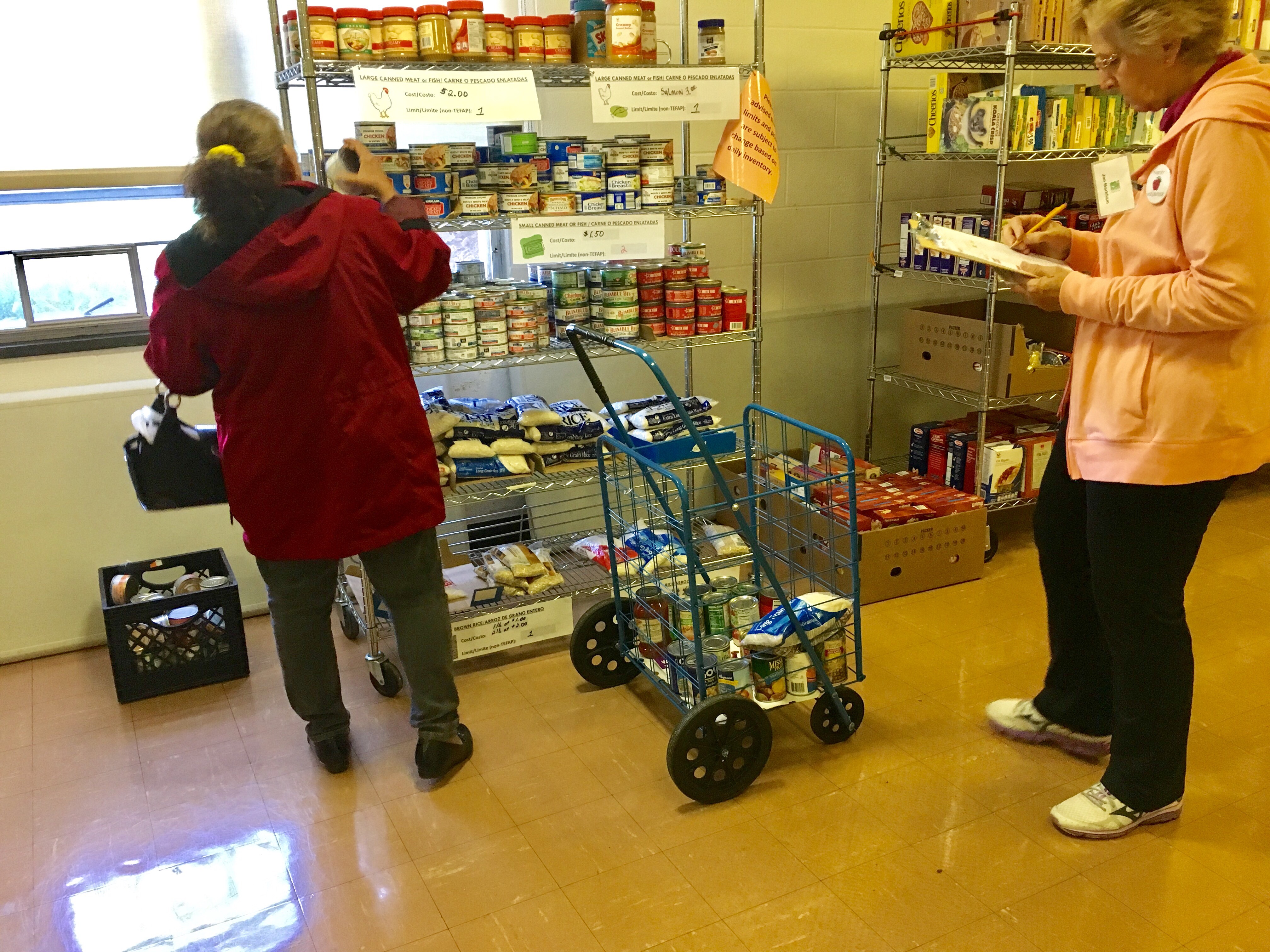 What a Difference a Choice Makes
Greetings, I am Malori Holloman, Program Manager of Manna's Smart Sacks program.
What comes to mind when you think of a food bank? Prior to working at Manna, I envisioned a line of people signing in to receive a box of canned food and going on their way. It didn't take long for me to see that it wasn't as simple as I thought. Manna provides non-perishable items in addition to bread, produce, prepared foods, frozen meat, and baked goods. None of this happens without a hefty load of scheduling and synchronization of multiple departments. While most of Manna's sites function under this conventional model of distribution, when the opportunity to collaborate arises, Manna offers another model of food distribution.
Just over two years old, Manna's Choice Pantry at Colesville Presbyterian Church (CPC) is serving our neighbors at its capacity of 70 households each month. On October 28th, I had the opportunity to observe the pantry in action and speak with several participants and volunteers about their experience. It truly is a special site where Manna's values of respect, service, and partnership are exemplified.
A core team of eight volunteers, co-lead by Toby Weismiller and Mary Scott, oversee the operation every month. On distribution days, as many as twenty-five volunteers, make the four hours of distribution go by as smoothly as possible. Through two shifts, volunteers dedicate their time setting up; checking in participants; stocking bread, meat, and produce tables; preparing refreshments; guiding participants through the shopping room; and bagging groceries.
Much like at our main distribution center, participants are already in line more than an hour before opening, but what's different about the choice pantry at CPC is the scene that awaits shoppers. As daylight streams into the grand room, participants are met with warm greetings as they choose a seat at the collection of tables and wait for their number to  be called. Waiting is easier when there's a chair to sit in and an array of refreshments like coffee, fresh fruit, cheese and crackers, and baked goodies available. During their wait, participants are encouraged to select their bread, produce, and meat in between conversations with other participants and volunteers alike. Stacy picks up for another family and finds "the longer she sits, the more likely she is to talk to someone new."
Orlando, a first-time participant, asked me if he could have a banana. He remarked, "This is really nice and organized, I feel like I can be patient." Joyce has visited the pantry three times with her husband José and loves the "ability to choose the foods that [she wants] and the fact that there is a nice selection of food available."
Many of the participants echoed these sentiments and while Valerie, finds it comfortable and not rushed, she does miss seeing Ms. Sunshine, also known as Ms. Blanche Hall, a long-time Manna employee. Patience is necessary as the pantry's main caveat is the wait time as the shopping process varies depending on the participants and the fact that only five participants can go through the dry goods section at a time.
Longer wait time aside, Manna's Choice Pantry at CPC offers our neighbors in need a unique opportunity to make more of their own decisions about the foods they'll eat over the next couple of weeks. Though this model of distribution takes a concerted effort on both Manna and CPC's part, two years in, Toby is pleasantly surprised about the ease of the process as the pantry has grown from serving 20 to now 70 families.
Building on the momentum of CPC's success and in the spirit of respect, service, and partnership, Manna is proud to be able to expand the choice pantry model in partnership with Silver Spring United Methodist Church starting November 12th. The choice pantry at SSUMC will be open two Saturdays each month with the capacity to support 45 families each distribution day. Be sure to reach out to us if you're interested in being a part of this incredible work happening right here in Montgomery County!