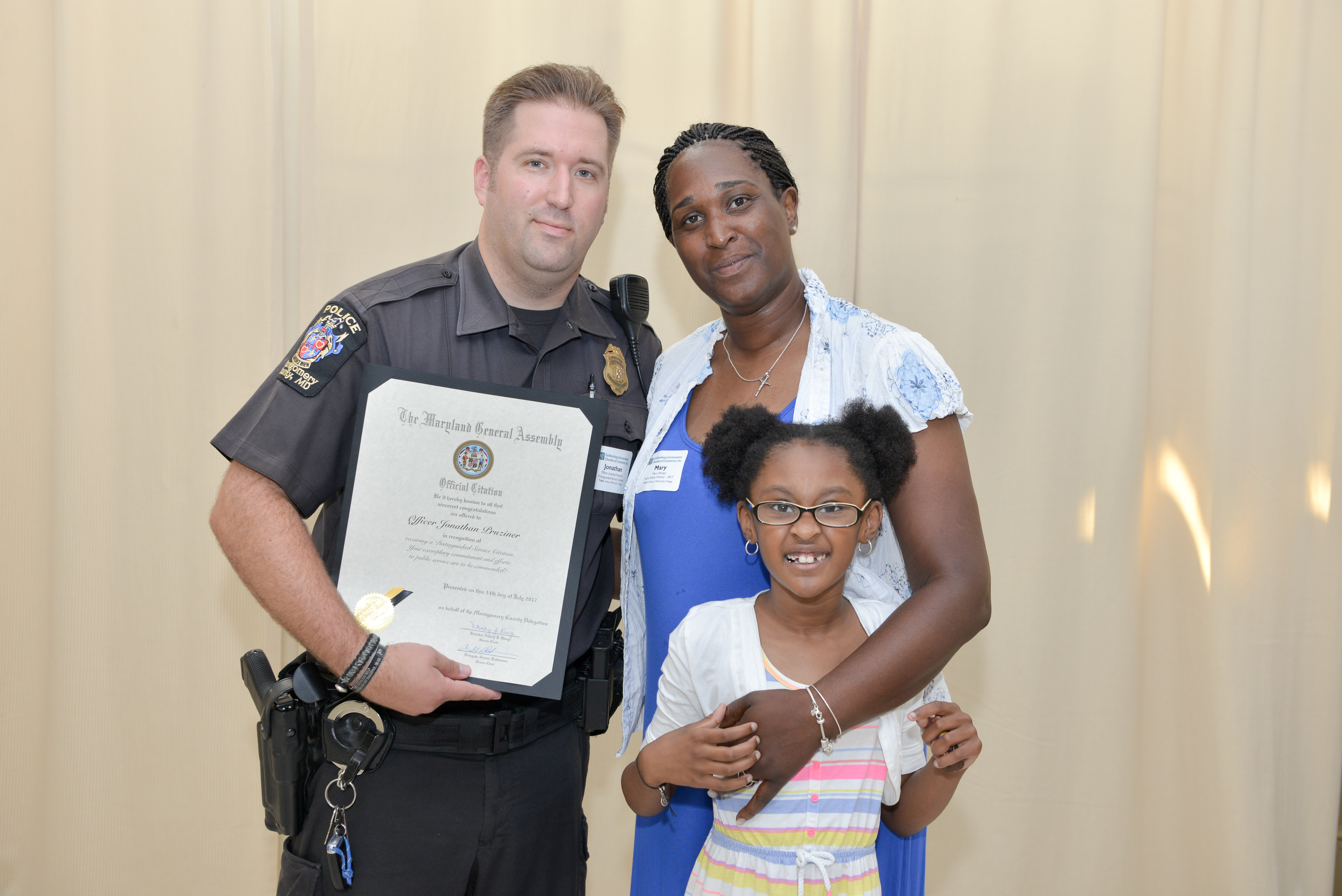 Twenty Public Safety Officials Honored at Chamber's Public Safety Breakfast
The Gaithersburg-Germantown Chamber of Commerce (GGCC) honored twenty Upcounty Police Officers and a Firefighter at their 22nd Annual Public Safety Awards Breakfast on Friday, July 14. The event was held at the Montgomery County Fairgrounds.
The Annual Public Safety Awards honor the Law Enforcement, Fire & Rescue, and Emergency Service professionals protecting the Upcounty of Montgomery County, Maryland. They protect our homes, businesses, schools, and families every day. Each year we celebrate their achievements, outstanding service, and commitment to the community. The awards program provides the business community with an opportunity to publicly thank those who help maintain the quality of life in the Gaithersburg and Germantown areas.
"We are blessed in our community to have our first responders who are willing to put their lives on the line every day to make our families safe.," said Marilyn Balcombe, GGCC Executive Director.
The Chamber recognizes public safety officials from the Gaithersburg Police Department, Montgomery County Police 5th and 6th Districts and Montgomery County Fire & Rescue in following categories: Medal of Valor, Citation for Bravery, Distinguished Service Citation and Meritorious Service Citation.
Each awardee was given a citation from United States Congressman John Delaney and State Senator's Nancy King (District 39) and Cheryl Kagan (District 17); along with two tickets to a Washington Nationals game compliments of Lerner Enterprises.
We were honored to have several elected officials with us including Kagan, State Delegate Charles Barkley (District 39) and Jim Gilchrist (District 17); Montgomery County Councilmembers Sidney Katz, George Leventhal and Marc Elrich; and City of Gaithersburg Mayor Jud Ashman. Maryland State Police Commander Daniel Pickett, Montgomery County Police Chief Thomas Manger, and Montgomery County Fire Department Chief Scott Goldstein were also in attendance.
Montgomery County Fire and Rescue Services Fire Fighter Dwight Reid was awarded the Distinguished Service Citation for going above the call of duty and preventing an unfortunate attack at Holy Cross Germantown Hospital from escalating further. After concluding a patient transport, Reid observed a security guard engaged in a physical altercation with a large patient of muscular build. The guard was on the ground and the patient was repeatedly punching him about the face. Unbeknownst to Reid, the patient was under care for Post-Traumatic Stress Disorder and had demonstrated aggressive and violent behavior in the previous twenty-four hours. The patient lunged at the guard, an emergency room technician attempted to intervene and was violently thrown across the room.  Other staff were unsuccessful in subduing the patient. Without hesitation and consideration for his personal well-being, Reid quickly grabbed the patient from behind and subdued him until the arrival of law enforcement personnel. His actions prevented further injuries to the security guard, assured the safety of emergency room staff.
Montgomery County Police 6th District Commander Dinesh Patil awarded Police Officer Matthew McGowan with the Medal of Valor. McGowan responded to a routine call where a complainant indicated that his bicycle had been stolen. During the course of the investigation, the complainant drew a knife from concealment, raised it in the air and attacked McGowan. The complainant began attempting to stab the officer—throwing him off balance. The officer was able to grab his attacker's arm and then draw his own sidearm. McGowan was able to defend his life by deploying his sidearm. McGowan not only performed heroically in a life and death situation, but handled the call professionally from beginning to end.
Sergeant Robert Lumsden is a supervisor for one of the evening shifts in the 6th District. Throughout this last year, he has responded to many calls and has been on the scene of numerous incidents. As a result, several good arrests involving robberies, auto thefts, and outstanding warrants have been made which have led to many case closures. For being an essential part of the 6th District team and crime fighting efforts; as well as ensuring the best service on routine and life safety calls for service, Lumsden was commended for his continued and sustained efforts in all of his policing and was awarded the Distinguished Service Citation.
Montgomery County Police 6th District Police Officers responded to a report of a sexual assault. Officers met with the victim who stated that she was approached from behind by an unknown male suspect. The suspect followed her for a half a mile at which time he grabbed parts of her body and threw her to the ground. Police Officer Drew Abbamonte spotted the suspect within minutes and after a brief foot chase, the suspect was apprehended and the victim identified him as the offender. The suspect was processed and charged with numerous criminal offenses to include assault, attempt robbery and attempt rape. Subsequent investigation revealed that the suspect is a registered sex offender and was recently released for a similar incident that occurred last year. Abbamonte was awarded the Distinguished Service Citation for taking the suspect into custody and keeping our community safe.
In May, officers responded to a call about an adult male who called 911 threatening to cut his throat. When Officer's arrived, they found a victim that had completely severed his own genitalia and had attempted to decapitate himself with several deep lacerations around his neck. Sergeant Al Dzenkowski, Police Officer Bradley Feldman, Officer Nicholas Hoornstra, and Police Officer Michelle Barger provided first aid and controlled the bleeding until Montgomery County Fire & Rescue arrived on scene. The victim survived. The professionalism displayed by these officers and the ability to act quickly in an emergency situation saved this man's life and these officers were awarded with a Distinguished Service Citation.
6th District Police Officer Scott Zimmerman, who has worked very hard to improve the safety and security in the community, while solving problems where often a solution could not be found, was awarded the Meritorious Service Citation.
In October, 5th District Police Officers responded to a shooting. The incident began with a domestic dispute between a husband and wife and eventually, the husband shot the wife and shot himself in the head. Officer Brian Holloway was first to arrive and observed the wife with multiple gunshot wounds. Holloway, Officer Dawn Wenner and Officer Maurice Key assessed the victim's condition and began life-saving efforts. The wife had lost a large amount of blood and had extreme difficulty breathing. The three officers began controlling blood loss of the wife. The officers were able to properly identify the medical condition. They improved the wife's breathing & continued to control the blood loss, while monitoring the chest wound condition until Montgomery County Department of Fire Rescue Services arrived. These officers were awarded the Distinguished Service Citation for their quick analysis and prompt life preserving actions in a dynamic situation.
5th District Police Officer's Brian Holloway and Luisa Meade and Sergeant Manuel Saponara responded to an assault-in-progress call. After a force entry into the home they discovered the victim had been sexually assaulted by her son. Detectives responded and conducted a series of interviews and interrogations resulting in an arrest. The suspect was charged with Attempt 1st Degree Rape, Attempt 2nd Degree Murder, 1st Degree Assault, and 1st Degree Sex Offense. Saponara, Holloway and Meade were awarded the Citation for Bravery for their analytical abilities and critical decision to force entry into the residence. They spontaneously explored all potential consequences and ramifications and took the proper course of action.
Montgomery County Police 5th District Commander Mark Plazinski awarded Police Officers Melissa Kiley and Courtnie Maines with the Distinguished Service Citation for their professionalism and genuine interest in the life and welfare after saving a 24-year-old male who had overdosed on heroin.
Residents Mary and Sahara Wimpy joined Plazinski at the awards ceremony to honor Police Officer Jonathan Pruziner with the Distinguished Service Citation after he saved the life of Sahara Wimpy. Plazinski said he was awarded the citation for his "exceptional mastery of professional skills and is fully devoted to the safety and security of all residents". Sahara, an autistic, 7-year-old child, had gone missing after a babysitter became preoccupied. Pruziner was part of the team of officers searching for the missing child. He found her about 75 minutes into the search operations.
Gaithersburg Police Department Police Officers John Davis and Michelle Kirk were both awarded with the Distinguished Service Citation for two separate vicious animal complaints in Gaithersburg. Davis's quick response, proper assessment and effective use of the tools available to him made the difference between life and death for this victim. And Kirk's calm and decisive actions prevented additional injury to a victim and any injury to other potential victims or officers until animal control could take custody the dog.
Barbara Crews, Assistant Executive Director, Community Relations at Johns Hopkins University Montgomery County Campus, was the Master-Of-Ceremonies.
For the tenth year in a row, Paul Davis Restoration & Remodeling is the Title Sponsor of the event. For more than 40 years, Paul Davis Restoration & Remodeling craftsmanship and care has helped families and businesses overcome the devastating setbacks inflicted by fire, flood and wind.
Additional sponsors include:
Official Gift Sponsor
Lerner Enterprises
Shining Silver Sponsor
Adventist HealthCare Shady Grove Medical Center
City of Gaithersburg
Cochran Automotive Service Center
Hughes Network Systems, LLC
M&T Bank
Montgomery County EFCU
PCC Construction Components, Inc.
Table
Asbury Methodist Village
Gaithersburg Police Foundation
Holy Cross Health
Johns Hopkins University Montgomery County Campus
Lerch, Early & Brewer, Chartered
Lerner Enterprises
Montgomery College
Rodgers Consulting, Inc.
Therrien Waddell, Inc.
Public Safety Official Sponsor
Cartridge on Wheels
H & S Memorable Events, LLC
On-Site.com
Gift Sponsor
Corner Bakery
Melting Pot Gaithersburg
Pinky & Pepe's Grape Escape
2017 Special Event Sponsors: The Plamondon Companies, Bargain Movers & Crown Trophy
Photography Donated by: PhotoLoaf™ – Live. Love. Play. Loaf.
Honor Guard by: Gaithersburg Police Department, Montgomery County Police Department and the Montgomery County Sheriff's Department