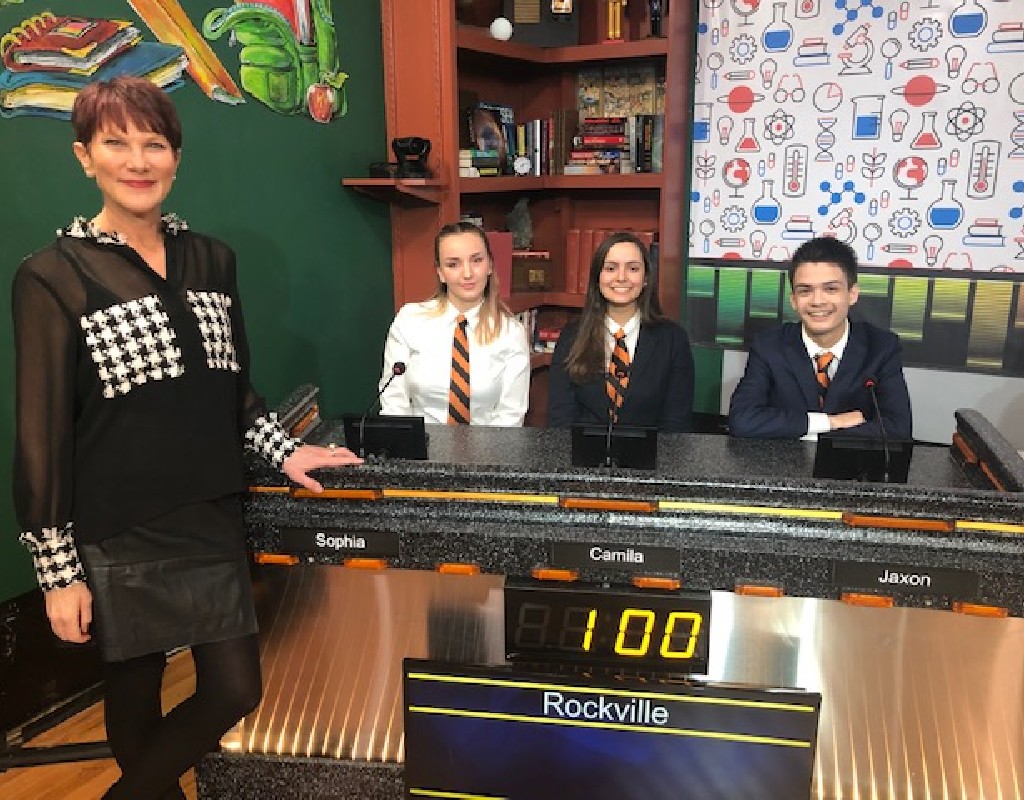 TV's 'It's Academic' Coming Back for 61st Season Thanks to New Sponsors
The tv quiz show It's Academic, which has featured Montgomery County high school students for decades, gained two sponsors that will enable the show to continue after Giant Food ended its sponsorship.
D.C. philanthropist and co-chair of the Carlyle Group David Rubenstein and Mitre, a not for profit organization that operates federally funded research and development centers, agreed to partner together so the show could continue. It's new name will be It's Academic- Washington DC. Rubenstein is the title sponsor and Mitre is the platinum sponsor.
Executive Producer Susan Altman, whose mother Sophie founded the show in 1961, said she was delighted and grateful that the show can continue but admitted she was fairly confident it would happen.
"We've had such an outpouring of support from the community," with so many people reaching out to people they knew in hopes of finding sponsors. "You kind of thought, sooner or later, someone would step up," she told MyMCM.
She predicted that her mother, who passed away in 2008, "would be speechless. She'd be so happy." After all, Altman said, her mother originally believed the show would only last 13 to 26 weeks.
The show airs on NBC4 and will air Saturday mornings from October through June 2022. More than 80 secondary schools will be involved. This past season, all the competition was shown virtually and that will continue, at least during the beginning of the next season, Altman said.
Because the teams were on Zoom, the audience was able to hear the high school teammates consult and talk with each other, which Altman considered a plus. She also liked that younger siblings and pets sometimes came on camera. During the Zoom season, the show used more colorful graphics and added a lightning round, she said.
"It's Academic is a Washington institution. I am delighted to help the show continue to educate and inspire students," said Rubenstein in a news release. "I remember watching the show when I was growing up, and I realized how I had better study harder if I was going to get anywhere. Valuable lesson then and now. We need engaged citizens, so I encourage students to read, learn, get involved, and make a difference."
"We are thrilled to support It's Academic and honored to join Mr. Rubenstein in underwriting this unique and iconic program, as well as continuing our commitment to motivate students to discover, create, and lead in their communities," said Jason Providakes, president and CEO of MITRE, a not-for-profit company working in the public interest. "Fostering young talent and their interest in STEM and other disciplines is one of many ways we actively participate in the communities in which we work and live."
WTOP radio anchor Hillary Howard will continue as host of the world's longest running high school television quiz show. Mac McGarry hosted the show for its first 50 years.
Rubenstein is chair of the board of trustees at the Kennedy Center Center for the Performing Arts and the Council on Foreign Relations. He is a trustee of the National Gallery of Art, Johns Hopkins Medicine, the National Constitution Center and host of The David Rubenstein Show: Peer to Peer Conversations.
Related Post
It's Academic Celebrates 50 Years Partnership with Giant Foods (PHOTOS & VIDEO)
UPDATE: It's Academic lands sponsors! Thank you David Rubenstein + @MITREcorp for turning the spotlight on students who love to learn. #Knowledgeispowerhttps://t.co/MpuOaK1zPT

— Hillary Howard (@hhowardWTOP) June 16, 2021