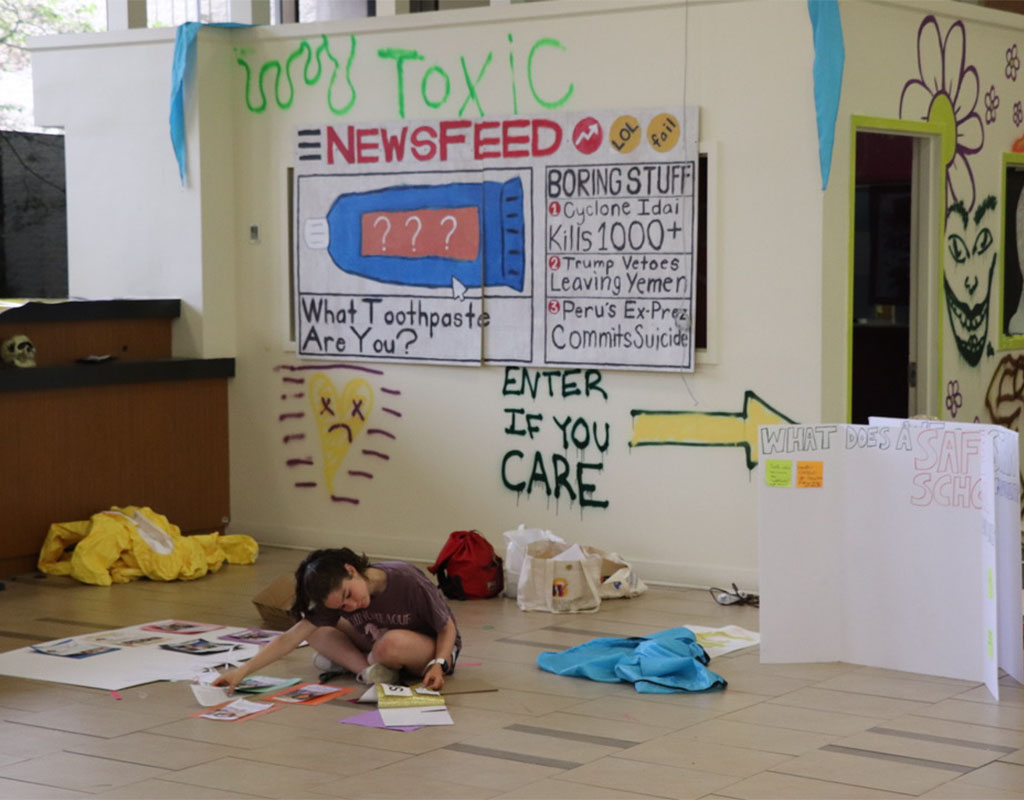 Toxicity Pop-Up Museum Navigates Complicated Lives of Teens
Montgomery County Public Schools International Baccalaureate students have organized a pop-up museum to highlight how toxic behavior can be pervasive to a teen's upbringing.
The museum, which is open to the public in Bethesda on April 26 through April 28, explores the theme "Coming of Age in Toxicity."
Seniors and juniors created a range of exhibits — "The Bethesda Bubble," the college admissions scandal, Instagram's impact on young girls, gun violence, helicopter parenting, substance abuse, sexual assault — all of which highlight patterns of toxicity, which corrode how teenagers view the world.
Bethesda-Chevy Chase Students Explain Toxicity Exhibits
Many of the exhibits at the event are relevant and in tune with today's news.
MCM spoke with IB students from Bethesda-Chevy Chase High School about their projects.
Two seniors at B-CC, Daniel Navratil and Sophia Saidi, poked fun at actresses Lori Loughlin and Felicity Huffman in their exhibit. Loughlin and Huffman were both indicted recently for using bribery to get their children into college. In their group's exhibit, Navratil and Saidi explored the extreme lengths that parents will go to to help their children succeed.
Emma Volkers and Lilly Behbehani, two juniors at B-CC, both had an exhibit that displayed social media posts by girls on Instagram. The "girls" pictured were American Girl dolls, but not dressed in their usual, wholesome, innocent manner. Instead, the dolls were surrounded by red solo cups, and some had plastic surgery tape on their noses.
Volkers and Behbehani said that they wanted to highlight how young girls can be when they start to feel pressure to look and act a certain way that ultimately hurts their self-esteem.
Emily Schrader, a B-CC senior, brought back a famous B-CC gun violence exhibit to the pop-up museum. The exhibit includes 671 t-shirts with the names and ages of teenagers killed by guns in the United States in 2017.
Schrader said that her exhibit aims to call museum attendees to action — they start by walking in a room surrounded by the shirts and they end the walk by writing a letter to congressional leaders in a private room.
Three B-CC seniors, Elijah Webb, Anton Pagano, and Caroline Brown, made an exhibit to show the rollercoaster of emotions that comes for students struggling to understand their sexual orientation. The three students said that although LGBTQ students have more leaders to look up to, the process of coming out is still a difficult one.
Events at the Toxicity Pop-Up Museum
In addition to these exhibits, the museum will feature performances, a 3D board game, and an escape room. The full schedule of events can be viewed on the students' website.
The pop-up museum is located on 7316 Wisconsin Avenue in Bethesda.