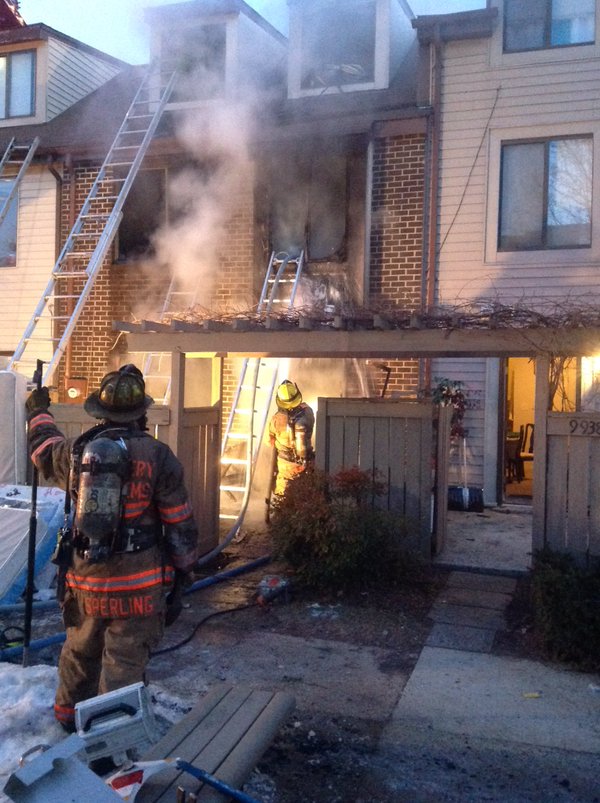 UPDATED: Firefighters Investigate Townhouse Fire
UPDATED Dozens of firefighters responded to a townhouse fire in the 9900 block of Brookridge Court on Thursday morning, according to a Montgomery County fire official.
Fire and Rescue Spokesperson Pete Piringer said neighbors were evacuated as firefighters attacked the fire in the townhome community.
According to Piringer, 75 firefighters responded to the blaze and, he said, they were engaged in a "firefight," at one point. At the scene, firefighters encountered a frozen hydrant and snow piles blocking fire lanes.
Piringer said one person was transported to the hospital with non-life threatening injuries.
Damages are estimated at $225,000, Piringer said.
He added that the Red Cross is assisting the displaced family.
So far, no word on what sparked the blaze. You can find out more, here.
Update – Gburg Townhse Fire, 9900 Block of Brookridge Ct – >$225k damage, 1 fam displcd SEE: videos & photos & more https://t.co/MEaT1xeUPP

— Pete Piringer (@mcfrsPIO) February 18, 2016
More..9936 Brookridge Ct, 3-level, MOR TH; Cause, under investigation; Damage, >$300k; 75 FFs on scene, 1civ injury pic.twitter.com/lztdHe2n9s

— Pete Piringer (@mcfrsPIO) February 18, 2016
(615a) 9900blk Brookridge Ct, Shadow Oak TH, at least 1 family displaced, 1 civ NLT inj, Red Cross assisting pic.twitter.com/iHMIXbnerJ

— Pete Piringer (@mcfrsPIO) February 18, 2016
MCFRS Battalion Chief Mike Hamilton (BC5) briefly describes conditions upon arrival on Brookridge Ct, Gburg pic.twitter.com/sW2PDcCP2a

— Pete Piringer (@mcfrsPIO) February 18, 2016
9937 Brookridge Ct, Montgomery Village, 3-level, MOR TH, fire under control, EMS transporting 1 occupant NLT inj pic.twitter.com/MkMSN2eOWP

— Pete Piringer (@mcfrsPIO) February 18, 2016
Update – Brookridge Ct, back-to-back TH, unit of origin, fire knocked on 1st & 2nd floors, checking 3rd level attic, w/ smoke conditions

— Pete Piringer (@mcfrsPIO) February 18, 2016
Update – Brookridge Ct, Montgomery Village, 2-sty TH, FFs engaged w/ firefight, occupant out, neighbors being evacuated,

— Pete Piringer (@mcfrsPIO) February 18, 2016
9936 Brookridge Ct, Germantown, 2-sty TH, FFs on scene, heavy smoke showing

— Pete Piringer (@mcfrsPIO) February 18, 2016