Townhouse Fire Causes $80,000 in Damages in North Potomac (PHOTOS)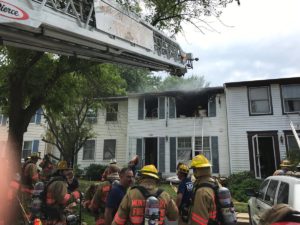 A townhouse fire on Captains Walk Court in North Potomac caused an estimated $80,000 in damages Tuesday afternoon, according to Montgomery County fire officials.
Firefighters were able to extinguish the blaze before it spread to other units.
Fire and Rescue spokesperson Pete Piringer reported on his Twitter account that the cause of the fire was electrical in nature. He said it began in an upstairs bedroom closet.
There were no reported injuries.
Crews working at Town House Fire 11100 bill Captains Walk Ct. Fire out, crews completing overhaul. @mcfrsnews @mcfrs #mcfrs pic.twitter.com/rNDgpmOtz9

— Daniel Ogren (@mcfrsPIO4) July 11, 2017
U/D…….11100 Blk Captains Walk Ct – Fire has been extinguished. Fire held to unit of origin. Crews are mopping up. No reported injuries,

— Daniel Ogren (@mcfrsPIO4) July 11, 2017
ICYMI earlier MoCo TH fire; Captains Walk Dr; damage ~$80K; cause, electrical; area origin, upstairs BR closet; no inj; https://t.co/I9VO9opoqB

— Pete Piringer (@mcfrsPIO) July 11, 2017