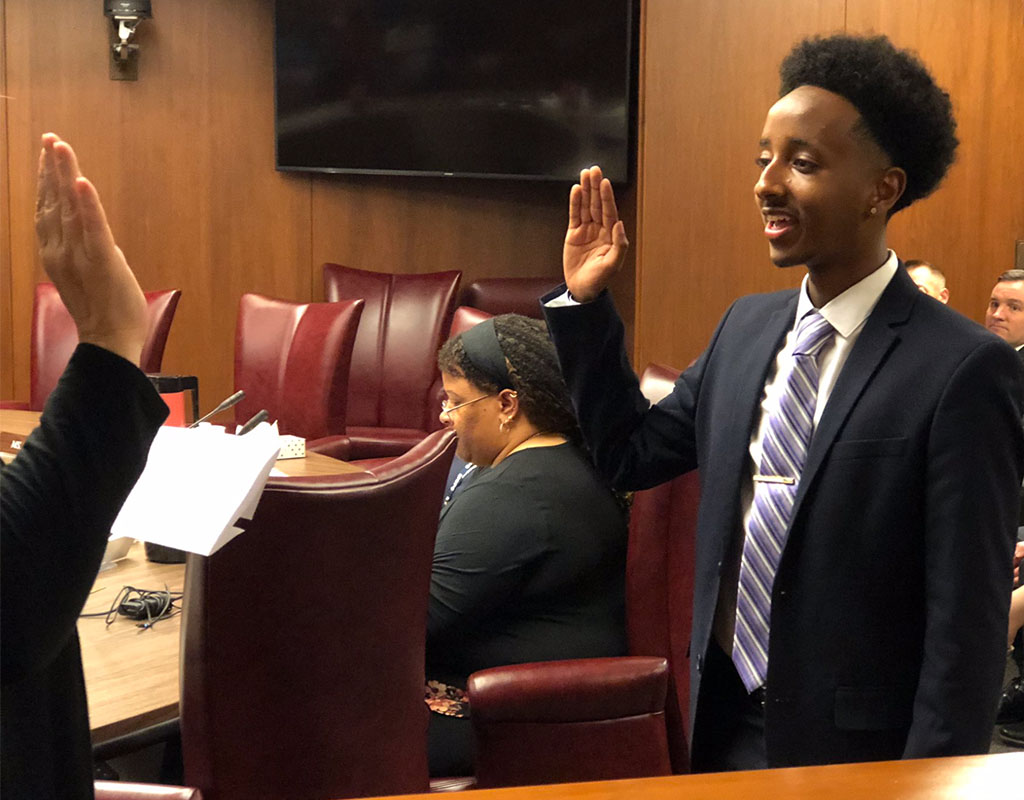 Kennedy Student Sworn in as New Student Member of the Board
Nate Tinbite was sworn in as the 42nd Montgomery County Student Member of the Board (SMOB) of Education on Tuesday.
Tinbite, a rising senior at John F. Kennedy High School in Silver Spring, was elected by Montgomery County Public School (MCPS) middle and high school students to serve on the school board for a one-year term. MCPS students elected Tinbute on April 24 by a 74% margin.
As SMOB, Tinbite will serve as a voting member of the school board, so he'll vote on issues related to collective bargaining, capital and operating budgets, school closings and openings, and boundaries.
The SMOB isn't a paid position, but Tinbite will receive a $5,000 college scholarship, Student Service Learning hours, and one honors-level social studies credit.
Tinbite succeeds Ananya Tadikonda, who will study health policy and management along with biochemistry at the University of North Carolina at Chapel Hill.
Tadikonda didn't attend Tinbite's swearing-in ceremony, but she wished Tinbite luck in a video message. She also tweeted out a message of support.
Thank you Ananya😭💙I know I have BIG shoes to fill! Hope to see you soon!

— Nate Tinbite (@NateTinbite) July 8, 2019
Many other leaders tweeted messages of support to Tinbite.
So proud of @NateTinbite who was just sworn in as our newest @mocoboe student member of the Board of Education. He will do great things! Congratulations Nate! @MCPS pic.twitter.com/taHHivNeSN

— Will Jawando (@willjawando) July 8, 2019
Do great things!

— Evan Glass (@EvanMGlass) July 8, 2019
Likewise!

— Nate Tinbite (@NateTinbite) July 9, 2019
Likewise, thank you Councilmember!

— Nate Tinbite (@NateTinbite) July 9, 2019
Thank you so much Congressman!

— Nate Tinbite (@NateTinbite) July 9, 2019
Agreed!💯

— Nate Tinbite (@NateTinbite) July 10, 2019
During the swearing-in ceremony, Tinbite said: "every student deserves a quality education, regardless of their zip code or background."
"So to the students of this county, I hear you, and this next year, I hope to be a SMOB who listens to the voices of all students," Tinbite said.
---
Video courtesy of MCPSTV, MyMCMedia's PEG partner.