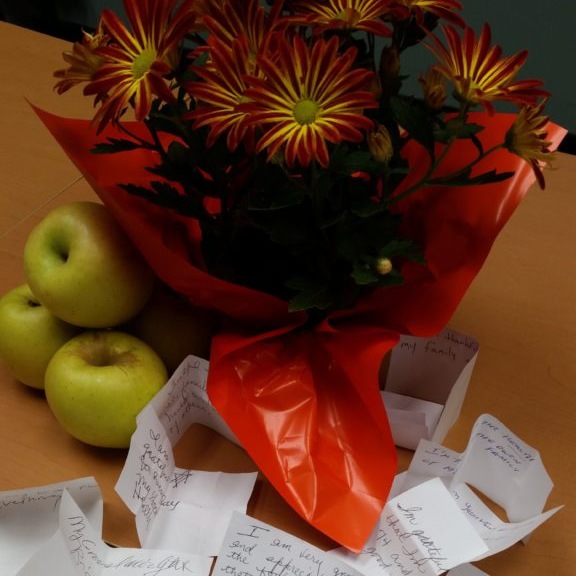 The Gratitude Jar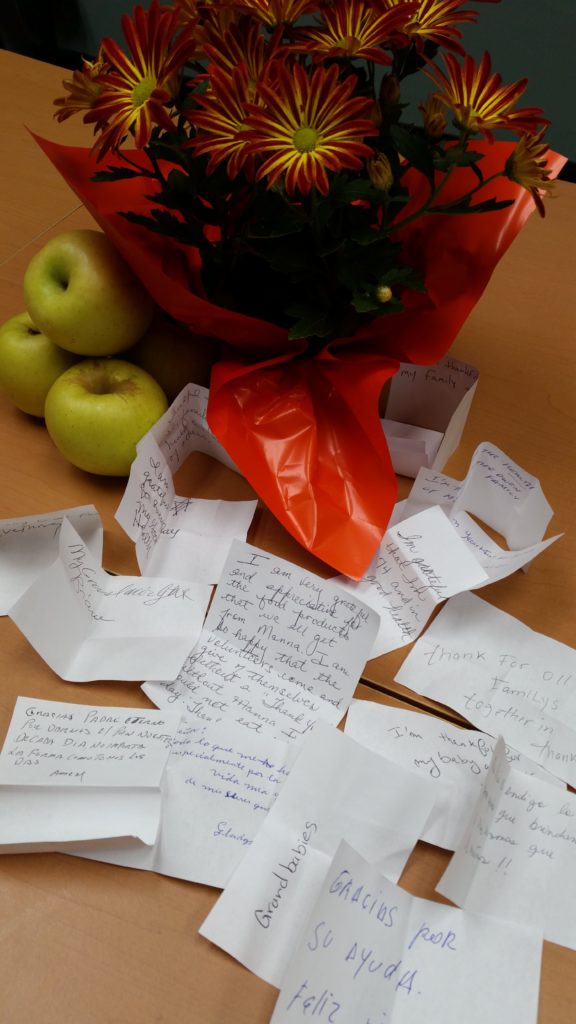 Ready or not, the holidays are here. The pace of this season so often induces stress and financial strain–for those with jobs and especially those without. How do we celebrate in the midst of this tension?
I love this mantra:  "interrupt anxiety with gratitude."
It's one we put into practice at Manna this month, with teammates posting their responses to the questions:
Who are you grateful for?
What ability are you thankful to have?
What do you take for granted in your day-to-day life?
What element of nature are you grateful for?
This week, Manna's staff, volunteers, and participants are bustling around with food distribution before Thanksgiving–500 households receiving food on Tuesday alone! It seemed an apt opportunity to pass The Gratitude Jar (a former Utz sourdough pretzel bin)  down the line in our lobby. Every single person waiting for food joyfully accepted the opportunity to submit a message of their own gratitude to the nearly hundred slips of paper filling the jar.
Here are some words of gratitude from Manna's participants:
Gracias por su ayuda. Feliz dia de gracias.
Grandbabies.
I am grateful for not getting wounded in Vietnam! and for being alive.
I've very grateful and appreciative for the food products that we all get from Manna. I am so happy that the volunteers come and give of themselves without a "thank you". Without Manna, I could not eat every day. Thank you.
I'm am grateful because I can walk. Thankful for my parents.
Thankful and grateful for family, friends, health, and the kindness of others.
I'm grateful that I'm 74 and in good health.
Thanks for life. Grateful for the fact that I can stand here and have the power to say thank you, volunteers.
Thank you God for waking me up every morning.
Thanks to Manna for helping us. We are senior we low income. We eat a lot better. All of the employees are doing a great job, keep it up!
Thanks for waking up, having a job, and for all of the help Manna has given my family!
My healthy kids.
Thankful because God has been good to me. I get free food from Manna when others have nothing to eat. Thank Manna Food.
Gracias a dios por mi familia.
My four wonderful children who would do anything for me.
From the entire Manna team, we are wishing you a celebration full of joy, gratitude, and memories.