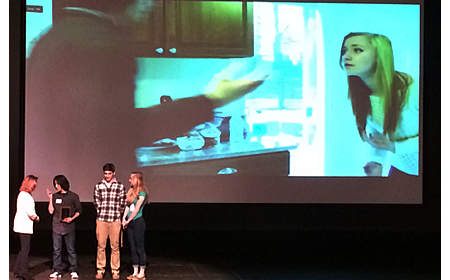 Teens Learn to 'Choose Respect' at Safe Dating Conference (Video)
Don't be afraid to say something was the message communicated to teens during a conference in Silver Spring, which focused on encouraging the next generation to choose respect when it comes to dating and relationships.
One in three teens and young adults will experience some form of dating abuse leaders reminded parents and teens at the 5th annual "Choose Respect" conference where reducing this statistic was the number one priority.
"I sat in juvenile court for several years and unfortunately a lot of times exposure to domestic violence is something that a lot of the kids have suffered," said Montgomery County Circuit Court Judge Marielsa Bernard.
For English teacher and athletic coach Adam Bahr, who brought a group of his student athletes, the forum was a chance to show the teens how to respect one another.
"I think that for kids, dating is trial and error, and there are a lot of errors that are made along the way so yeah we see some patterns that are unfortunate," Bahr said.
"Often the County spends efforts and we have to to help victims of domestic violence and we set those efforts up to prosecute abusers but ultimately we want to prevent it from happening and the key then is to reach out into the schools and talk directly to young people," said Montgomery County Councilmember Phil Andrews.
The workshops focused on educating teens on getting the help they need, and even featured a special session for Spanish-speaking parents to address the growing Hispanic community.
"I learned a lot through the other parents, how to talk to your kids, when to understand when there's a problem, and the life of a teenager now especially with the technology going on," said Santos Marquez, a parent of teenagers in the Montgomery County Public School System.
For parents and their teens, the day was an opportunity to learn.
And some said that they're going to make changes in how they talk about dating from now on.
"I'm going to stop telling him what to do which is something that I tend to do a lot as a parent but I think it's best for him to make the decisions," said parent Carlos Gonzalez. I can only give him the tools and let him use those tools to his advantage."

In addition to the conference, "Choose Respect" held a county-wide contest that tasked the County's youth in creating a one-minute public service announcement on the merits of choosing respect and educating about the importance of preventing teen dating violence.
The PSA contest was open to all public and private schools last fall. Forty entries were received and at the conference a group of students from Watkins Mill High School were awarded with first place in the contest, which included a $1,000 scholarship from Verizon Wireless. Watch the group's winning video here.