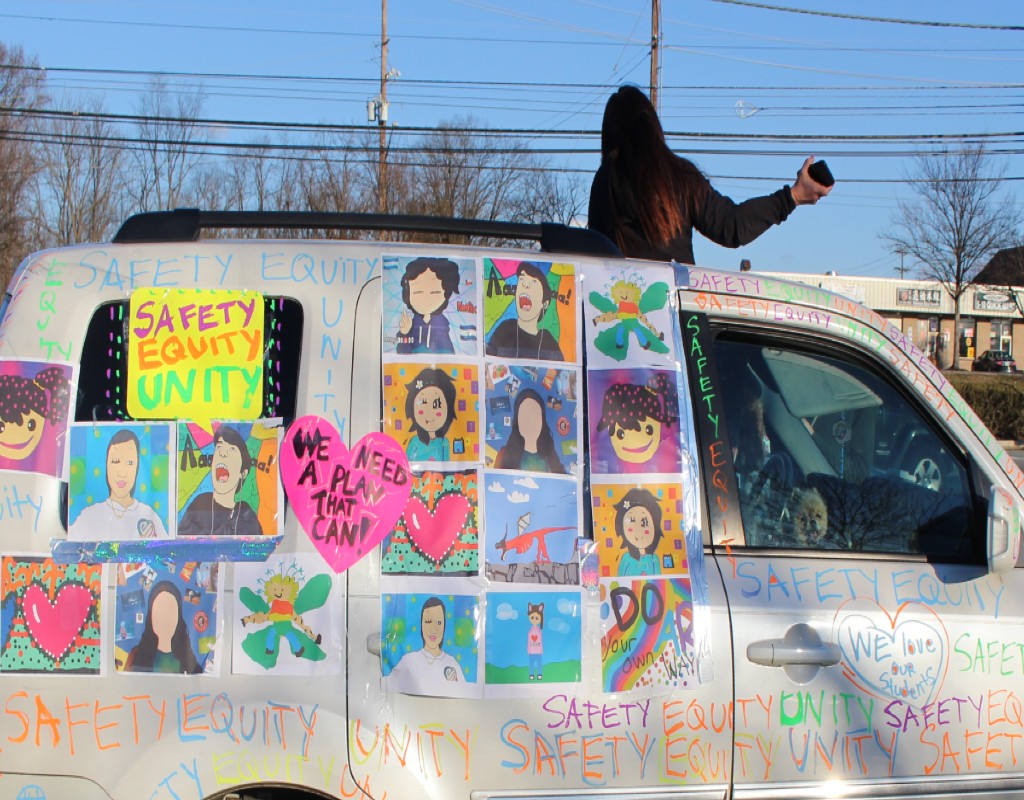 Teachers Rally Against MCPS' Return-to-School Plans
Hundreds of Montgomery County Public School (MCPS) employees drove around the headquarters of the district's headquarters in Rockville on Tuesday, honking horns and demanding they not return to the classroom until it is safe.
Their demonstration held up traffic, according to Montgomery County Police. The route included Hungerford Drive, MD 355 and Mannakee Street. According to MCEA, 900 cars joined the rally and 1,500 people participated.
MCPS Board of Education voted to bring students back into the classroom beginning March 1 and continuing through most of April.
Members of the Montgomery County Education Association (MCEA) and SEIU Local 500 rallied "in direct opposition to the recently approved MCPS reopening plan," they wrote in a press release. The teachers and other school employees are requesting that more space, people and other resources, including improved ventilation, be addressed before returning.
Roughly 5,500 of the 24,000 employees have been vaccinated for COVID-19, and the union members said they want all teachers vaccinated before they return to the classroom.
MCEA recently gave MCPS' reopening plans a vote of no confidence.
"Everyone has had to step up in different ways to educate this community. Now, MCPS needs to step up to protect their workers," SEIU Local 500 President Pia Morrison told the crowd.
Delegate Gabriel Acevero, who attended the rally, tweeted, "A right to a safe workplace is fundamental to every worker."
"It's ironic that we're demanding safety while we're standing underneath a flag raised half-mast for over 500,000 lives lost," declared MCEA President-Elect Jennifer Martin. "We will not sacrifice our health and safety. Frankly, we're insulted that it was assumed we should just suck it up and obey the delusional, dangerous directives."
Gianna Moralesa, a 4th grade teacher at Stedwick Elementary in Montgomery Village, wrote in an MCEA press release, "I want to teach my students in person as much as the next educator, but only when it is safe for my students and my community."
"Educators demands are simple: There is a vaccine. GIVE IT TO US before we go into harm's way!" – Jennifer Martin, MCEA Vice President and President-Elect #SafetyFirstMoCo #VaccinateTeachers

— Montgomery County Education Association (@mceanea) February 23, 2021
"MCPS employees are NOT the Giving Tree! We will NOT sacrifice our health and safety. We are insulted that it was assumed that we should just suck it up and obey the delusional, dangerous directives." – MCEA Vice President and President-Elect Jennifer Martin

— Montgomery County Education Association (@mceanea) February 23, 2021
"Everyone has had to step up in different ways to educate this community. Now, MCPS needs to step up to protect their workers." – Pia Morrison, @SEIULocal500 President #SafetyFirstMoCo

— Montgomery County Education Association (@mceanea) February 23, 2021
MCEA strong! #SafetyFirstMoCo https://t.co/nQOE5mbKzk

— Montgomery County Education Association (@mceanea) February 23, 2021