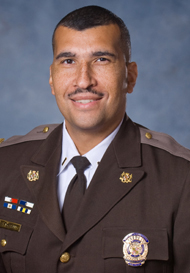 Takoma Park Selects Next Police Chief
Antonio "Tony" DeVaul was selected as the City of Takoma Park's next police chief.
DeVaul, who is currently the Police Chief for the Maryland-National Capital Park Police, will begin his first day with the city on Jan. 2, 2018.
Takoma Park City Manager, Suzanne Ludlow, made the announcement Tuesday on the city's website stating that "Mr. DeVaul stood out among an excellent field of candidates" for the position.
For the last 23 years, DeVaul has worked for the Maryland-National Capital Park Police where he started as a patrol officer before working his way up in the department before obtaining his current role as Police Chief in 2012.
"I've known him for several years  and he's really grown in the times  I've known him," said Casey Anderson, chair for the Montgomery County Planning Board. " I think Takoma Park is lucky to have him. He's going to be great."
DeVaul attended Johns Hopkins University where he obtained a Bachelor's Degree in Management. He's currently attending Johns Hopkins as a candidate for a Master's Degree in Organizational Leadership.  DeVaul graduated from the FBI National Academy in 2015.
"I am honored to be selected as the Chief of Police for the City of Takoma Park,"  DeVaul said in a statement. "The Takoma Park Police Department has an exceptional reputation and is known for its active community policing. I look forward to engaging all city residents and continuing to build lasting partnerships with all of our stakeholders."
DeVaul grew up in Takoma Park and is a lifelong resident of Montgomery County, according to a news release.
He is married with five children and two grandchildren.