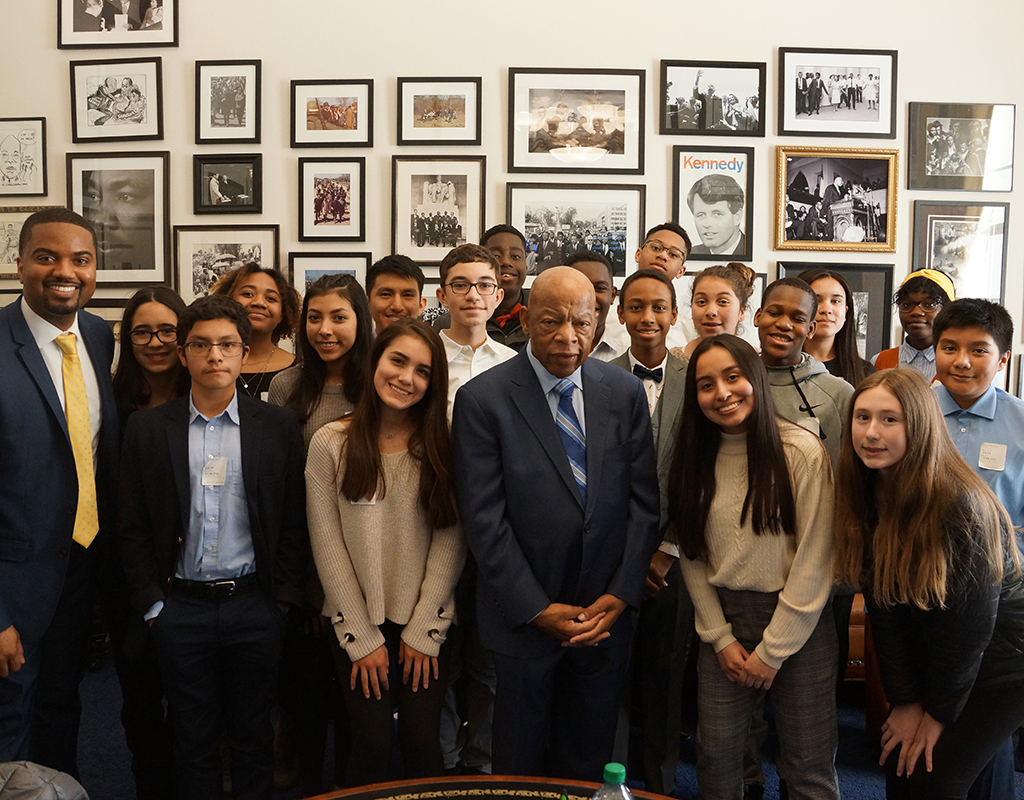 Student Leaders at Richard Montgomery Meet Civil Rights Icon John Lewis
Students involved in Richard Montgomery High School's Jaguar Scholars Leadership Program see John Lewis as a rockstar. Because of history teacher Jerome Price, 25 freshmen leaders met with Rep. Lewis for about an hour and a half on Wednesday (they only expected to speak with him for a half hour!).
What an honor! @MCPS Richard Montgomery HS Jaguar Scholars Leadership Program heard from & engaged Civil Rights icon, U.S. Congressman John Lewis today on the Hill! Our leaders continue to gain invaluable experiences. Beyond proud! @RMHSPrincipal @repjohnlewis #JSLP#ThisIsRM pic.twitter.com/FGKNgRhRwV

— Jerome A. Price (@MrPrice_JSLP) March 6, 2019
Price had been planning this field trip to the U.S. Capitol for over a year. As coordinator and founder of the Jaguar Scholars Leadership Program — or JSLP — Price not only provides leadership experience to students but he also exposes them to great leaders.
When Price participated in a teacher leadership program at the White House, he met one of Lewis's congressional staffers. Price told the staffer about his desire to create meaningful opportunities for students.
"I always think and wonder how can I use what I know to impact students," said Price.
Since finishing the leadership program at the White House, Price maintained contact with Lewis's office and has seen through his goal of providing students a "once in a lifetime opportunity" to meet a person who embodies national leadership.
Mr. Monteleone sharing stories of the Civil Rights Movement and words of wisdom with our RM Jaguar Scholars before departing for Rockville City Hall @Rockville411 and the U.S. Capitol to meet a living civil rights legend! @RMHS_Principal #ThisIsRM #JSLP pic.twitter.com/ZAeje2xrua

— Jerome A. Price (@MrPrice_JSLP) March 6, 2019
Jerome Price Says Congressman John Lewis Inspired Students
According to Price, before their trip to the U.S. Capitol, JSLP students heard of Lewis, "but they didn't have the depth of knowledge on him."
So, to prepare to meet Lewis, Price held meetings after school for the students to discuss Lewis's efforts to impact change and watch videos about his life as a civil rights icon.
Price encouraged his students to take advantage of their chance to speak with Lewis.
"Make sure you seize this opportunity and don't allow this [opportunity] to slip," Price recalled telling students.
During the meeting, students took full advantage of the opportunity to speak with Lewis. Price said students asked Lewis about issues concerning race, gun control, their personal lives, and Lewis's life.
The students could relate to Lewis speaking about his experience, because, as Price pointed out, "Lewis wasn't much older than them" when he led the 1965 march from Selma to Montgomery, Alabama, advocating for voting rights.
Received an email from Congressman Lewis' office this afternoon with this beautiful picture (first pic). This is definitely going up in my home and classroom! Thank you @repjohnlewis!

I'm still in awe about yesterday… I think the second pic shows it! 😉#JSLP#ThisIsRM pic.twitter.com/Dfy2nvNekM

— Jerome A. Price (@MrPrice_JSLP) March 7, 2019
"It was really cool for them to see what that experience was like for him," said Price.
According to Price, students felt hopeful after meeting Lewis.
Price recalled the congressman telling the students, "Young leaders are the leaders of today."
On the bus ride home, Price could tell his students were moved by the experience of speaking to Lewis.
Price said, "I think they were changed. He's a rockstar to them now. Just them having a chance to meet him, [I] can't really put it into words. They were talking about him the whole ride back."
Students Also Met with Local Montgomery County Leaders
Before meeting with Lewis, the JSLP students met with leaders at the local level, including Rockville Mayor Bridget Newton and Montgomery County Councilmembers Gabe Albornoz and Sidney Katz.
Thank you for the great question about our goals for the community. My priority is to get our budget in order to ensure we have the resources to provide access to a better life for ALL Montgomery County residents. @Rockville411 @MrPrice_JSLP @albornoz_gabe #jaguarscholars #JSLP pic.twitter.com/xDRUYUZpf0

— Sidney Katz (@MC_Council_Katz) March 6, 2019
Having students meet with the local leaders was intentional.
"The power of local leadership is something I really wanted to push for my students to see," said Price.
Powerful morning! The @MCPS Richard Montgomery HS Jaguar Scholars Leadership Program spent the morning hearing from & asking candid questions to local leaders. Thx Mayor Newton @Rockville411 & Councilmen @MC_Council_Katz @albornoz_gabe! @RMHS_Principal #JSLP#RocketsRockIt🚀 pic.twitter.com/Cpk1ioGix3

— Jerome A. Price (@MrPrice_JSLP) March 6, 2019
Jaguar Scholars Leadership Program Aims to Close the Achievement Gap through Leadership Exposure
Price founded JSLP in spring 2017 at when he worked as a teacher at Julius West Middle School in Rockville.
This academic year, Price started teaching at Richard Montgomery, so he started up the program with the freshmen class. The program consists of 25 African American and Latino students who've maintained at least a 3.0-grade point average.
Because Julius West feeds into Richard Montgomery, many of the freshmen students have been active in the program since middle school. Price hopes that eventually, the program will have 100 members, with 25 students from each class.
Through this program, Price hopes to close the achievement gap. Last March, Price's program was recognized by the Montgomery County Council, and at the meeting, Price spoke about the achievement gap and his goals for JSLP.
.@MCPS Teacher Jerome Price, founder of the Jaguar Scholars Leadership Program at @DrJjwms, speaks after a @MoCoCouncilMD recognizes his program with a #proclamation by @ricepolitics & @MC_Council_Katz. #MoCo #education #firstdayofspring pic.twitter.com/7KL2pRNuft

— County Cable MoCo (@CountyCableMoCo) March 20, 2018
Price said at the meeting, "Recent stats point to 76 percent of African American students, 78 percent of Latino students, 88 percent of Caucasian students, and 91 percent of Asian American students who graduate high school on time. And so there continues to be an achievement gap in this country, years after the landmark 1954 Brown vs. Board of Education decision."
The Jaguar Scholars Leadership Program makes a difference! Period.

Nothing more powerful than watching my high schoolers mentor and tutor our neighborhood elementary school students! 😊#TwinbrookThursdays#JSLP pic.twitter.com/2b0oIoCGLL

— Jerome A. Price (@MrPrice_JSLP) February 28, 2019
"It's powerful to have an opportunity like this where students can see themselves as leaders in the community," said Price.
Price provides students a number of these leadership opportunities. In fact, they frequently mentor and tutor fourth and fifth-grade students at Twinbrook Elementary School in Rockville.
As Price gets to know his students in the program, he sees them become more confident. For example, Carmela De Llano Hernandez, a freshman serving as JSLP's vice president wrote to the mayor's office when she was concerned that street lights in her neighborhood were poorly lit.
Price said that her letter ended up helping the government make an important change at the local level. Since that instance, Price said that Hernandez toured Harvard University in her JSLP hoodie.
When Hernandez returned, she showed Price a photo of herself on the tour and said, "I can see myself at Harvard."
Working on a story about the Jaguar Scholars Leadership Program at Richard Montgomery. @MrPrice_JSLP told me a powerful story about a JSLP student touring @Harvard in her JSLP hoodie and telling Mr. Price, "I can see myself at Harvard."

This student is a freshmen by the way—wow! pic.twitter.com/kZQwydQQ3k

— Deirdre Byrne (@DeirdreByrneMCM) March 7, 2019
An Inside Look at JSLP
Last year, County Cable Montgomery got an inside look into the Jaguar Scholars Leadership Program, when it was at Julius West Middle School. Take a look at the video below to learn more.