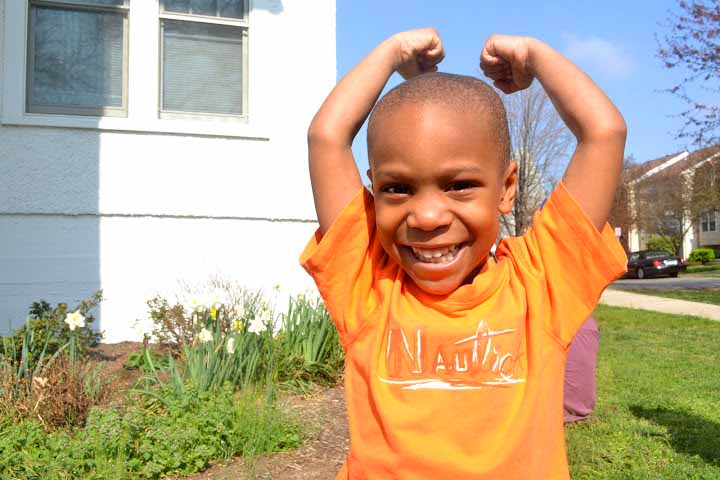 Stepping Stones Lifts Homeless Families (Photos)
Stepping Stones Shelter has been assisting the Montgomery County community for over 30 years. They provide emergency shelter, permanent supportive housing and post-shelter support for homeless families with children.
Denise Fredericks is their Executive Director. She sat down with MyMCMedia's Community Engagement Specialist Tamika Smith to talk about working with Stepping Stones and what drives their commitment to the community everyday.
Tamika Smith: What was the inspiration behind starting it in Montgomery County?
Denise Fredericks: In 1979, an interfaith group in Gaithersburg, Maryland became concerned about how many homeless individuals they saw out on the streets. They started taking them in at night, using a townhouse in Gaithersburg as a shelter. In 1982 they were able to purchase an historic farmhouse in Rockville, which they renovated and turned into Stepping Stones Shelter. At first the shelter took in both single adult homeless and families, but quickly switched to only families when it became apparent that the need was great and there were no other family shelters in Montgomery County.  We serve every configuration of homeless family with children, including, but not limited to: single mothers with children, single dads with children, two-parent families with children, and grandparents raising their grandchildren.
Smith: What do you hear from families who receive support? How does it affect them?
Fredericks: The following are some quotes from our families either as they were moving out, or after they left:
"I am truly thankful for the entire Stepping Stones Family. You guys are the best! Keep doing what you are doing, changing lives for the better, helping people get back on track. I am so blessed."

"I know I have worked hard to reach a lot of my goals, but without people like you behind me I'm not sure if I would have been this determined! You know this has been an amazing experience for me. I have learned so much about myself and others, but the one thing I have learned is that no one is going to chase my dream for me! So if anyone asks where I am, please let them know that I am chasing my dreams."

"Believe me, every Thanksgiving Stepping Stones is one of the things I am truly thankful for. I was a mess when I was there because I couldn't believe we ended up in a homeless shelter. But the help you gave me really helped me pull through and get to where I am today."
Smith: Why do you think it is important for organizations like yours to exist in the county?
Fredericks: At any one time, more than 100 families with children in this county do not have a place to call home. This is due to many factors including:  family conflicts, domestic violence, loss of employment, eviction, young mothers aging out of the foster care system, disabilities, or simply not enough income to afford housing in this county. The three family shelters in the County are always full (the three combined can serve approximately 27 families at a time), and approximately 80 families are waiting for shelter.
Smith:  Do you have any major projects coming up?
Every August Stepping Stones holds a Back-to-School Picnic for current and former residents with plenty of food and fun activities for the children; we also provide backpacks full of school supplies for all school-aged children (usually over 100 children are served).
We are also actively advocating for childcare solutions for low income families. There is not enough affordable, safe quality childcare for low-income families in Montgomery County. Our families at the shelter cannot afford childcare without a subsidy, but the subsidy programs that they are eligible for often have wait lists and do not cover the cost of childcare. Without reliable childcare our families cannot keep their jobs, and without income they cannot afford  housing.
Smith: How can others in the community get involved?
Fredericks: Stepping Stones welcomes group and individual volunteers. Our volunteers cook meals; sort and put away donations; provide evening childcare; answer phones and type letters; clean; do yard work; lead family activity nights; provide a workshop for resident parents; help with fundraising and marketing. Groups can also have a donation drive for in-kind donations such as paper goods, cleaning supplies and diapers.
Smith: Every year a fundraiser goes to helping your needs. How is this year's goal coming along?
We are $10,000 away from our year-end fundraising goal. If you would like to have an impact on the lives of homeless families, donations can be made online on our website (hit the Donate Now button). For more information, please contact Denise Fredericks at denise@steppingstonesshelter.org.