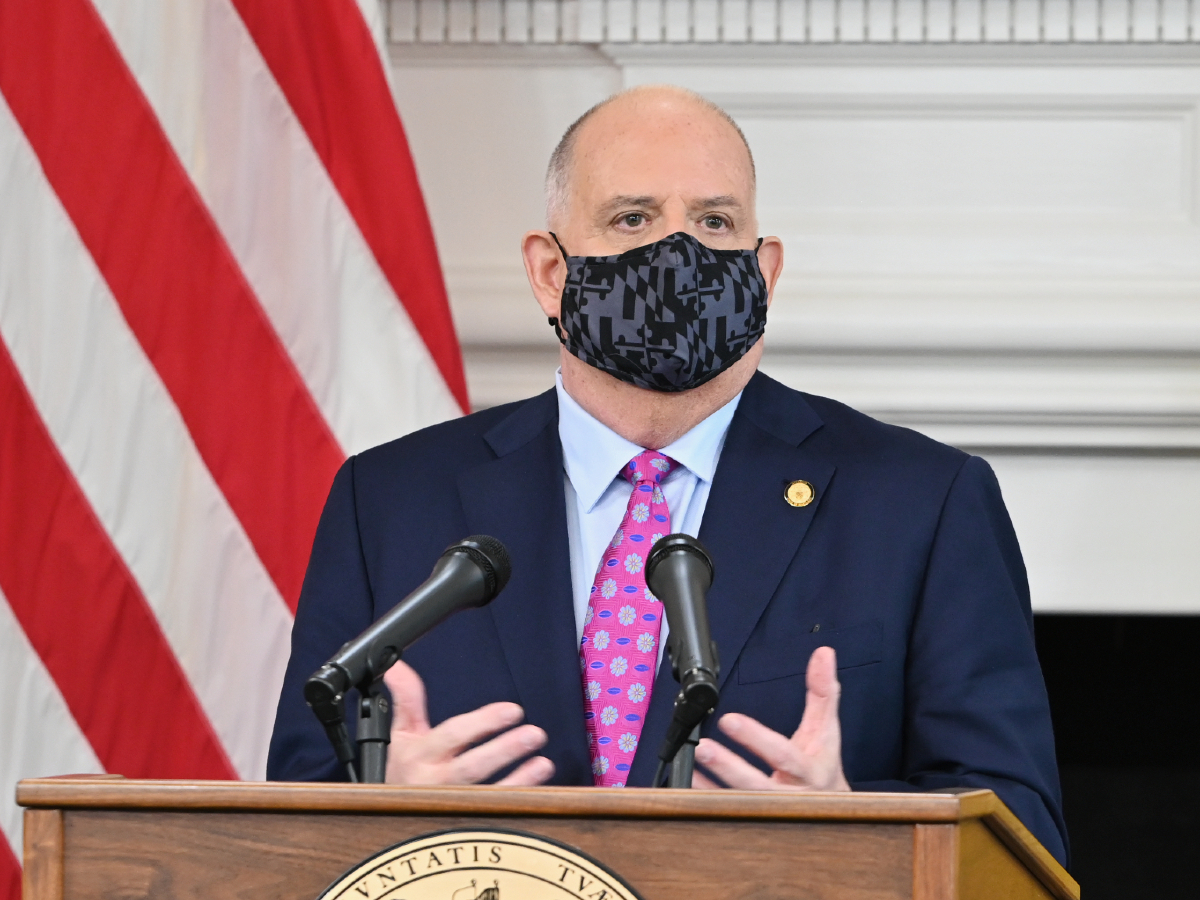 State Police to Step Up Coronavirus Restriction Enforcement Beginning Wednesday
Gov. Larry Hogan announced at Monday's coronavirus news conference that he'll be deploying Maryland State Police troopers throughout the counties as "High Visibility Compliance Units." Starting Wednesday, the troopers will work with local authorities to investigate coronavirus restriction violations and work on educating the community about how to prevent super-spreading events.
Hogan also urged Marylanders to support local businesses and restaurants this Thanksgiving and he—again—urged Marylanders to wear masks.
Gov. Hogan (R-MD) on resistance to mask requirement: "It's sort of like saying, 'I have a constitutional right to drive drunk' … There is no constitutional right to walk around without a mask." pic.twitter.com/TiONn5BG8c

— The Recount (@therecount) November 23, 2020
Play-By-Play of Hogan's Monday Press Conference
Here's a closer look at what Hogan discussed at Monday's news conference, via tweet:
🧵: @GovLarryHogan has a coronavirus news conference at 4 p.m. I'll be watching and live tweeting for @mymcmedia. Here's a link to watch:https://t.co/lR3wgbJY7L

— Deirdre Byrne (@DeirdreByrneMCM) November 23, 2020
Earlier today Hogan talked to the White House coronavirus task force about vaccine distribution. He's also recently met with county leaders in Maryland. @mymcmedia

— Deirdre Byrne (@DeirdreByrneMCM) November 23, 2020
Maryland's ICU levels are at their highest since June 16, Hogan said. @mymcmedia

— Deirdre Byrne (@DeirdreByrneMCM) November 23, 2020
Hogan said contact tracing data shows spread trends for…

–Marylanders out shopping and eating out (which is why Hogan said he rolled back the reopening plan to phase 2)@mymcmedia

— Deirdre Byrne (@DeirdreByrneMCM) November 23, 2020
Hogan notes that the Wednesday before Thanksgiving is often a big drinking night.

"I cannot stress enough how reckless that behavior would be this year," Hogan said. "We cannot let a few bad actors spoil it for the others that have been doing such a good job."@mymcmedia

— Deirdre Byrne (@DeirdreByrneMCM) November 23, 2020
Hogan said Maryland State Police is launching "Compliance Education and Enforcement Operation." More state troopers will partner with counties to investigate covid violations and provide more education about laws and regulations. @mymcmedia

— Deirdre Byrne (@DeirdreByrneMCM) November 23, 2020
"The heightened visibility operation that we're launching" is about educating the public on safety, Hogan said. @mymcmedia

— Deirdre Byrne (@DeirdreByrneMCM) November 23, 2020
There will be a statewide public health campaign will run on local television and radio campaign reminding people of covid safety measures. @mymcmedia

— Deirdre Byrne (@DeirdreByrneMCM) November 23, 2020
Hogan turns it over to Baltimore County Executive @JohnnyOJr who launched a social distancing task force. @mymcmedia

— Deirdre Byrne (@DeirdreByrneMCM) November 23, 2020
.@JohnnyOJr shares a story about a Baltimore County resident who beat breast cancer a year ago, but died recently from the coronavirus at 49 years old.

"Beating this virus requires us all to do our part," Olszewski said.@mymcmedia

— Deirdre Byrne (@DeirdreByrneMCM) November 23, 2020
.@JohnnyOJr said the rules "are in place to save lives."

"We will not allow reckless behavior to continue without consequences," Olszewski said. @mymcmedia

— Deirdre Byrne (@DeirdreByrneMCM) November 23, 2020
"This Thanksgiving skip crowded airports and packed planes. Skip the hugs," @JohnnyOJr said. "Please, for the love of god, please, wear a mask."@mymcmedia

— Deirdre Byrne (@DeirdreByrneMCM) November 23, 2020
Hogan turns the microphone to Marshall Weston, president of @RestaurantsinMD. Weston says restaurants are "the backbone of every community."@mymcmedia

— Deirdre Byrne (@DeirdreByrneMCM) November 23, 2020
"We must all take personal responsibility…to stop the spread of covid," Weston said, adding this will help keep restaurants open for business. @mymcmedia

— Deirdre Byrne (@DeirdreByrneMCM) November 23, 2020
"It is a very serious problem," Hogan said. @mymcmedia

— Deirdre Byrne (@DeirdreByrneMCM) November 23, 2020
Hogan said, "there was no news" in the @washingtonpost South Korea test kit investigation story. He says they've seen "no problems" in the labgenomics tests. He said the FDA changed the rules so the state had the tests upgraded. @mymcmedia

— Deirdre Byrne (@DeirdreByrneMCM) November 23, 2020
"Joe Biden is going to be the next president…he will be sworn in on January 20," Hogan said.

His biggest concern "is that we're in the middle of a deadly crisis…and we're about to hit the worst peak" and there's no transition. @mymcmedia

— Deirdre Byrne (@DeirdreByrneMCM) November 23, 2020
"We're talking about a quarter of a million people dying," Hogan said. "There's no constitutional right not to wear a mask. We did it in 1918, I don't know why we can't do it now."@mymcmedia

— Deirdre Byrne (@DeirdreByrneMCM) November 23, 2020
.@GovLarryHogan said of @Marc_Elrich: "Well he's more than welcome to take whatever approach he wants to take. I don't think they've followed us for the past nine months, but we're taking … exactly the steps that we think are necessary at this time."@mymcmedia

— Deirdre Byrne (@DeirdreByrneMCM) November 23, 2020