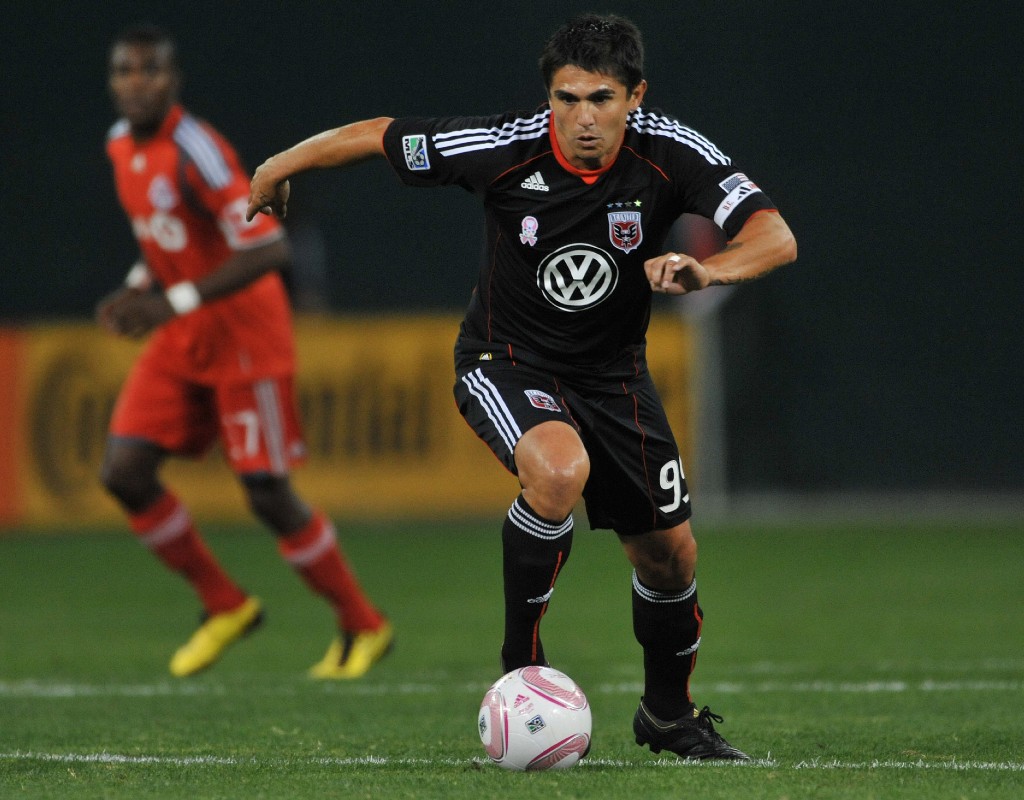 Soccer Great Jaime Moreno Could Lose Eye After Freak Golfing Accident
DC United legend Jaime Moreno is in danger of losing his left eye after a freak golfing accident on Thursday, July 16.
The Bolivian native, who played as star forward for D.C. United for 14 seasons before retiring in 2010, was playing with a group of friends at the 1757 Golf Club in Dulles, Virginia when his shot bounced back, hitting him in the face, according to multiple reports.
"After I swung the golf club, I found myself on the ground, bleeding. Nothing else was around and I was very close to the cart path, and that's the only thing I can think, is that I hit the cart path and the ball bounced back into my eye," Moreno told NBC4 Sports.
— dcunited (@dcunited) July 24, 2020
Moreno underwent hours-long reconstructive surgery on the eye following the accident, but additional procedures are likely.
"When I spoke to them after surgery, they said there was a possibility I could lose my eye," Moreno told The Washington Post. "We won't know until my eye is completely open, and then we'll see if I can get my vision back. It could take a couple months."
Just hearing about this Thoughts and prayers for our @dcunited legend who has given so much joy to all of us @Barra_Brava @ScreamingEagles @DistrictUltrasX and if you can help Supporting our ALL TIME LEGEND Jaime Moreno https://t.co/z2mkDJkYrn

— Dave Johnson (@davejsports) July 24, 2020
Please spread the message far and wide that we're helping Jaime Moreno in this tough time

100% of your donation will go to Jaime (no fees or administrative costs) via this link:https://t.co/yzTF0IkeXA

We're also looking for other ways to help out (DM if you have ideas, too) pic.twitter.com/HPAJDtKLMJ

— ScreamingEagles (@ScreamingEagles) July 26, 2020
To make matters worse, Moreno doesn't have health insurance. In order to combat expenses sure to be felt by the former athlete and his family in the coming months, a GoFundMe page was started by Oscar Zambrana, the founder of "La Barra Brava," D.C. United's supporters' group.
"My reason for this page is to ask that we come together at a time of need to support one of our own family members," Zambrana wrote on the page's bio, "he wasn't only a member of the Barra Brava, he was an Idol to all the supporter clubs and A long time Legend with D.C.UNITED and the BOLIVIAN NATIONAL TEAM."
MyMCMedia's Andrea Sarralde spoke with Daniel Wadeson, a University of District of Columbia men's soccer coach, about Moreno's contribution to the game and the community.
Hundreds have already contributed to the cause, raising over $50,000 so far. Countless other fans and friends have taken to social media since news of Moreno's accident broke to show support for the athlete.
Our thoughts are with Jaime Moreno – hit in the eye with a golf ball. Let's hope it's a full recovery. Get well soon bud we want to see you at the Riverside next year in the @beckmikkel game!! https://t.co/yvXjCWe8LH

— REDARMY.TV (@bororedarmy) July 24, 2020
Jaime Moreno was apparently hit in the eye on the golf course, almost lost his eye. One of the greatest players the DMV has ever seen, if you grew up supporting @dcunited you'd probably find it hard to name a better player to watch. Hope he's okay 🙏

— DMVSoccer.com (@DMVSoccerDotCom) July 24, 2020
A highly decorated player, Moreno leads DC United in several all-time categories: goals (131), assists (102) and games played/starts (329/288). He is one of the greatest players to ever play for the MLS and was inducted into the D.C. Sports Hall of Fame in 2018.