Silver Spring Resident to Help Holocaust Survivors In Montgomery County
Jewish Social Service Agency welcomed the first volunteer from AmeriCorps VISTA– Volunteers in Service to America- on Sept. 2.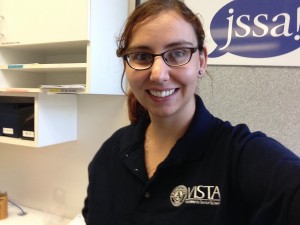 VISTA is a recent White House initiative on Holocaust survivor care. Vice President Joe Biden announced on December 2013 that the administration would support the needs of Holocaust survivors who are living in the U.S. under or close to the poverty line.
JSSA, a nonprofit serving Maryland, D.C., and Northern Virginia, is one of the many organizations that is part of this initiative. On Sept. 2, they welcomed Adrienne Ognibene-  a Silver Spring resident who is ready to work and hopes to develop a volunteer basis program to help Holocaust survivors.
"I find this to be a very very compelling need and the population is amazing to work with. And also there's a time pressure. If we don't do this now, we cant put it off 10 years from now because they won't be here," Ognibene said.
Ognibene will serve one year, but the program lasts three years, which will give the opportunity to other volunteers to work and engage with the community. The goals of the program is to increase assistance to Holocaust survivors and Russian-speaking survivors.
"I am also doing some education and training," she said.
Ognibene is an attorney, a former AmeriCorps volunteer, and has experience in the health field – legal advocacy and direct service. She is also the author and publisher of her own food and cooking blog.
JSSA provides a wide range of services including: counseling, educational, special needs services, in-home support, hospice and nursing care, and social services.
According to the White House website, 25 percent of Holocaust survivors residing in the U.S. live at or below the federal poverty line, compared to 9 percent of the overall population of individuals 65 and older.
Ognibene said there are 250 Holocaust survivors who get basic services and needs through JSSA living in Montgomery County, and another 100 on the waiting list. She could not say the total Holocaust survivor population living in the county, but added that there are 12 VISTAS and a team leader around the country doing the same work that she is doing.
"There's a very large population Russian survivors from the war and the Soviet Union. … and they've lost everything twice," Ognibene said.