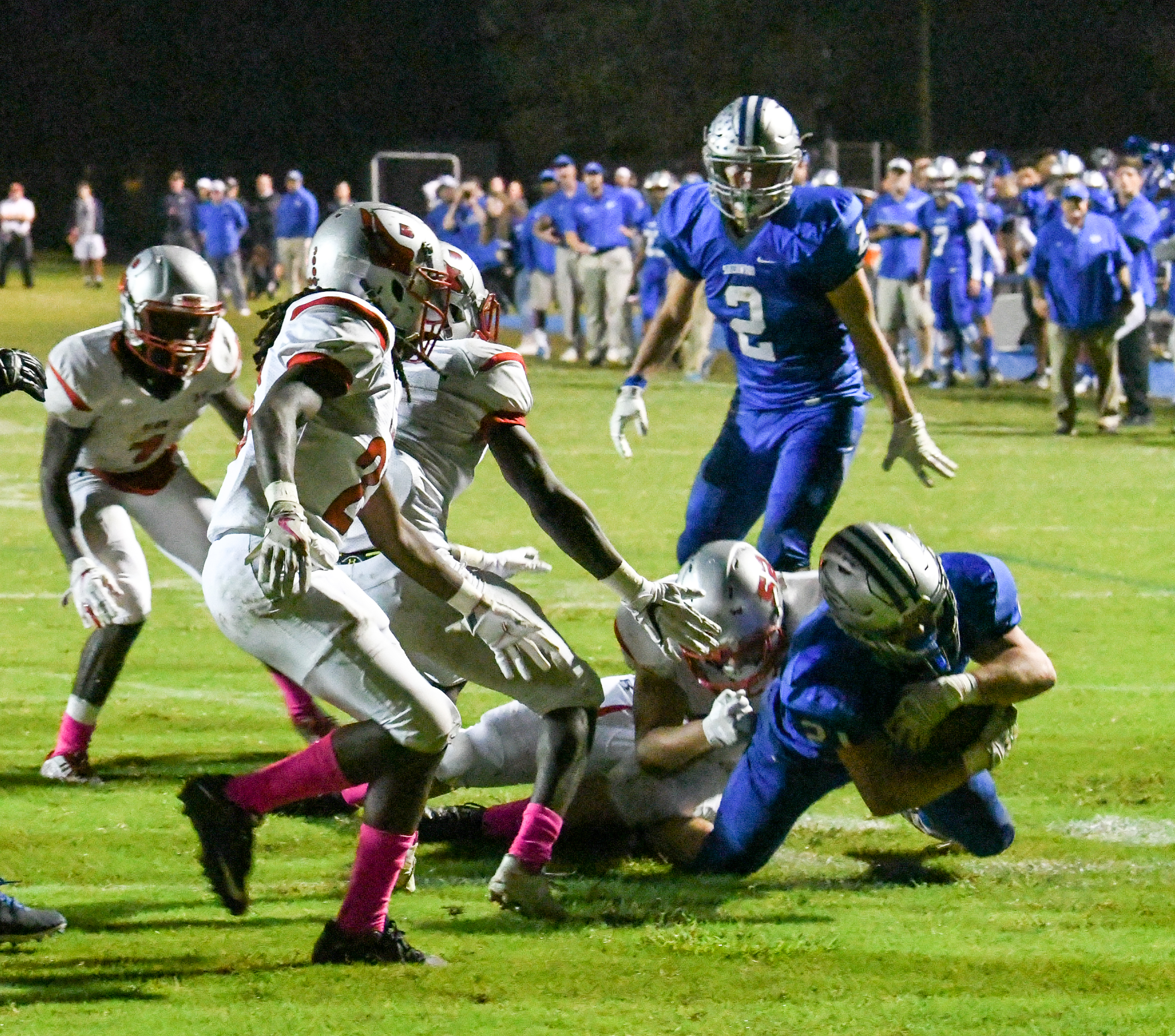 Sherwood Defeats Blair 29-26 in an Overtime Homecoming Classic
Homecoming football games can be memorable for many reasons and Friday night's clash between Sherwood and Blair will rank high as a result of a 29-26 Warrior victory in overtime.  The game ended on an interception during Blair's first and only overtime possession.  The Sherwood bench swarmed the field and a homecoming memory would be created forever.
Sherwood scored early in the first quarter on a sweep making it 7-0 as the first quarter was coming to an end they were poised to score again.  The first play of the second quarter the Warriors scored making it 13-0 after a missed point.  As the first half was winding down Blair completed a long 30 yard pass and was threatening to score.  A roughing the kicker penalty gave the Blazers another chance to score a touchdown, the score became Sherwood 13 Blair 8 once the Blazers scored a two-point conversion.  The kick off received by Sherwood was fumbled giving Blair yet another chance to score but as the seconds counted down they were unable to get a field goal attempt off as time expired.
The second half scoring began with a Sherwood drive making it 19-8 early in the third quarter.  Blair then answered with a field goal with seven minutes remaining in the quarter making the score 19-11.  The Blazers and Warriors traded touchdowns as the final quarter with the score 26-18 Sherwood.  Blair drives with 4:47 to play and scores a touchdown and a two-point conversion which ties the game 26-26.  Sherwood has a pass intercepted on their next drive and Blair takes possession at the 38-yard line and begins its drive.  A long Blazer pass completion and a un-sportsman like penalty puts the ball on the 12 yard line with three seconds to play in regulation.  A field goal would seal the victory for Blair and give the Blazers their first victory over Sherwood in six years, but it was not to be as the attempt was wide right by one foot.
The overtime and the Sherwood 29-26 victory came as a result of their field goal and the interception at the goal line top end Blair's first and only offensive overtime play.  The frenzy of a bench-clearing celebration by Sherwood sent the fans in the stands home thrilled.  What a game!  What a homecoming memory!
Pictures to follow by Daryl Schultz