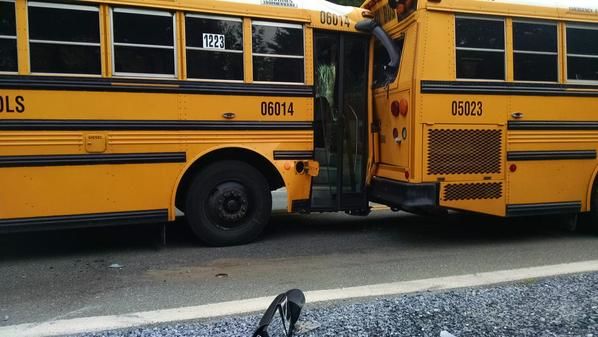 School Buses Collide at Falls Road and Glen Road, Minor Injuries Reported
UPDATED Two school buses collided at Falls Road and Glen Road on the first day of school, according to Montgomery County fire and rescue spokesperson Pete Piringer.
Officials said there were students on board when one school bus apparently rear ended the other school bus early this morning. Piringer described the injuries as minor and non-life threatening.
According to Piringer, EMS evaluated 17 students at the scene and the students continued on to Churchill High School on another bus or were released to their parents.
Montgomery County Public Schools (MCPS) Spokesperson Dana Tofig said he doesn't have a lot of information about the crash.
"Two buses were involved, one may have rear ended the other," he said in an email. " We don't know why. I believe they were going to Churchill high school. My understanding is that a couple of students are being evaluated …otherwise nearly all of the students are being transported to the school."
Captain Paul Starks, a spokesperson for Montgomery County Police, said the driver of the bus was charged with failure to control speed to avoid a collision.
U/D – Falls Rd, All students from ChurchHill HS, released to parents or placed on another bus to continue to school pic.twitter.com/lbyu0M8tyY

— Pete Piringer (@mcfrsPIO) August 31, 2015
U/D – Glen Rd & Falls Rd, collision involves 2 school buses, EMS evaluated 17 & transported 3 minor w/ NLT injuries pic.twitter.com/8288s9vIzk

— Pete Piringer (@mcfrsPIO) August 31, 2015
Update – 2 school buses collided (rear ended) Glenn Road and Falls Road, EMS evaluating 17 students, at least 3 transported minor NLT injury

— Pete Piringer (@mcfrsPIO) August 31, 2015
Update – Glen Road and Falls Road, two school buses involved w/ students on board, several minor NLT injuries, some lanes blocked — Pete Piringer (@mcfrsPIO) August 31, 2015
Traffic advisory – Glen Road and Falls Road, collision involving 2 school buses — Pete Piringer (@mcfrsPIO) August 31, 2015