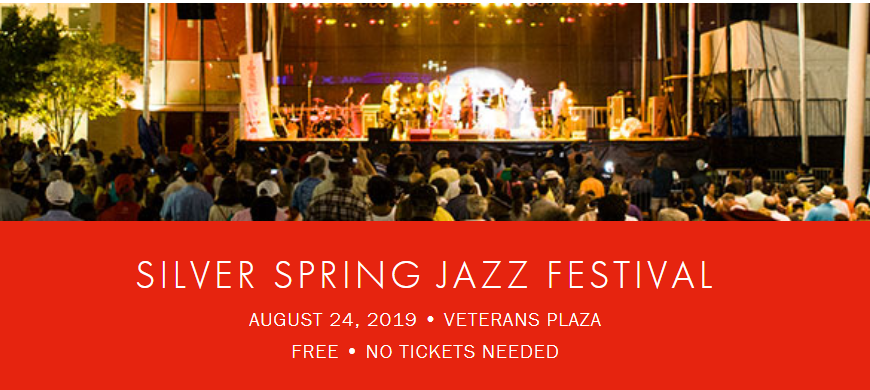 Sandoval Headlines 16th Annual Silver Spring Jazz Festival
Montgomery County's Silver Spring Arts & Entertainment District announced that multiple Grammy and Billboard-winning trumpeter, pianist and composer Arturo Sandoval is headlining the Silver Spring Jazz Festival, which will take place on Saturday, Aug. 24, from 3 to 10 p.m. in Veterans Plaza by the Silver Spring Civic Building located at One Veterans Place.
This is the 16th year for the free Silver Spring Jazz festival, which will also include a full lineup of diverse local talent including Marcus Johnson. The full list of performers will be announced shortly on the Silver Spring Jazz Festival website.
New this year, the Jazz Festival will move to the weekend before the Labor Day holiday to make it the County's end-of-the-summer celebration.
Arturo Sandoval, a protégé of the legendary jazz master Dizzy Gillespie, was born in Artemisa, a small town in the outskirts of Havana, Cuba in 1949, just two years after Gillespie became the first musician to bring Latin influences into American jazz.  Sandoval began studying classical trumpet at the age of twelve and has evolved into one of the world's most acknowledged guardians of jazz trumpet and flugel horn, as well as a renowned classical artist, pianist and composer.
Sandoval has won 10 Grammy Awards, six Billboard Awards and an Emmy Award for his composing work on the entire underscore of the HBO movie based on his life, "For Love or Country" starring Andy Garcia.  He recently performed in the Grammy Awards with pop-phenomenon Justin Timberlake as well as on the Latin Billboard Awards with the gifted Alicia Keys, where he was awarded his sixth Billboard Award for "Best Latin Jazz Album."
Arturo, a Florida International University tenured professor, works nationally and abroad with innumerable institutions and their music departments.
Silver Spring has earned a reputation of being one of the most diverse and dynamic communities in the country, where there is always something to do and enjoy. Activities and events embrace the Arts & Entertainment District's culture of being a welcoming community that values vibrant arts and diverse experiences.
The Jazz Festival complements the over 600 community celebrations and events that take place year-round all over the Silver Spring Arts & Entertainment District. All these celebrations have one thing in common: "To affirm Silver Spring and Montgomery County as a welcoming community," said Reemberto Rodriguez, director for the County's Silver Spring regional area. "When you partner this marquee event with the many shopping options, culinary experiences from throughout the world, and entertainment venues large and small, you not only have the perfect local outing but the ideal weekend destination for the whole family." 
This event is free and open to all.