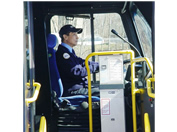 Ride On is Hiring 100 Operators (VIDEO)
Looking for a job? Ride On bus service is hiring. According to an announcement on the Ride On website, 100 operators are needed.
"The annual salary is $39,000 per year to start," said Eric Sims, chief of the Silver Spring bus depot. According to Sims, operators also receive insurance benefits, annual leave and sick leave.
Find out more about the job requirements in this report, below: