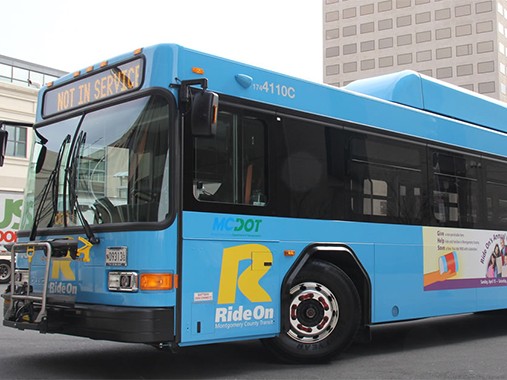 Ride On Bus Schedule Changes Implemented Sunday
Adjusted schedules for Ride On bus went into effect Sunday, Sept. 27.
The goal of the adjustment was "to expand service in areas with growing demand and shift resources back toward schedule patterns in place prior to the COVID-19 health crisis," according to a press release by Montgomery County's Department of Transportation.
Ride On services will continue to be free to all passengers, a practice adopted in the light of the COVID-19 emergency.
All Ride On routes are operating at nearly 80 percent of pre-pandemic levels. The on-demand Flex service will continue to be suspended. The new schedule is available on the county's website, here.
Some of the changes are:
Routes 52, 53 and 63 returned to weekday service only;
Route 23 and 83 no longer operate on Sundays;
Routes 66 and 67 have reduced services hours. They now only operate on peak periods;
Route 26 now has increased service;
Buses will not initiate service after midnight.
All passengers must wear a face-covering to board and may not take it off while riding. Buses will have a supply of face coverings. Passengers must also follow social-distance guidelines.
Additionally, the Montgomery County's Department of General Services will continue to clean buses twice a day with "hospital-grade disinfectant." The bus filter and ventilation systems are also cleaned each night.
Extra buses will be stationed at all Montgomery County metro stations to deploy services if needed.