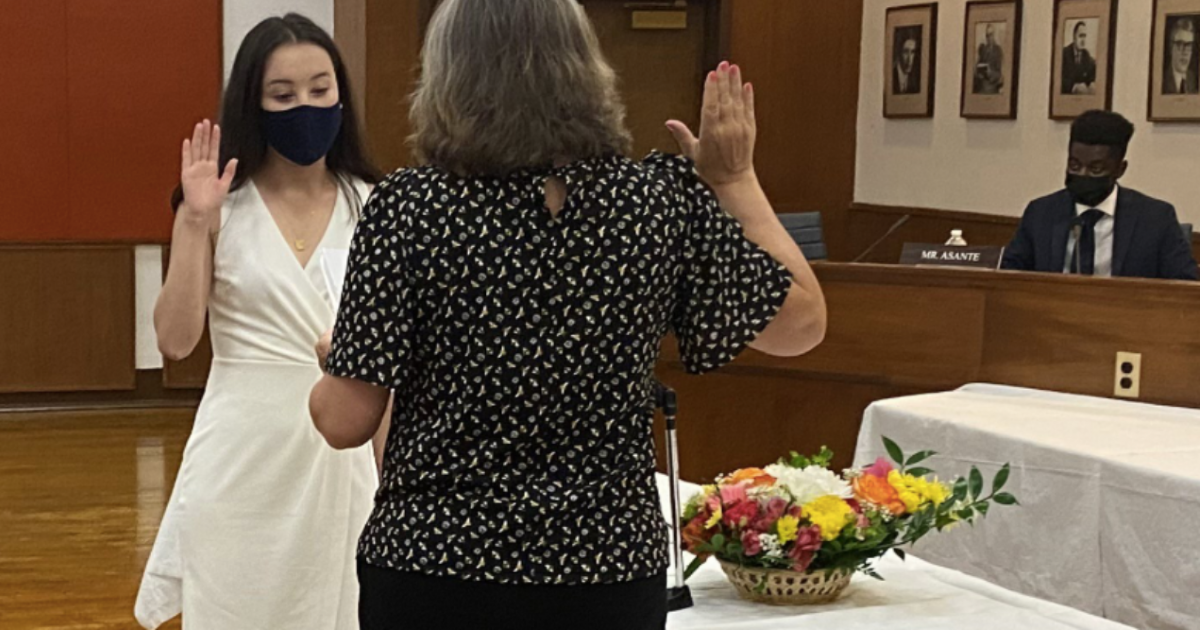 Richard Montgomery Student O'Looney Sworn in as New Student Member of the Board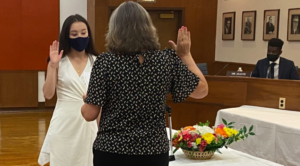 Montgomery County Public Schools Board of Education members said farewell to 43rd Student Member of the Board [SMOB] Nick Asante and welcomed the 44th SMOB Hana O'Looney on Thursday.
"My 12 years in this school system have taught me that diversity is our strength… I look forward to serving as your SMOB and championing never before seen changes in our county," said O'Lonney.
Multiple local elected officials and former SMOB members were among the attendees at the swearing-in ceremony at Carver Educational Services Center in Rockville. During the event, Asante was congratulated for all his hard work throughout the past year during the COVID-19 pandemic.
"Nick, I think you leave a legacy and some big shoes to fill…and welcome Hana," said Board President Brenda Wolff.
O'Looney, a rising senior at Richard Montgomery High School, was elected to serve a one-year term on the Board by middle and high school MCPS students. Education officials say she received 78.3 % of the vote.
Some of O'Looney's goals include:
Bringing more student voices to decision-making.
Providing increased financial literacy education.
Making school meals more accessible.
Asante graduated from Richard Montgomery High School last month and attending Cornell University in Ithaca, New York.
Happening right now: Hana O'Looney, a rising senior at Richard Montgomery High School, was just sworn in as the 44th Student Member of @mocoboe
for the 2021–2022 school year . @mymcmedia pic.twitter.com/5WlhWr66ZV

— Jordan Lindsay (@TVJordanLindsay) July 1, 2021
"I look forward to serving as your SMOB" said O'Looney during the swearing-in ceremony.
Some of O'Looney's goals moving forward include:
-Bringing more student voices to decision making.
-Providing increased financial literacy education.
-Making school meals more accessible. pic.twitter.com/PNcXut8ZuH

— Jordan Lindsay (@TVJordanLindsay) July 1, 2021