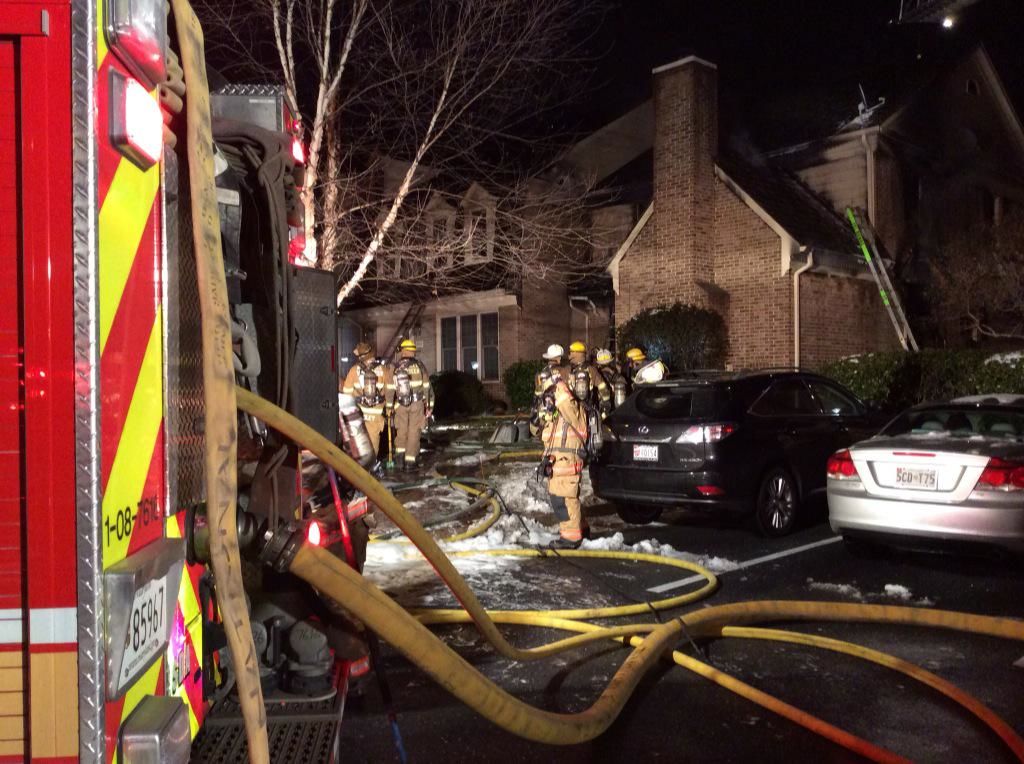 Resident Injured in Townhouse Fire (PHOTOS)
UPDATED
A resident is hospitalized with potentially life threatening injuries following an overnight fire at a two-story townhouse in the 10900 block of Brewer House Road, according to a Montgomery County fire official.
Over 75 firefighters responded to the two-alarm fire that occurred about 1:30 a.m. on Friday in North Bethesda.
Fire and Rescue Services Spokesperson Pete Piringer said the injured resident was transported as a priority one patient with second and third degree burns.
Piringer said there is also significant damage to the structure from the fire. He said damage is estimated at $450,000 and two families are displaced.
The cause of the fire, Piringer said, is electrical in nature.
U/D Brewer House Rd; Cause, electrical, floor outlet; Origin, 1st fl LivRm; Damage, >$450K; 2 families displaced pic.twitter.com/zv71DAuMij

— Pete Piringer (@mcfrsPIO) January 30, 2015
#mcfrs Fire Investigators on scene of Brewer House Rd, working to determine cause & origin pic.twitter.com/6XzRccXDHW

— Pete Piringer (@mcfrsPIO) January 30, 2015
U/D – Brewer House Rd, significant damage, for most part confined to TH of origin, occupant alerted by Smoke Alarm pic.twitter.com/jBMycRHK7U — Pete Piringer (@mcfrsPIO) January 30, 2015
U/D Brewer House Rd, N Bethesda, fire under control, confined to TH of origin (for the most part), significant damage pic.twitter.com/Ynn0AxgQ0w

— Pete Piringer (@mcfrsPIO) January 30, 2015
U/D – 10900blk Brewer House Td, fire under control, 1 occupant alerted by smoke alarm, neighbor called 911 pic.twitter.com/N0fFQnScP7 — Pete Piringer (@mcfrsPIO) January 30, 2015
U/D – Brewer House Rd, EMS transporting 1 adult male, Priority1, 2nd & 3rd degree burns, transporting to WHC Burn Unit

— Pete Piringer (@mcfrsPIO) January 30, 2015
U/D – Brewer. House Rd, townhouse fire, FFs getting a bit of fire 'knockdown', but still involved w/ firefight, at least 1 civilian burn inj — Pete Piringer (@mcfrsPIO) January 30, 2015
U/D – Brewer House Rd, all occupants are out, PD evacuated several neighboring Townhouses, as well….2Nd Alarm requested

— Pete Piringer (@mcfrsPIO) January 30, 2015
U/D – 10921 Brewer House rd, end of row 2-sty townhouse, on scene fire coming from several windows, addl fire/rescue units called to assist — Pete Piringer (@mcfrsPIO) January 30, 2015
10921 Brewer House Rd, townhouse fire

— Pete Piringer (@mcfrsPIO) January 30, 2015