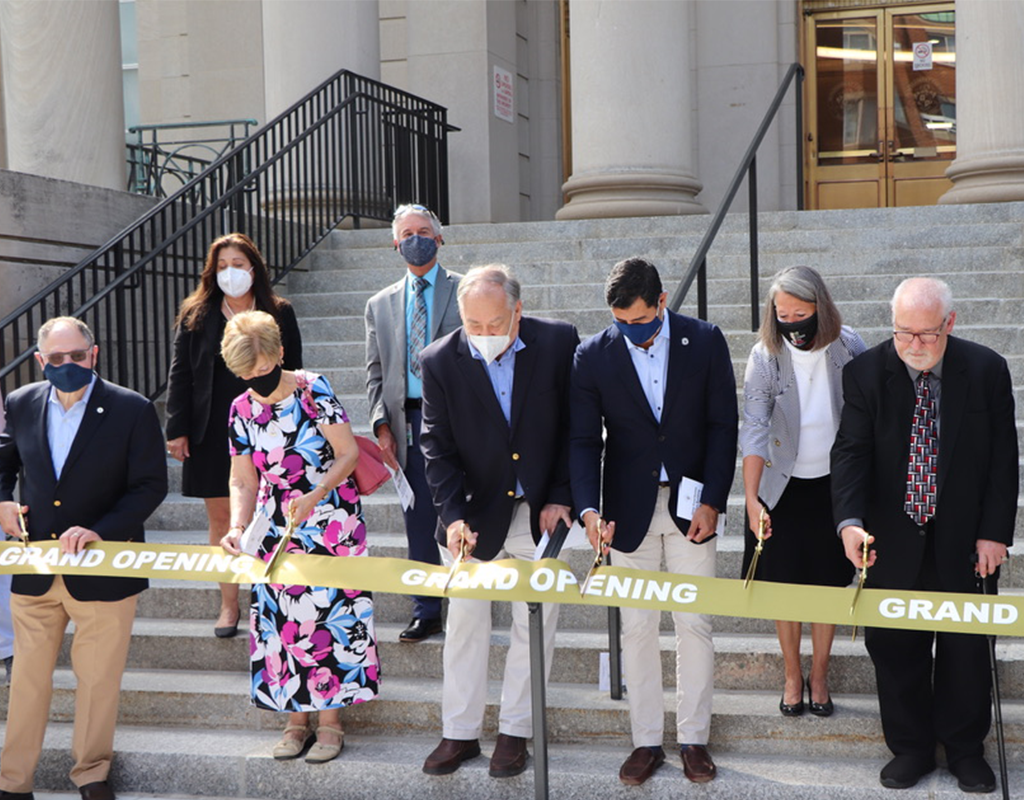 Renovated Grey Courthouse Office Building Opens in Rockville
Montgomery County leaders cut the ribbon on the newly renovated Grey Courthouse Office Building in Rockville Wednesday morning.
The renovations costs $25.5 million and they've been under discussion by county officials since 2015. In 2017, the project design for the renovations began. While many projects were halted amid the pandemic, the renovations for the Grey Courthouse proceeded and concluded on time this summer.
Seven county departments will be housed in the office spaces. A county news release explains:
The Department of Finance Treasury Division and the Office of Procurement will be serving County residents and businesses from this location. The office building will also be the primary location for other County departments and operations including the Office of the County Executive's Innovation Team, Technology and Enterprise Business Solutions Enterprise Resource Planning, Office of Human Resources (OHR) Training and Organizational Development Division, OHR Occupational Medical Services, Fire Rescue Occupational Medical Services  and Health and Human Services Mental Health/Substance Abuse Screening and Referral program (also known as ACCESS to Behavioral Health).
Department of General Services Director David Dise said that the renovations were made with 90% recycled material. Dise added, in remarks after the ribbon cutting, how the historic nature of the building, a state and national landmark, has been preserved.
"In 1891, or 130 years ago, the red brick courthouse was open. In 1931, or 90 years ago, this building, what we call the grey brick courthouse, was open. And in 1961, or 60 years ago, the addition, what we'll call the light grey building was constructed. So 1891, 1931, 1961, now in 2021, we're here to celebrate the reopening and repurposing of these buildings."
View this post on Instagram
Elrich noted that in 1937, Thurgood Marshall—who become the first Black Supreme Court Justice in 1967—argued for equal pay for a Rockville Elementary School principal in the Gibbs vs. Board of Education case in the Grey Courthouse office building. Many view the case as precursor to Marshall's argument in the Brown Vs. Board of Education case in 1954, which led to the integration of public schools.
Office of Procurement Director Ash Shetty said it's poetic that his office will get to work in the same building where justice was sought for decades. He said his office continues the fight for equity.
Related Post:
Black History Month: MCM Spotlights Justice Thurgood Marshall's Rockville Roots