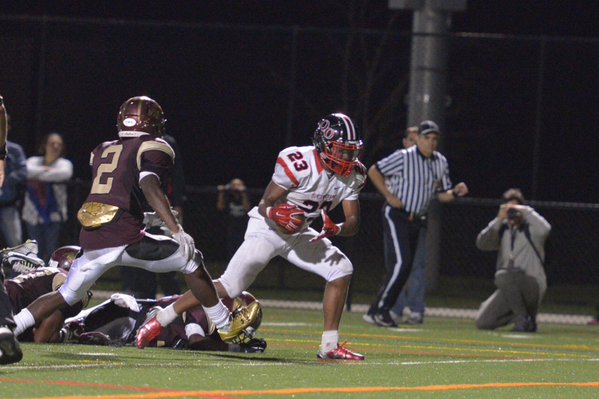 Quince Orchard Cougars Over Paint Branch Panthers, 38-14 (PHOTOS & VIDEO)
The Quince Orchard Cougars dominated the Paint Branch Panthers Friday night in the last game of the regular season. The final score was 38-14.
In a ceremony prior to the game, Paint Branch retired #54 Darnell Dockett's jersey. Darnell Dockett was a 1999 graduate of Paint Branch High School with a remarkable football career including 1st team All-Met and in the top ten rated defensive players in the country. After high school, he attended Florida State and then played professional ball for the Arizona Cardinals where he was a three time Pro Bowler.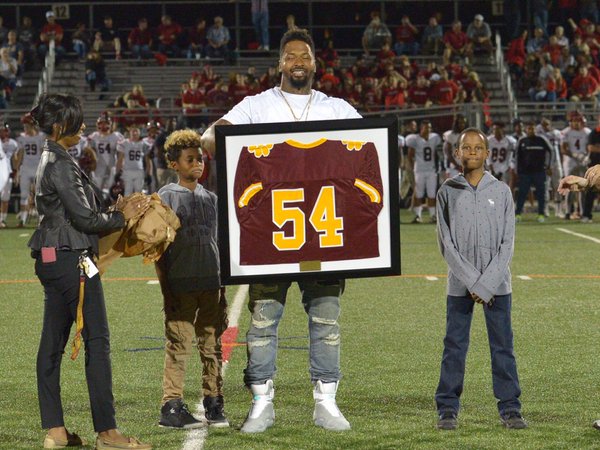 Videographer Paul Flickinger captured game highlights from the sideline. Take a look:

In the first quarter of the Friday night game, Paint Branch scored first with a touchdown. Cougars responded quickly with a touchdown, making the score Quince Orchard 7, Paint Branch 7.
A field goal put the Cougars up 10 to 7 in the first quarter.
QO's Marvin Beander ran the ball in for a touchdown early in the second quarter.
With 5:17 in the 3rd, Quince Orchard scored a TD on a long Doc Bonner run, making the score 24-7 over Paint Branch.
The fourth quarter started with a Marvin Beander TD and QO led PB 30-7. Barlow scored and Paint Branch answered with a TD.
Final score: Quince Orchard 38, Paint Branch 14.
PHOTOS | Phil Fabrizio