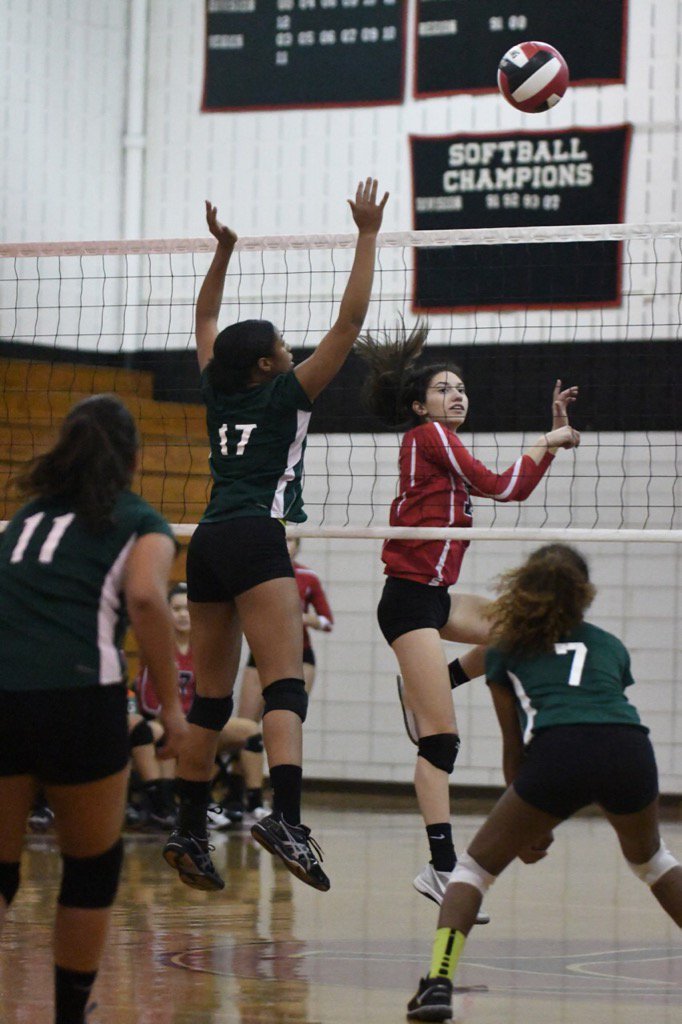 Quince Orchard Cougars Advance in 4A State Volleyball Play-Offs (PHOTOS)
The Quince Orchard Cougars won the first round of the 4A state volleyball play-off match against the John F. Kennedy Cavaliers tonight at Quince Orchard High School. The Cougars came to win, taking the match in three straight sets. The Cougars will face-off against the Wootton Patriots on Nov. 7th.
Photographer Phil Fabrizio was there to capture the action.
Final point. QO completes a 3-0 sweep winning game 3, 26-24 over Kennedy advancing in MPSSAA play @mymcmedia @QO_AD pic.twitter.com/Cih1z3G1hh

— Phil Fabrizio (@Photoloaf) November 3, 2016
The face of Hustle. Kennedy still ahead but QO hustling. @mymcmedia @QOAthletics @QO_AD pic.twitter.com/TWbSiljihI

— Phil Fabrizio (@Photoloaf) November 3, 2016
Kennedy holding on to a slim lead. @mymcmedia pic.twitter.com/F2tHgK2Obj

— Phil Fabrizio (@Photoloaf) November 3, 2016
A comeback by QO it's 22-19 Kennedy in Game 3. @mymcmedia @QOAthletics @QO_AD @KennedyCavsAD pic.twitter.com/GI01r4E8Ur

— Phil Fabrizio (@Photoloaf) November 3, 2016
A good match now going on btw Kennedy and QO with Kennedy up 20-15. @mymcmedia pic.twitter.com/XyfvegMs3p

— Phil Fabrizio (@Photoloaf) November 3, 2016
Point for Kennedy. Over the top. 12-9. @mymcmedia pic.twitter.com/UCTYV5mMiy

— Phil Fabrizio (@Photoloaf) November 3, 2016
7-5 in favor of Kennedy game 3. @mymcmedia pic.twitter.com/T4NEvbAJy3

— Phil Fabrizio (@Photoloaf) November 3, 2016
Game 3 5-2 in favor of Kennedy @mymcmedia pic.twitter.com/gBvDODntee

— Phil Fabrizio (@Photoloaf) November 3, 2016
Action during game 2 here at QO @mymcmedia pic.twitter.com/LEOEHL3br1

— Phil Fabrizio (@Photoloaf) November 3, 2016
Game 2. 25-4 QO over Kennedy. @mymcmedia pic.twitter.com/hkMVzdSo1o

— Phil Fabrizio (@Photoloaf) November 3, 2016
Game 1 QO 25 to 12 over Kennedy. Advantage QO. In 4A MPSSAA Girls VB Playoffs @mymcmedia @QOAthletics pic.twitter.com/umbSa32uJa

— Phil Fabrizio (@Photoloaf) November 3, 2016
Early action in game 1. QO over Kennedy 10-4. @mymcmedia pic.twitter.com/gIw5mIl1Na

— Phil Fabrizio (@Photoloaf) November 3, 2016
MPSSAA 4A Volleyball starts tonight with Kennedy at Quince Orchard. Game time is moments away @mymcmedia @QO_AD @KennedyCavsAD pic.twitter.com/6stu8uVYWV

— Phil Fabrizio (@Photoloaf) November 3, 2016