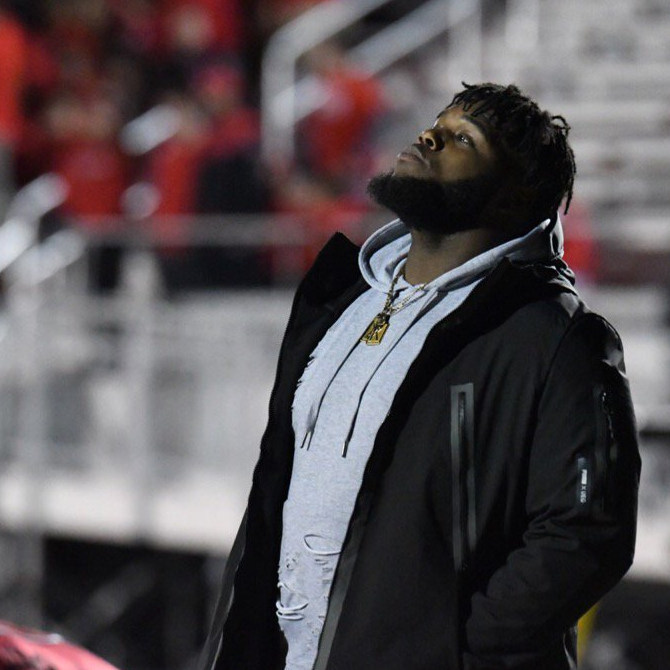 Quince Orchard Cougars Advance in 4A Regional Playoffs with Win Over Blair, 35-7 (PHOTOS)
Quince Orchard Cougars advance in the 4A West regional football playoffs with a win over Montgomery Blair Blazers, 35-7, Friday night. The number one ranked Cougars finished regular season play with a 9-1 record, giving them home-field advantage in this first game of the regional semifinals.
The Cougars scored first with three unanswered touch downs in the first half. Montgomery Blair Blazers scored a touchdown late in the 2nd quarter, making the score 21-7 at the half. This was the only Blazer score of the game.
After a scoreless third quarter, the Cougars managed two more touchdowns in the fourth quarter. The final score was 35-7, Quince Orchard.
The Cougars advance in the 4A West regional playoffs.
PHOTOS | Phil Fabrizio
Final. QO 35. Blair 7. QO's defense too much for Blair. QO advances in 4A West Region @mymcmedia @allmetsports pic.twitter.com/g7czjTyi8y

— Phil Fabrizio (@Photoloaf) November 12, 2016
QO's Hadley does it all for the Cougars tonight Scoring on s pass from Bonner makes it 35-7 @mymcmedia @allmetsports pic.twitter.com/uuMWPIG7n0

— Phil Fabrizio (@Photoloaf) November 12, 2016
Hadley with another sack for QO @mymcmedia pic.twitter.com/wEgzK6HcrV

— Phil Fabrizio (@Photoloaf) November 12, 2016
Beander on a 4 yd TD run. Makes it 28 – 7 QO with 9:35 left in the game @mymcmedia pic.twitter.com/p341nWZk3W

— Phil Fabrizio (@Photoloaf) November 12, 2016
QO interception on 1st play of 4th QTR. @mymcmedia pic.twitter.com/WDY52mFkHp

— Phil Fabrizio (@Photoloaf) November 12, 2016
3rd QTr drags. Score remains 21-7 QO. @mymcmedia pic.twitter.com/ibLRsd7dbK

— Phil Fabrizio (@Photoloaf) November 12, 2016
QO leads at Halftime 21-7. Pressure on Colby all evening as applied here by QO's Johnson @mymcmedia @QO_FOOTBALL pic.twitter.com/W4WdwAKBqL

— Phil Fabrizio (@Photoloaf) November 12, 2016
Carter beats Bazzie for the catch and the 37 yd score. Blair on the Board 21-7 QO @mymcmedia @Blazer_Football pic.twitter.com/6PkZP3nfW4

— Phil Fabrizio (@Photoloaf) November 12, 2016
Hadley on the sack. Blair punts with 6 min left in the QTR. @mymcmedia @ZachariahKerr94 pic.twitter.com/t1R1GzcbPJ

— Phil Fabrizio (@Photoloaf) November 12, 2016
Beander climbs the pile for the score. QO 21 Blair 0 in the2nd QTR @mymcmedia @QO_Coach_Kelley pic.twitter.com/Z2JL6sAiyP

— Phil Fabrizio (@Photoloaf) November 12, 2016
MD commit Fofie Bazzie picks of a Colby pass and QTR end shortly there after. 14-0 QO @mymcmedia pic.twitter.com/IKMJNCXK2L

— Phil Fabrizio (@Photoloaf) November 12, 2016
In that pile somewhere is QOs Hinson who score from 1yd out. QO 14 Blair 0. @mymcmedia pic.twitter.com/EPOdhdx1Sh

— Phil Fabrizio (@Photoloaf) November 12, 2016
QO blocks a punt into the end zone for a score after Blair goes 3 and out. QO 7-0. @mymcmedia @QO_AD pic.twitter.com/aswzo9thD6

— Phil Fabrizio (@Photoloaf) November 12, 2016
Veterans Day and the flag comes on the field game time is next. @mymcmedia pic.twitter.com/6kt0jS7kvS

— Phil Fabrizio (@Photoloaf) November 12, 2016
Former QO player and current Colts pro Zach Kerr here tweeting from sideline for @TownCourier @ZachariahKerr94 pic.twitter.com/UoBlBHIhvM

— Phil Fabrizio (@Photoloaf) November 11, 2016
RD1 MPSSAA playoff will feature two prominent MoCo QB's Siff for Blair and Bonner for QO. Strong NE wind is a factor pic.twitter.com/94K3bH5eQu

— Phil Fabrizio (@Photoloaf) November 11, 2016
Blairs Matt Siff taking snaps as they warm up to face QO in RD1 of state Playoffs @mymcmedia @Blazer_Football pic.twitter.com/ocNaVHdsTs

— Phil Fabrizio (@Photoloaf) November 11, 2016
QOs John White warms up as FNL returns to the Cougar Dome for RD1 of state 4A playoff. @mymcmedia @ZachariahKerr94 pic.twitter.com/ILooHxs8xf

— Phil Fabrizio (@Photoloaf) November 11, 2016