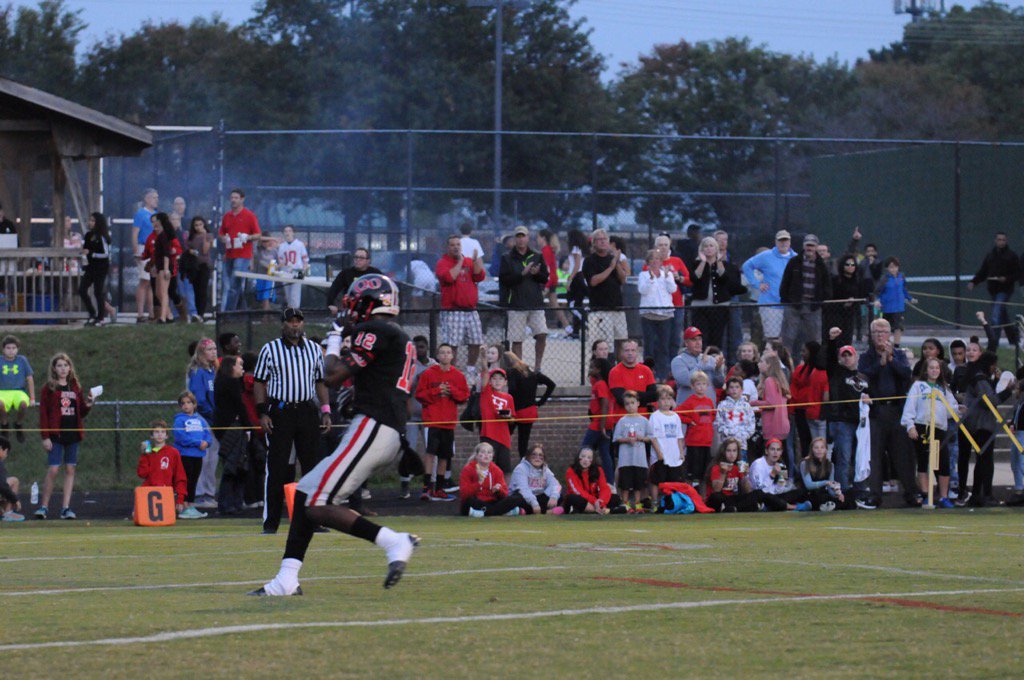 QO Shuts Out Churchill, 49-0 (PHOTOS)
The Quince Orchard Cougars shut out the Churchill Bulldogs, 49-0, on Friday night at the Cougardome in Gaithersburg.
At halftime, the Cougars were leading 28-0.
In the bleachers, the Red Army showed off its spirit by unveiling a massive red flag with its logo.
Also in that crowd, Gaithersburg Mayor Jud Ashman who was tweeting game highlights for a local newspaper.
On the sidelines, University of Maryland player Adam McLean was hanging out with QO Coach Darnell Evans.
Next week, the Quince Orchard Cougars travel to Germantown to take on the Northwest Jaguars. Churchill plays at home against B-CC.
PHOTOS | Phil Fabrizio
.@docbonner_8 Marin' it look easy! QO 28 – Churchill 0, 3:20 2nd qtr #MayorJudLive pic.twitter.com/XEppi1tH5U

— The Town Courier (@TownCourier) October 7, 2016
Final QO 49. Churchill 0. @mymcmedia @allmetsports pic.twitter.com/MZrKCJrfN1

— Phil Fabrizio (@Photoloaf) October 8, 2016
Payne on a 77 yd reception from Beander makes it QO 42-0 going into the 4th @mymcmedia

— Phil Fabrizio (@Photoloaf) October 8, 2016
Wade touches down in the end zone. 35-0 QO in the 3rd with 8:05 left @mymcmedia pic.twitter.com/SzonJa87Ps

— Phil Fabrizio (@Photoloaf) October 8, 2016
At the half it's QO 28 Churchill 0. Poms are next onto the field. @mymcmedia @allmetsports @QOPoms @QOAthletics pic.twitter.com/vD2Lu9vBlP

— Phil Fabrizio (@Photoloaf) October 7, 2016
Beander on a 3 yd carry pushes score to 28-0 over Churchill. @mymcmedia @QOAthletics pic.twitter.com/uR153GJRbm

— Phil Fabrizio (@Photoloaf) October 7, 2016
Beander from the 12 yd line and the XP is good. QO 21 Bulldogs 0 @mymcmedia pic.twitter.com/Gres8i4QU6

— Phil Fabrizio (@Photoloaf) October 7, 2016
End of 1 It's QO 14 and Churchill 0 Hey how about that flag!!! @mymcmedia @QOAthletics @QOPoms @TownCourier @gdpoze pic.twitter.com/Ha5gwpBRBQ

— Phil Fabrizio (@Photoloaf) October 7, 2016
Breander for the score makes it QO 14 Churchill 0 at the 3:50 mark in the 1st. @mymcmedia pic.twitter.com/NFuRktwdWl

— Phil Fabrizio (@Photoloaf) October 7, 2016
Bonner to Payne for a 21 yd TD XP Good 7-0 QO @mymcmedia pic.twitter.com/o67Mu52qSj

— Phil Fabrizio (@Photoloaf) October 7, 2016
It's HOMECOMING at QO @mymcmedia @QOAthletics pic.twitter.com/tAD1sRJo3I

— Phil Fabrizio (@Photoloaf) October 7, 2016
It's Friday Night and Adam McLean is in the house with Coac Evans for Churchill vs QO @mymcmedia @judashman pic.twitter.com/wCyq4NmI6S

— Phil Fabrizio (@Photoloaf) October 7, 2016