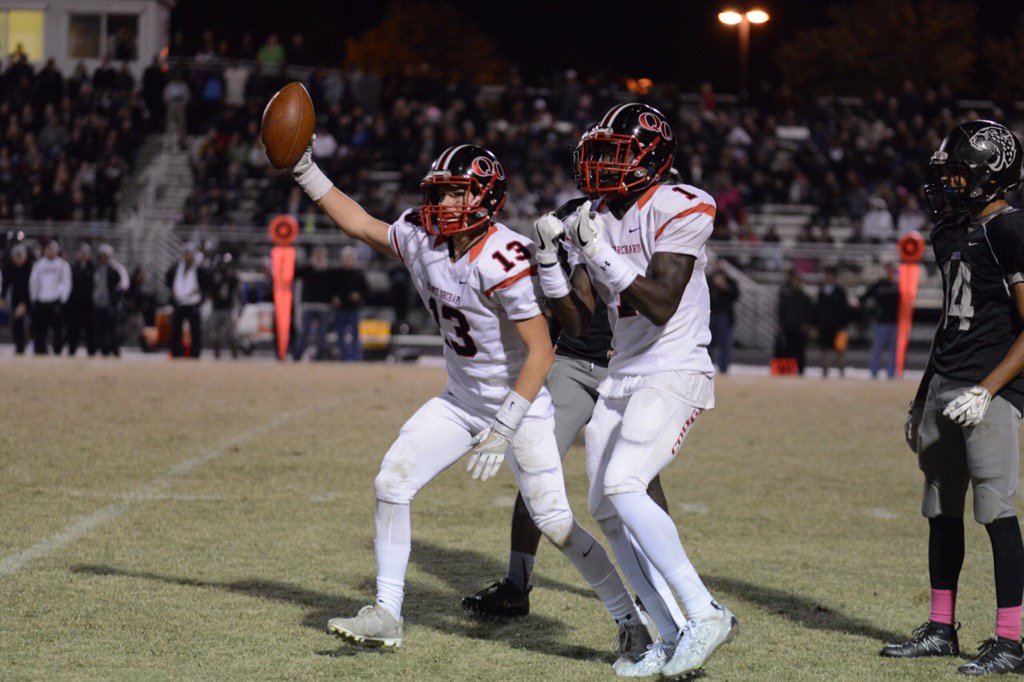 QO Cougars Over Northwest Jaguars, 24-21 (PHOTOS)
The Quince Orchard Cougars have extended their winning record with an important victory on the road in Germantown against the Northwest Jaguars, 24-21.
It was all QO during the first two quarters as the Cougars led the Jaguars, 17-0, at halftime.
But the Jaguars roared back in the second half and needed just a field goal when time expired.
Next up for QO is Bethesda-Chevy Chase (B-CC) while Northwest takes on Churchill.
PHOTOS | Phil Fabrizio
Bonner takes a knee at the NW 1 to run out the clock QO wins 24-21 @mymcmedia @allmetsports @QO_AD @gdpoze pic.twitter.com/HpgOBrYrRv

— Phil Fabrizio (@Photoloaf) October 15, 2016
Final QO 24. NW 21. @mymcmedia @allmetsports

— Phil Fabrizio (@Photoloaf) October 15, 2016
Owens scores for NW. With 2 minutes left. Score is 24-21 Qi @mymcmedia pic.twitter.com/QTCPLTVEet

— Phil Fabrizio (@Photoloaf) October 15, 2016
Owens run makes it 24-21 QO leads pic.twitter.com/7dZzOqVZlS

— Phil Fabrizio (@Photoloaf) October 15, 2016
NW scores but fails to convert 24-14 QO @mymcmedia pic.twitter.com/DhbUto1veG

— Phil Fabrizio (@Photoloaf) October 15, 2016
Bonner to Bazzie for a 48 yd TD reception makes it 24-8 QO in the 4th. @mymcmedia @QO_AD pic.twitter.com/itTb4brm1V

— Phil Fabrizio (@Photoloaf) October 15, 2016
End of 3. It's QO 17 NW 8 @mymcmedia @NWJagSports @QO_AD pic.twitter.com/JrPt4uGXlD

— Phil Fabrizio (@Photoloaf) October 15, 2016
NW's Reil to Foray for 60 yd TD with 2pt conversion makes it 17-8 QO @mymcmedia @NWJagSports pic.twitter.com/UfJcC03Ogs

— Phil Fabrizio (@Photoloaf) October 15, 2016
They put on a good half time show. The NW Jag Poms @mymcmedia @NWJagSports @NWPoms pic.twitter.com/cvEZVMYPPm

— Phil Fabrizio (@Photoloaf) October 14, 2016
At the half it's Quince Orchard 17 and NW 0 in the #blackhole @mymcmedia @allmetsports @gdpoze pic.twitter.com/ujbZBPUuIv

— Phil Fabrizio (@Photoloaf) October 14, 2016
Hayden August with a 27 yd FG to put QO up 17-0 with less than 1 minute in the half. @mymcmedia @QO_AD pic.twitter.com/20ZB1N01Kc

— Phil Fabrizio (@Photoloaf) October 14, 2016
Bonner on a 46 yd TD run. Makes it 14-0 QO over NW in the 2nd at 8:21. @mymcmedia @QO_AD @NWJagSports pic.twitter.com/JSzEb0JFsh

— Phil Fabrizio (@Photoloaf) October 14, 2016
Full moon over QO sidelines in the #blackhole @mymcmedia @QO_AD pic.twitter.com/hV0Ie32gVU

— Phil Fabrizio (@Photoloaf) October 14, 2016
Kick off to NW to begin the game. @mymcmedia pic.twitter.com/mag0CNNNy0

— Phil Fabrizio (@Photoloaf) October 14, 2016
Jags Cheers ready. @mymcmedia @NWJagSports pic.twitter.com/xqNiENtnNG

— Phil Fabrizio (@Photoloaf) October 14, 2016
Sun setting at the #blackhole as QO finishes warmups. NW awaits. @mymcmedia @QO_AD @NWJagSports pic.twitter.com/w6gNWAPcMe

— Phil Fabrizio (@Photoloaf) October 14, 2016
The quiet before the battle. It's Friday Night along Great Seneca Hwy. It's QO vs NW @mymcmedia @NWHSfootball pic.twitter.com/nv0Vt5xHcD

— Phil Fabrizio (@Photoloaf) October 14, 2016