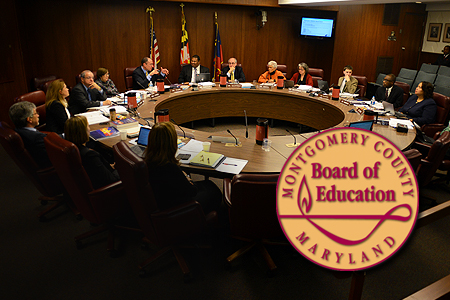 Public Comment on BOE Policy Sought
The Montgomery County Board of Education is seeking public comment on proposed revisions to
Policy BLB, Rules of Procedure in Appeals and Hearings
. The updated policy provides Rules of Procedure that govern all appeals to the Board and all hearings before the Board requested by persons who are adversely affected by a recommendation or final decision of the superintendent of schools. This policy does not apply to decisions that are specifically required by statute or bylaws of the Maryland State Board of Education or Board policies/Montgomery County Public Schools (MCPS) regulations, such as those applicable to special education. This policy is being updated in order to comply with the new Maryland State Department of Education's regulations regarding student discipline, which must be implemented by the beginning of the 2014–2015 school year.
A copy of the draft policy is available through the Department of Public Information and Web Services by calling 301.279.3391. You also can access the policy on the MCPS website.
Individuals who wish to provide comments should respond in writing by Thursday, May 29, 2014. All written responses should be sent to the Office of the Superintendent of Schools, 850 Hungerford Drive, Room 122, Rockville, Maryland 20850 or sent by email to the Board of Education at boe@mcpsmd.org. All responses will be shared with the Board of Education and the Superintendent of Schools.