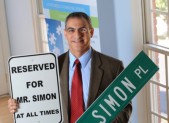 Powerful Words: In Avoidance of a Fiscal Cliff
Certainly the action that the leadership took was a bold, but painful one, and it came off immediately as shocking and wildly unpopular.
Still, it's good to know that in potentially disastrous economic times like these, there is a president and governing body that is willing to do what is needed – despite the certain fallout – to solve long-range budget problems and avoid an impending "fiscal cliff."
No, you haven't suddenly awoken from a long winter's nap and risen to the welcome news that President Obama and Congress have worked out a compromise on Capitol Hill. That still hasn't happened. The "cliff" is rapidly approaching.
I am talking about University of Maryland President Wallace Loh and the University System Board of Regents, who recently took the drastic and seemingly unthinkable action of pulling the Maryland Terrapin sports teams out of the Atlantic Coast Conference to join the ranks of the big-time, big-money… Big Ten.
Oh sure, there's still a lawsuit out there and maybe as much as a $52 million buyout to complete the exodus from the ACC. Hopefully, there will be a compromise in the amount of that "fee," but the university has calculated that the move makes sense anyway, based on the expected increase in revenue that it will gain in the long run.
But the deal is done. The Terps are moving on. Many have called it a "money grab" and, yes, that's what it is. But money is an essential part of major university athletics today, whether we like it or not.
As a longtime PR guy and speech writer, I'm always watchful of how effective the messenger is – or is not – when delivering news like this. In my book, President Loh deserves an "A" for the way he has explained this action. Following are some excerpts (in italics) from the letter that Dr. Loh sent to thousands of us in Terrapin Nation to announce the move, along with the reasons I think he handled the explanation so well.
1)      Answering the Why? Making a Case…
"Membership in the Big Ten is in the strategic interest of the University of Maryland.  It will ensure the financial vitality of Maryland Athletics for decades to come.  It will enable us to reinstate some teams that were recently terminated due to budget deficits. We will have the capability to support better our student-athletes — in the classroom and on the field — and compete successfully at the highest levels.
The financial problems of Maryland's athletic department are well documented. President Loh took little pleasure in having to kill a number of varsity sports teams, as a result. His pledged commitment here to restoring some of those programs and to increasing funding for academic support is significant. Let's hope, for the good of everyone involved, that this will not become a "read my lips" moment. Let's hope we hear soon about which sports will be restored.
2)      Respect for History, But Accountability for the Future:
"Since leaving the Southern Conference in 1953, where we were a member since its inception 30 years earlier, we have been a proud founding member of the ACC.  Our long history has led to spirited sports rivalries and left indelible memories. More recently, the ACC has expanded into the Midwest.  But our early ACC traditions will remain forever a treasured part of the Terrapin story. 
I understand that many devoted Terp fans may be stunned and disappointed at this news.  I recognize and regret the sadness they may feel at our leaving the ACC. It is the passing of an era.  To them, I ask only this:  please understand that I am doing what I believe is best for the University of Maryland and all of its stakeholders — students, faculty, staff, alumni, donors, and sports fans.  I made this decision after due diligence and confidential consultation with some of our key constituencies."
A nod to the ACC purists – but with a reminder that not even that relationship was one that encompassed the long history of the institution – and a necessary dose of contrition and empathy for  the diehards. Oh, and that little jab about the ACC itself having already expanded to the Midwest… sorry, folks, but the ACC is not your mother's ACC either.
3)      The Buck Stops Here:
"As president, my responsibility is to advance the good of the entire University – our academic excellence and financial well-being as well as the future of Maryland Athletics.  We are a premier land-grant and research university, situated in a vibrant metropolitan region next to our nation's capital.  Our roots are in the mid-Atlantic, but our institutional reach and impact today is also national and international. Membership in the Big Ten… offers opportunities that match our strategic purposes. We cannot let pass these opportunities."
Accountability is one of the most important aspects of leadership. It was his call and he took full responsibility for it. If it works, he is a genius. If not…
4)      Change is Difficult… But Life Moves On:
"The 21st century landscape of intercollegiate athletics is being transformed by demographics, technology, and the economic realities of big-time sports.  These forces are upending traditional boundaries.  Change is difficult, but we are in front of these changes.  As we begin a new chapter in our history, let us go forward together and create our future. We are all Terps. We are, proudly, the University of Maryland."
Change. Is. Difficult. But life goes on.
The arguments will go on. Many will not soon forgive this decision. Most of the remaining animosity will be based upon the views of longtime fans on the great tradition of ACC basketball rivalries – the fact that a couple of the best nights around here each year have been when Maryland plays Duke or North Carolina.
But keep in mind that no matter what we Terp fans may think, there may have been an omen in all of this at the end of a big Duke basketball victory last year when the "Cameron Crazies" began taunting Maryland with this painful and somewhat prophetic chant: "Not a rival… not a rival…"
Sadly, it is all about the money. Money matters. But words matter too.
And so it's on to the next fiscal cliff. I'm dying to hear the explanation for how this one will be avoided.