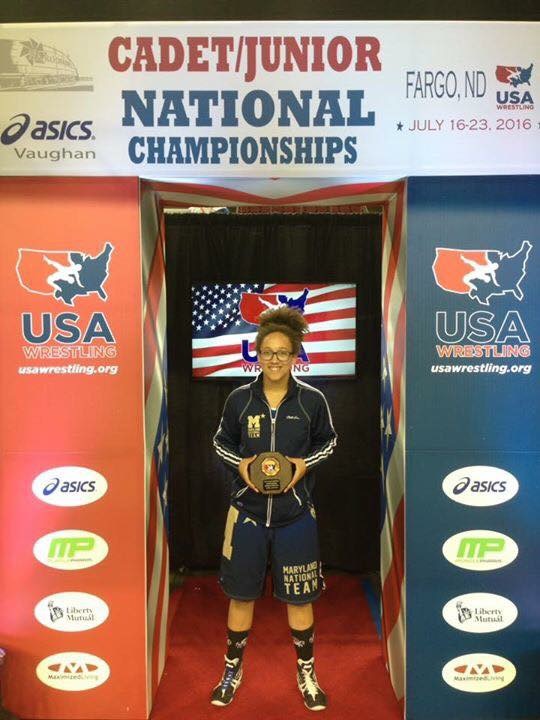 Poolesville High Teen Ranked Third in Nation for Wrestling (VIDEOS & PHOTOS)
Olivia Rondeau isn't your average sophomore at Poolesville High School. On top of being a part of the school's magnet program, a taekwondo black belt and a girl scout, she's also a rising wrestling star.
MyMCMedia's Maureen Chowdhury caught up with Rondeau while trained at MMA Sport in Damascus.
Rondeau began wrestling a little over 10 months ago and she's already earned a spot on the U.S. national team. Rondeau competed with the Maryland National Team against fellow females in the sport this summer at the Cadet/Junior National Championships in Fargo, North Dakota, where she ranked third in the nation and was named All-American. According to Rondeau, the competition is one of the "biggest youth wrestling tournament in the world." "It's pretty cool," she said.
MyMCMedia caught up with Rondeau while she trained at MMA Sport in Damacus. She said she didn't expect for her wrestling career to develop so quickly, "I didn't even know [that] the Maryland National Team existed, I was just doing wrestling because I thought it would get me in shape, it would make a better fighter because I previously done martial arts and I was kind of looking into a future in MMA (Mixed Martial Arts)," she said. "But then I kind of decided that I loved it and I really wanted to continue off-season," Rondeau said.
Rondeau was also one of two female wrestlers on the Poolesville High School team last year and despite the challenges of competing in a male dominated sport, she's determined to become the best.
"I think sometimes it's scary [for the other team], because I've been on varsity a couple of times taking up varsity spots on the team and when they see a girl coming out on with the varsity line up they're scared, like 'man she's really good.' So they don't want to see their guy get their butt kicked by a girl," she said. "I've had a couple of teams forfeit against me, because the other coach doesn't want their kid to wrestle a girl," Rondeau said.
Rondeau said her Poolesville High teammates are supportive. "Usually it's a positive thing for me…I guess it depends on what team you're on, but my team at Poolesville they treat me like one of the wrestlers…they don't treat me like a girl or the token girl wrestler or anything like that it's really nice…I believe that's why I got good so quickly because everyone gives me a good look when I'm wrestling," she said.
She hopes to compete at the Olympics one day, just like one of her biggest wrestling role models, Helen Maroulis. "My goal in the future is definitely to win the Olympics," Rondeau said.
Rondeau also wants to encourage other girls to join the sport and has some advice for them.
"You definitely should if you're thinking about it, you should start wrestling, but it's not like a cake walk. It's not easy, you know there's definitely a lot of work to be put in. There's ups and downs to it. It's definitely a difficult [track] to be put on and there is pressure from certain teams, from certain coaches about being a girl in a male dominated sport, but don't, you can't let yourself focus on it, you can't let it bring you down, you have to push through it no matter what the boys or anyone else may say about you wrestling as a girl," she said.