Police Investigating Sexual Assault on Rock Creek Park Trail
Detectives from the Maryland-National Capitol Park Police, Montgomery County Division, are investigating a sexual assault on the Rock Creek Trail in Kensington on March 9.
The assault occurred on the trail access at Parkwood Drive and Clearbrook Lane at 6:45 p.m. According to police, "a juvenile female was approached from behind, wrestled to the ground, and inappropriately touched."
A nearby person who was exercising at the time heard the young woman scream and went to the area where he saw a male running away, police said. The suspect was described as Hispanic with a medium complexion, between five foot four inches and five foot six inches tall, in his late teens to mid-twenties with a round face, dark hair, dark clothing and not wearing a mask.
Anyone with information is asked to contact the criminal investigations unit at 301-929-2748 or submit information on line at crimetips@mcparkpolice.org.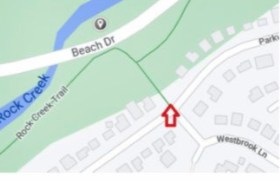 Detectives are investigating a sex assault that occurred this evening along the Rock Creek Trail in Kensington. Please see the attached press release for more information. pic.twitter.com/FPr2XUGTJM

— Park Police MC (@ParkPolice) March 10, 2021