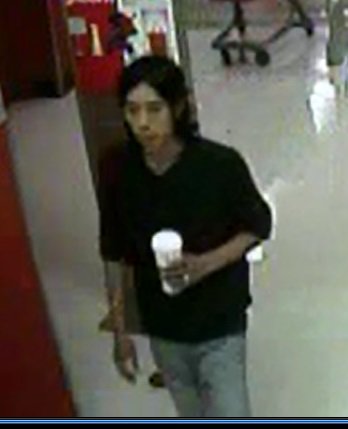 Police Investigate Jewelry Theft at Westfield Wheaton Mall (VIDEO)
Montgomery County police officers are investigating the May 21st burglary of the JCPenney store located at Westfield Wheaton Mall.
Police are releasing surveillance video, see below, and photographs of the suspect in hopes of identifying him.
According to a police account, the burglary was discovered by an employee at the JCPenney store shortly before 9 a.m. on May 21.
Video surveillance shows that at 3:19 a.m. that morning, the suspect broke into the JCPenney by throwing rocks and breaking the glass of the third floor, exterior door. Police said after entering the store, the suspect went to the jewelry department and broke the glass of two jewelry display cases. He then stole all of the jewelry inside those cases, according to police. The suspect is seen on video exiting the JCPenney store less than ten minutes later.
Police said thru their investigation they learned that the suspect had been in the mall earlier that day during normal business hours. Detectives obtained surveillance photographs of the suspect during the time that he was in the mall.
The total value of the stolen jewelry was approximately $150,000, police said.
Anyone who recognizes the suspect or has information about this burglary is asked to contact the 4th District Investigative Section at 240.773.5530. Tipsters can also call Crime Solvers of Montgomery County toll-free at 1.866.411.TIPS (8477) or enter a tip online. Crime Solvers will pay a cash reward of up to $10,000 for information provided to them that leads to an arrest and/or indictment for this felony crime.
Det's Investigate Burglary in Westfield Wheaton Mall– $150,000 Worth of Jewelry Stolenhttps://t.co/xkxxEqzhYJ pic.twitter.com/XrlBD6nR56

— Montgomery Co Police (@mcpnews) June 2, 2016