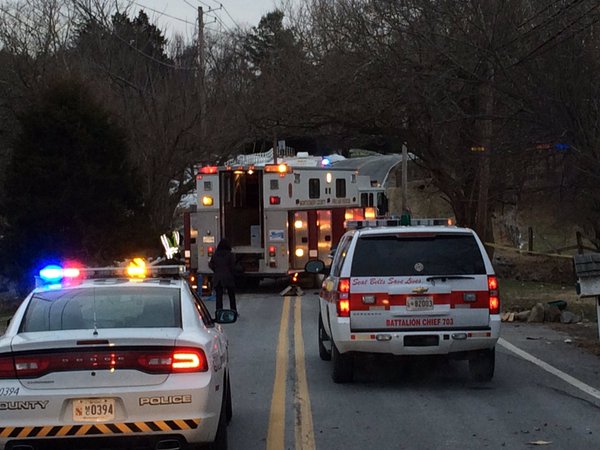 UPDATED: Police Investigate Fatal Potomac Crash (PHOTOS)
UPDATED Feb. 15, 12:15 p.m. Montgomery County police officers are investigating a fatal one car crash that occurred on Sunday afternoon in Potomac.
It happened shortly after 3 p.m. on Feb. 14, in the area of 12860 Travilah Road.
Police said the preliminary investigation indicates that a 2010 Dodge Viper was traveling west on Travilah Road. For reasons still under investigation, police said the vehicle left the roadway in the area of 12860 Travilah Road and struck a concrete wall. Detectives are investigating speed as a possible factor in the collision.
Police said the 21-year-old driver of the vehicle was transported to an area hospital with non-life-threatening injuries.
The front seat passenger, identified by police as 18-year-old Christina Koutsoukos of Gaithersburg, was flown by helicopter to a hospital with life-threatening injuries. Police said Koutsoukos died from her injuries at the hospital.
This crash remains under investigation. Anyone with information regarding the collision is asked to contact the Collision Reconstruction Unit at 240.773.6620.
ORIGINAL POST Dozens of Montgomery County firefighters responded to a collision with entrapment on Sunday afternoon in Potomac, according to a Montgomery County fire official.
Fire and Rescue Spokesperson Pete Piringer said the crash happened in the 12800 block of Travilah Road.
According to Piringer, one person was pinned in the collision for over 45 minutes. He said two patients were transported to the hospital. A medical helicopter was called to transport one patient, Piringer said.
The Montgomery County Police Department's Collision Reconstruction Unit is investigating the collision. So far, no word on what caused the crash or how many vehicles were involved.
Collision Reconstruction Unit enroute to Travilah Rd for serious collision. Travilah closed btwn Stoney Creek & Thistle for investigation.

— Montgomery Co Police (@mcpnews) February 14, 2016
Update: Travilah Road is open. On scene investigation is concluding.

— Montgomery Co Police (@mcpnews) February 15, 2016
More…Travilah Rd, single vehicle, extended extrication, EMS transport 2 traumas, 1 via helo, >40 FFs on scene pic.twitter.com/CAacT2l7lO

— Pete Piringer (@mcfrsPIO) February 14, 2016
Update (3p) 12800blk Travilah Rd, Potomac, EMS transported 2 traumas, both Pri1, 1 via helicopter, 1 pinned >1 hr pic.twitter.com/o4Tmf0v2LO

— Pete Piringer (@mcfrsPIO) February 14, 2016
Update – Travilah Road, @mcpnews PD investigating collision w/ entrapment, EMS/medevac transported 2 trauma patients, 1 pinned >45 minutes

— Pete Piringer (@mcfrsPIO) February 14, 2016
Update – Travilah Road, patient extricated, road closed, Medevac on scene, EMS evaluating 2 Pri1 trauma patients

— Pete Piringer (@mcfrsPIO) February 14, 2016
Traffic advisory – Travilah Rd CLOSED/BLOCKED btwn River Rd & Stoney Creek Rd, Potomac, collision, helicopter landing 12700 Travilah Rd

— Pete Piringer (@mcfrsPIO) February 14, 2016
Update – 12800blk Travilah Rd, collision, persons trapped
(severely) EMS evaluating 2 injuries, Medevac landing nearby (nearby farm)

— Pete Piringer (@mcfrsPIO) February 14, 2016
PIC – 12800 Travilah Rd., collision with entrapment

— Pete Piringer (@mcfrsPIO) February 14, 2016