Police Focus on Pedestrian Safety Around the County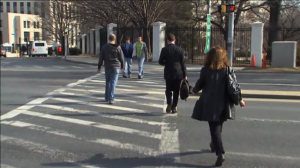 Montgomery County police officers are launching a number of traffic safety enforcement operations around the county today.
According to a police department advisory, police officers are targeting Route 355 from Germantown to Bethesda and Georgia Avenue from Connecticut Avenue to University Boulevard for extra enforcement today.
Police said they are focusing on locations with marked crosswalks and areas that have been identified as locations with a high incidence of pedestrian collisions.
So what can you expect?
Police said they will be issuing citations to both drivers and pedestrians who violate the law. In other words, officers will stop drivers who do not yield to pedestrians in crosswalks and officers will stop pedestrians who do not cross the street at crosswalks. Police said they will also stop pedestrians and motorists who do not obey other traffic safety laws.
The enforcement comes one day after Montgomery County Councilmember Roger Berliner held a "Day of Action" in Bethesda to highlight the importance of traffic safety. Many residents at that morning rally carried signs that said "Slow Down" and "Park the Phone." At the rally, Captain Tom Didone told MyMCMedia that distracted driving is a big problem in the county.
Montgomery County Police to Conduct Pedestrian Enforcement https://t.co/UXTnw0XC9O

— Montgomery Co Police (@mcpnews) November 3, 2015