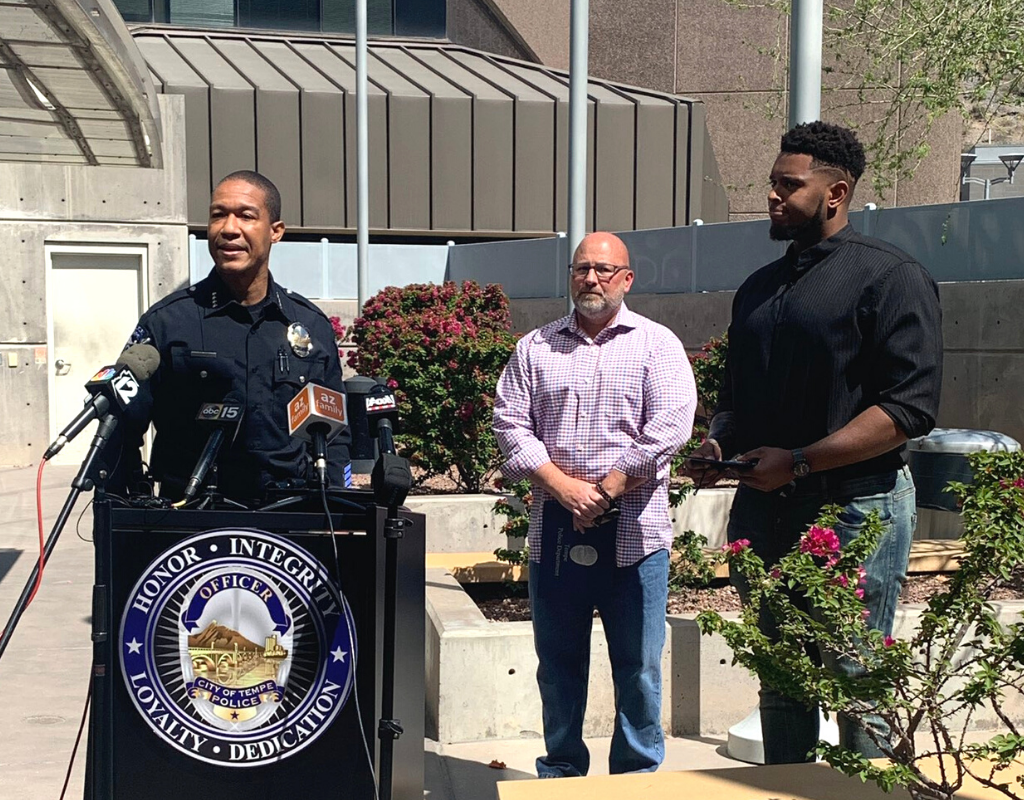 Hailed as a Hero, NFL Player and Bullis Alum Saves Woman from Assault
Justin Herron, a New England Patriots offensive lineman and a 2014 graduate of Potomac's Bullis School, is being called a hero by police for saving a 71-year-old retired teacher from an attempted assault sexual last Saturday in a Tempe, Arizona, park.
"It was something that I never dreamed that I thought I would see," Herron said of the incident during a news conference in Tempe on Wednesday. "You see it in movies and TV all the time, but you never think it's going to happen in real life until it does."
Our sincere gratitude to the two hero's that saved an elderly victim of a vicious attack. Can't miss this story. @azfamily @12News @FOX10Phoenix @abc15 @Patriots pic.twitter.com/Tw1woCrewA

— Tempe Police (@TempePolice) March 24, 2021
The Silver Spring native, who just finished his rookie season in the NFL, is in Arizona for training and said he was taking a walk in a local park around 11 a.m. when he heard screams.
When he got closer, Herron said he realized the situation was "way more aggressive" than he initially thought. The six-foot-five, 305-pound linebacker yelled at the 30-year-old suspect, yanked him off the woman and told him to sit down until police arrived.
Patriots reserve OT Justin Herron was honored as a hero on Wednesday for helping stop a sexual assault in a park four days earlier.

Herron & a second man, Murry Rogers, intervened when they saw a 71-year-old woman being attacked & detained the suspect until police could arrive. pic.twitter.com/7PClY0QuGm

— ESPN (@espn) March 24, 2021
"I'm a football player, so I'm kind of big," Herron said. "I try not to be too aggressive with people knowing I could potentially hurt somebody."
The police chief honored Herron and another man who stepped in to assist the victim on Wednesday with Outstanding Service Awards.
"This was a horrific incident, and instead of taking a moment to pause and maybe even be in a state of fight or flight, these individuals took action," Tempe Police Chief Jeffrey Glover said during the news conference.
Patriots' Justin Herron Talks About Breaking Up An Attempted Sexual Assault Over The Weekend: https://t.co/ug4IpmjfSq pic.twitter.com/hdGA19hvpZ

— WBZ Boston Sports (@wbzsports) March 24, 2021
Herron and the other man met with the victim following the incident, and "there was not a dry eye in the room," Det. Natalie Barela told reporters Wednesday. The victim is working through the trauma she experienced but is "physically doing OK," Barela said.
While he's being hailed as a hero, Herron said he doesn't feel like one.
"There are so many heroes that go unnoticed on a daily basis," he said. "I'm just doing what anyone else would do in that moment."