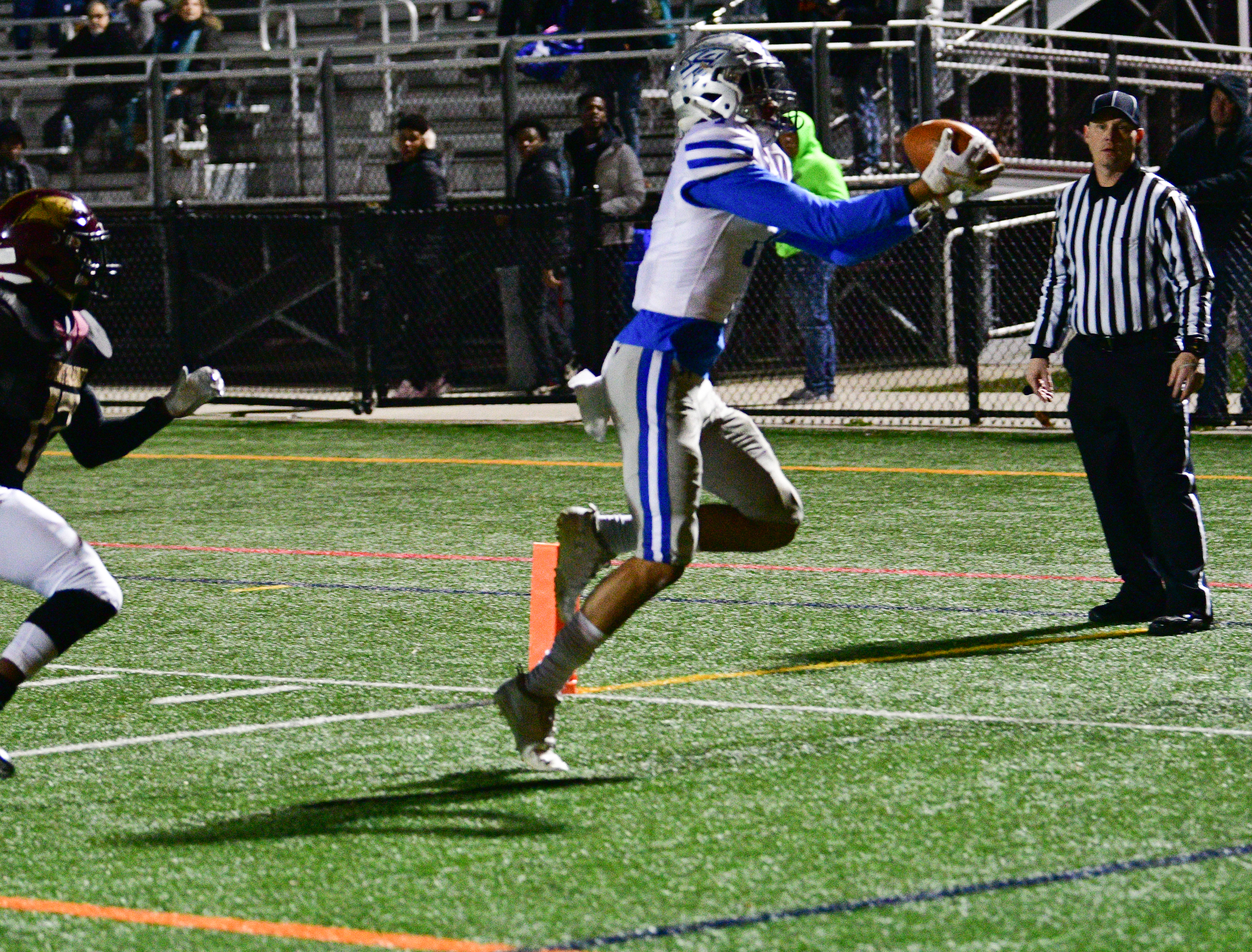 Paint Branch Defeats Sherwood in 4A Playoff Game
Paint Branch High School Burtonsville Maryland November 15, 2019
Paint Branch defeated Sherwood High School 21-14 in 4A MPSSAA North regional action Friday night.  The previous regular season victory by Paint Branch over Sherwood was three weeks ago and would suggest Paint Branch had the advantage of going into the game on their turf.  The Warriors of Sherwood struggled with their first possession which stalled as a result of penalties and miscues.  The punt gave the Panthers their first chance and they made the most of it with a 40 pass play to #21 Chauncey Spikes deep into Sherwood territory.  The Panther touchdown would follow shortly after less than five minutes had elapsed in the first quarter.  The quarter ended with Paint Branch driving for their second touchdown.  As the second quarter began Paint Branch scored again making it 14-0, Sherwood was on their heels, or so it seemed.
Sherwood's next possession showed the should not be counted out.  The perfectly thrown pass in the end zone gave the Warriors life and a clear shift in the momentum of the game.  The squib kickoff by Sherwood was mishandled and recovered by the Warriors deep in Panther territory.  The time remaining in the half was under five minutes and Sherwood had plenty of time to tie the score at 14 as the half ended.
The third quarter was scoreless and neither team could mount a drive, the defenses on both teams were in shutdown mode. The fourth quarter drive by Paint Branch was the last points scored making it 21-14.  Sherwood had one last drive to tie but the effort ended in an interception in the end zone and Paint Branch touchback giving them an opportunity to run out the clock.  The Panthers move on to the 4A MPSSAA Quarterfinals versus a very strong Northwest team next Friday, kickoff at 7 pm.  Good luck the coaches and players of Paint Branch as the move on in the playoffs.
Pictures to follow by Daryl Schultz