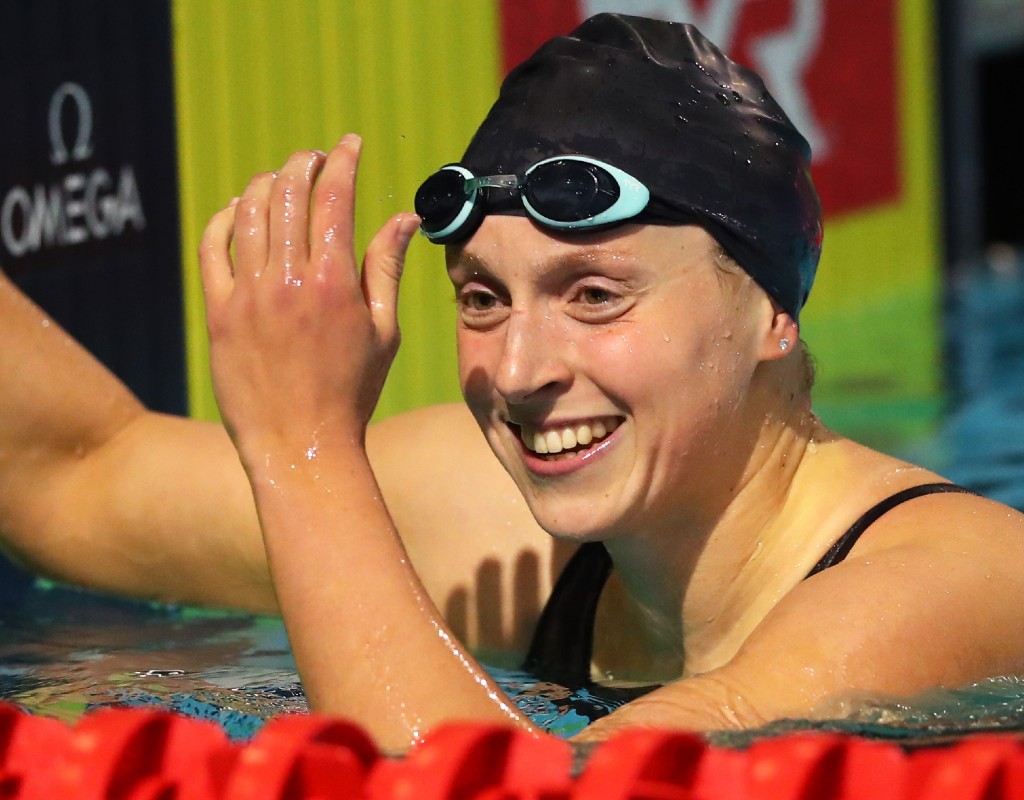 Olimpiadas: Ledecky Gana Medalla de oro en el Debut de 1500 Estilo Libre de Mujeres
Katie Ledecky, nativa de Bethesda y graduada de la escuela Stone Ridge, ganó la medalla de plata en los 400 metros estilo libre el lunes por la mañana, y el miércoles obtuvo la sexta medalla de oro de su carrera.
PURE. DOMINANCE.

Katie Ledecky is the first Olympic champion in the women's 1500m freestyle! #TokyoOlympics #OlympicHERstory pic.twitter.com/3LzAdPOsT8

— #TokyoOlympics (@NBCOlympics) July 28, 2021
"Solo quería hacer el trabajo esta noche", dijo Ledecky en una entrevista junto a NBC mientras felicitaba a su compatriota estadounidense y medallista de plata Erica Sullivan, quien terminó cuatro segundos por detrás del tiempo ganador de Ledecky de 15 minutos 37,34 segundos. "Fue difícil después de los 200".
Después de la carrera, Ledecky se inclinó para abrazar a Sullivan antes de levantar enfáticamente el puño y gritar en una demostración de emoción.
Las seis medallas de oro de Ledecky están empatadas en el segundo lugar más alto para una mujer estadounidense. Solo la nadadora Jenny Thompson, que ganó ocho medallas de oro en relevos, ha ganado más. Se esperaba que Ledecky dominara el debut de las 1.500 mujeres y lo hizo.
She went the distance. 🇺🇸@katieledecky is the first Olympic women's 1500m gold medalist in history. #TokyoOlympics pic.twitter.com/E77mcwSKuH

— Team USA (@TeamUSA) July 28, 2021
"Solo pienso en todas las grandes nadadoras que Estados Unidos ha tenido y que no han tenido la oportunidad de nadar en el evento", dijo Ledecky. "Tanta gente a la que admiraba. Todavía admiro. Estoy muy contenta de que pudiéramos hacerlo de la mejor manera posible".
El siguiente paso para Ledecky: el miércoles por la noche en Tokio (miércoles por la mañana en el condado de Montgomery), pudo nadar en las preliminares de relevos de estilo libre 4×200. La final de ese evento es el jueves por la mañana (miércoles por la noche en el condado de Montgomery) y ella también nadará en los 800 estilo libre, con series preliminares el jueves por la noche (jueves por la mañana en el condado de Montgomery) y las finales el sábado por la mañana (viernes por la noche en Montgomery Condado).
Ledecky in tears after this race. The last couple days after been an incredible grind for her. Gotta respect the effort of even trying this schedule.

— Pat Forde (@ByPatForde) July 28, 2021
NOTA PREVIA
Olimpiadas: Katie Ledecky Obtiene Segundo Tiempo de Estilo Libre más Rápido de 400 Metros